Meshach Taylor dies at 67; actor known for 'Designing Women' role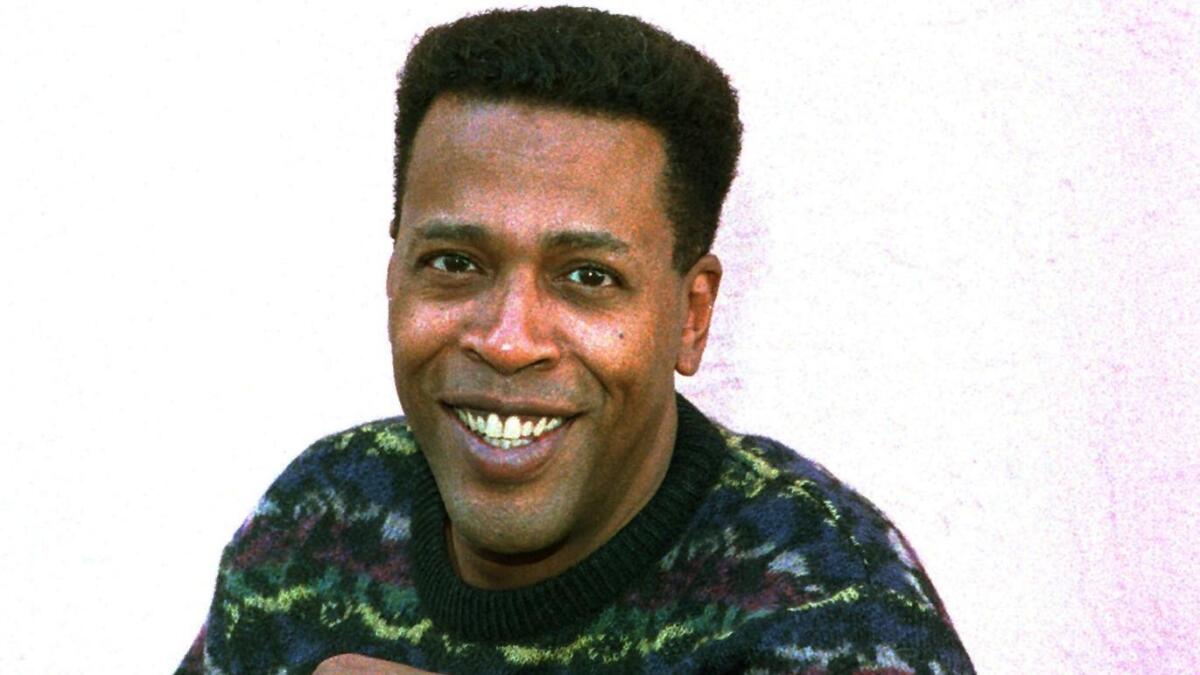 Actor Meshach Taylor, best known for his role as the ex-con deliveryman Anthony Bouvier in the hit 1980s sitcom "Designing Women," died Saturday at his home in Altadena. He was 67.
The cause of his death was colorectal cancer, said his wife, Bianca Ferguson Taylor.
Taylor had roles in several TV shows before appearing in what was supposed to be a single episode of "Designing Women" during its first season in 1986. But his comic scenes with cast members Delta Burke and Dixie Carter went so well, Taylor said in 2011 on "The Wendy Williams Show," that the creators of the sitcom kept him on.
"They said there is something that's happening here that we want to try and expand on," Taylor said.
He stayed with the show for all seven of its seasons as the only male regular cast member. He was nominated in 1989 for an Emmy for supporting actor in a comedy series.
Though his character grew in status as the show went on, eventually going to law school, the program was criticized early on for having its only African American character being someone who had spent time in jail. Taylor took umbrage, especially when his role was unfavorably compared to that of the physician Bill Cosby was playing on his own sitcom.
"I knew we would rather have everybody on TV be like Bill Cosby," Taylor said in a 1988 St. Petersburg Times interview. "But the reality of the situation is there are probably more brothers who've been incarcerated than have been to medical school."
Taylor also played the flamboyant window dresser Hollywood Montrose in the 1987 hit "Mannequin."
He was "an activist actor," said his wife, who as Bianca Ferguson appeared for years on the TV soap opera "General Hospital."
On "Designing Women," he "walked that tightrope of racism and classism every week, week after week," giving them and millions of viewers a richer, deeper view of African American men. "He showed them what trust was all about, what loyalty and friendship were all about."
"His last really strong role," she said, was on "Criminal Minds," where he "took an alcoholic veteran from the Vietnam era and made us understand he was a courageous young man who had saved lives."
Meshach (pronounced ME-shack) Taylor was born April 11, 1947, in Boston, and grew up in New Orleans and Indianapolis, where he performed with community theater groups.
His first major role was in a national touring company of "Hair." In the 1970s he appeared in plays with the Goodman Theatre company in Chicago.
Taylor had roles in numerous other movies and TV shows, including "Dave's World," "In the Heat of the Night," "The Incredible Hulk" and "ALF." On Broadway in 1990, he performed for six months in "Beauty and the Beast."
In addition to Bianca, his wife of 30 years, Taylor's survivors include his daughters Yasmine, Tamar and Esme; his son, Tariq; a sister, Judy; and a brother, Hussein.
Terminally ill and deep in pain, he flew with his children to Indiana last week for the 100th birthday of his mother, Hertha Taylor.
When he returned to hospice care in California, his wife said: "I told him baby, you did your greatest performance at your weakest time."
Times staff writer Steve Chawkins contributed to this report.
Must-read stories from the L.A. Times
Get the day's top news with our Today's Headlines newsletter, sent every weekday morning.
You may occasionally receive promotional content from the Los Angeles Times.