Moshe Arens, former Israeli defense minister, dies at 93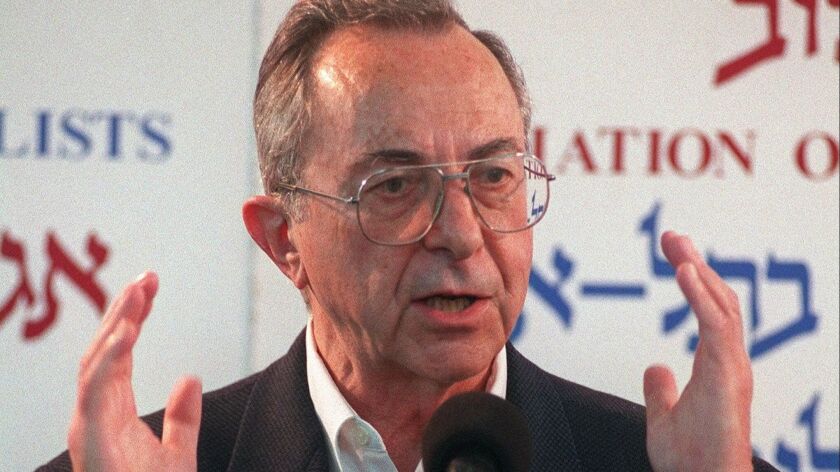 Reporting from Jerusalem —
Moshe Arens, a former defense minister and Israeli hawk who represented the last vestiges of Israel's founding generation and became a political mentor to Prime Minister Benjamin Netanyahu, died Monday. He was 93.
Arens recognized the skills and potential of Netanyahu in the early 1980s when he chose him as his deputy after being named Israel's ambassador to the United States — the first American Israeli to hold that position. Though lacking experience, Arens identified in Netanyahu an ability for politicking and drawing attention, skills he always lacked.
But as Netanyahu's career in the right-wing Likud party came to surpass his mentor's, Arens became a principled critic of the era of political populism he'd inadvertently ushered in.
Arens was born in what is now Kaunas, Lithuania, on Dec. 17, 1925, and moved to the U.S. with his family when he was 13. He served in the U.S. Army Corps of Engineers during World War II and studied engineering at Massachusetts Institute of Technology and Caltech before permanently moving to Israel as the country was just being established.
A lifelong partisan of the Zionist right wing inspired by Ze'ev Jabotinsky, Arens, a professor of aeronautics at the Technion — the Israel Institute of Technology — soon drifted to political activism and was elected to the Knesset, Israel's parliament, in 1973.
Arens was a central figure in the development of Israel's military industries in the private sector and served three terms as Israel's defense minister.
"There was no greater patriot," Netanyahu said in a statement. "Moshe Arens' great contribution to our people and our state will be remembered forever."
Netanyahu added: "I loved you as a son loved his father."
The relationship may have been familial, but fractiously so.
Arens did not shy away from criticizing what he viewed as the crass political culture championed by his onetime disciple. He accused Netanyahu of betraying fundamental tenets of Revisionist Zionism, such as equality and personal rectitude.
In retirement, he became a regular columnist in the liberal newspaper Haaretz, where he recently denounced the nation-state law supported by Netanyahu, that, in Arens' view, denied non-Jewish citizens of Israel their innate rights.
Israel's president, Reuven Rivlin, a political acolyte who developed in Arens' ideological camp within the Likud, remembered Arens as "one of the most important ministers of defense the state of Israel ever had" and "a man of honor who never flinched from the fight."
In a tribute, Haaretz publisher Amos Schocken described Arens as "always original, independent and fascinating."
"He believed unbendingly in the need to advance and integrate Palestinian citizens into Israeli society," Schocken wrote.
Dan Meridor, a former minister of justice and intelligence who grew up under Arens' wing before leaving the increasingly rowdy and ideologically extreme Likud of Netanyahu's era, remembered "a gentleman who was unmoving and stubborn about two ideologies: Israel's security and Israel's humanity. He was as devoted a humanist as he was a champion of Israel's self-reliance and defense. He saw no contradiction."
He added: "No matter your political views, you could tell your kids to grow up and be like him."
Arens is survived by his wife, Muriel; four children; 10 grandchildren; and one great-grandchild.
---
Must-read stories from the L.A. Times
Get the day's top news with our Today's Headlines newsletter, sent every weekday morning.
You may occasionally receive promotional content from the Los Angeles Times.