Neil Fingleton, 'Game of Thrones' giant and a former basketball player, dies at 36
Fingleton appeared in movies including "47 Ronin" and "X-Men: First Class." (Feb. 27, 2017)
Neil Fingleton, one of Britain's tallest men and an actor who was best known for playing the giant Mag the Mighty on HBO's "Game of Thrones," has died.
The 7-foot-7-inch actor died Saturday, according to the Associated Press. He was 36. The cause of death was heart failure, according to British media reports.
The actor was born in Durham in northeast England in 1980 and was one of three towering siblings in a long line of tall family members.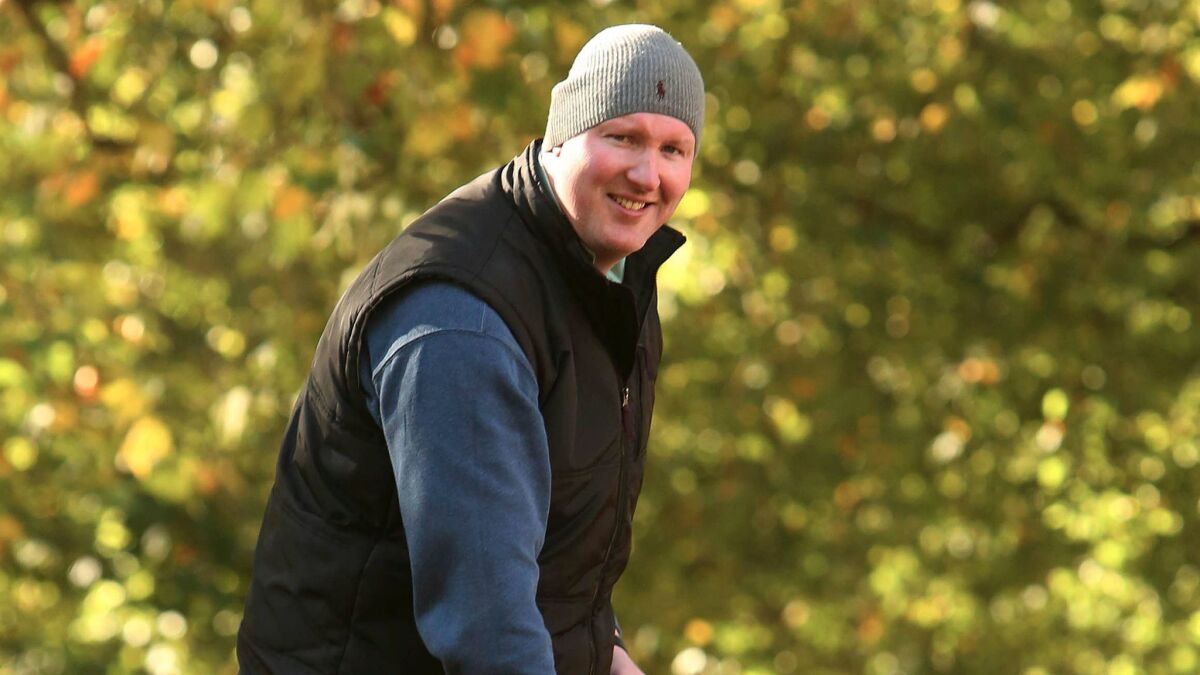 His stature facilitated a basketball career and he played at both the University of North Carolina and at the College of the Holy Cross in Worcester, Mass., leading that team to the state finals in 1999. At North Carolina, Fingleton was the Tar Heels' center until he was injured and had back surgery in 2000. He also played for Great Britain in the World University Games in China and professionally in Spain and Greece.
In 2007, Fingleton was named the United Kingdom's tallest man by Guinness World Records.
"I have always been taller then everyone since I can remember. My height really took off when I reached 11 and was touching 7 foot," he told Guinness. He said that by the time he was 16, he was 7-foot-5.
"I have never been self conscious about my height. I am more conscious of going bald so that should tell you I never let my height play a negative part in my life. I always do what I want; some tall people may be restricted as they are constantly stared at or people ask the same questions over and over," he once said, according to the Sun. "This is the only bad thing about being tall — the stupid remarks and questions. Other than that, being tall is great."
After retiring from basketball because of injuries, he turned to acting where he gained a fan base playing larger-than-life characters such as the fearsome giant Mag the Mighty on "Game of Thrones."
Mag was felled by the men of the Night's Watch in a Season 4 episode after breaking into a tunnel leading to the fortified Castle Black.
Fingleton also appeared in the action films "47 Ronin," "X-Men: First Class" and "Avengers: Age of Ultron" as well as British fantasy series "Doctor Who," playing the Fisher King monster.
"There are tens of millions of people in this country, and I'm the tallest, which is a very special thing," Fingleton told the BBC. "So why not use it to my advantage and be recognized, not just for being tall but for being a talented actor."
The Tall Persons Club shared the news of Fingleton's death on Facebook and paid tribute to the late actor.
"Our thoughts and condolences go out to his family," the post said.
Fingleton's mother, Christine Fingleton, told the Chronicle that her son's death was "a dreadful shock, we are just devastated."
Fingleton's death comes two months after the death of another "Game of Thrones" alum: Peter Vaughan, who played Castle Black's Maester Aemon. Vaughan died in December at age 93.
See the most-read stories in Entertainment this hour »
Follow me: @NardineSaad
ALSO
Actor Bill Paxton, 61, dies after complications from surgery
Judge Joseph Wapner, who presided over 'The People's Court,' dies at 97
Must-read stories from the L.A. Times
Get the day's top news with our Today's Headlines newsletter, sent every weekday morning.
You may occasionally receive promotional content from the Los Angeles Times.