Mai Tai Sing, pioneering Chinese American entertainer, dies at 94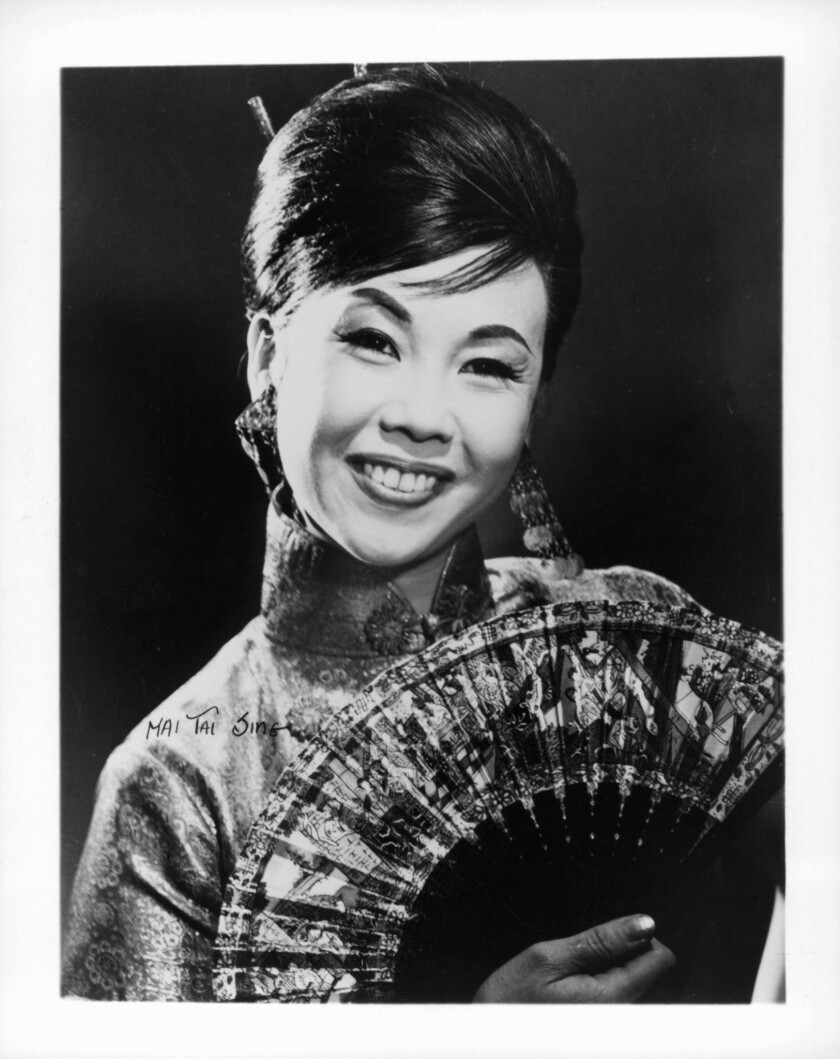 In the 1940s and '50s, Asian Americans were rarely seen in Hollywood movies and on TV — and when they were, it was often in stereotypical roles involving fractured English and Orientalist fantasies of the exotic East.
Over the course of a long career as a dancer, actress and nightclub impresario in San Francisco and Honolulu, Mai Tai Sing tried to break that mold.
"She didn't deliver her lines with an accent," said Arthur Dong, who featured her in his documentary and book "Forbidden City, USA: Chinatown Nightclubs, 1936-1970."
"Back then, many of the Asian characters, whether they were American or not, had to speak with broken pidgin English, as if they were forever foreign, but not Mai Tai Sing," he said.
"Her film roles weren't stereotypical, and different from roles like prostitutes, femme fatales, maids or cooks. Even when she played a cigarette girl opposite Tony Curtis in 'Forbidden,' she was sharp and self-assured."
Sing, who spent her last decades in Hawaii, died Wednesday in Honolulu. She was 94 and had been battling heart disease, according to her eldest daughter, Pat Harvey.
Sing was born Mae Tsang in Oakland on Dec. 22, 1923. Despite having no background in dance, she got her start as a chorus girl at Forbidden City in San Francisco, a nightclub featuring all-Chinese shows.
Soon she became the dance partner of performer Wilbur Tai Sing, and the two toured the country as the Tai Sings. She and Sing married, had two daughters, then divorced in 1954.
Her conservative parents objected to her work, she would later recall, "because it's not a high-class job; it's low-grade, dancing, show your legs and everything."
"She was an extremely graceful ballroom dancer. Very cordial. People liked her. She was beautiful, tall and statuesque," said Coby Yee, 92, a dancer who was also a headliner in the nightclub circuit.
In 1956, Sing moved to Las Vegas, where she starred in an all-Asian revue at the Thunderbird Hotel.
Three years later, she retired from dancing and went into business with her three brothers. They opened the Ricksha bar in San Francisco's Chinatown, where Sing was the hostess until 1970. The cocktail lounge had a piano and attracted many celebrities, including Frank Sinatra, Sammy Davis Jr., Judy Garland, San Francisco Chronicle columnist Herb Caen and the Beatles.
Sing also became a fashion model and opened up the Mai Tai House of Beauty. "It was very swank with giant golden Buddhas.... You could get your hair styled and your nails done, get a massage or relax in a tea house," recalled Harvey. Later, the family converted the salon into a disco.
Along the way, Sing appeared in movies, including "Forbidden" (1953), and numerous television shows, including "Mr. and Mrs. North" (1953) and "Hong Kong" (1961), the latter with actor Rod Taylor, who was among the leading men with whom she was linked romantically.
"I remember being at Rod Taylor's house and swimming at his pool when she was dating him," said Sing's youngest daughter, Elcina Rouillard.
Later in life, she appeared on "Hawaii Five-0" and "Jake and the Fatman."
In 1976, Sing made her final move, this time to Hawaii, where she became the manager and hostess of Trappers, a bar and jazz lounge at the Hyatt Regency in Waikiki, which drew prominent musicians such as Stan Getz, Herbie Mann, Smokey Robinson, Tony Bennett and Wynton Marsalis.
"She was always chic, perfectly coiffed, and moved gracefully with confidence and ease," said Christie Burton, who was one of the cocktail waitresses known as Trapperettes. "She knew how to make people feel special. Yet she was maternal, in that she would cook up her famous fried rice with lop cheong [Chinese sausage] and share it with some of the employees."
Those who remember her say that Sing was, above all, a groundbreaker.
"What she and other performers in the Chinatown nightclubs did was fight racist preconceptions of what Asian Americans were about and what they could accomplish," said Dong. "They were pioneers that struggled for inclusion and paved the way for what we are witnessing today."
The day after Sing's death, Sandra Oh became the first Asian woman to be nominated for an Emmy for lead actress in a drama.
"It's important to understand the history of this arc and where progress starts," Dong said. "It doesn't happen overnight. The work is not done, but it's gratifying to see movement. Mai Tai Sing was part of an earlier generation that said, 'Wait a minute, we're a part of this, too, we're a part of the entertainment world as well. And we're going to participate.' "
Sing is survived by her daughters Harvey, of Wailuku, Hawaii; and Rouillard, of Los Angeles.
Chang is a special correspondent.
---
Must-read stories from the L.A. Times
Get the day's top news with our Today's Headlines newsletter, sent every weekday morning.
You may occasionally receive promotional content from the Los Angeles Times.