Sandra Oh on her historic Emmy nomination: 'Let's move it forward'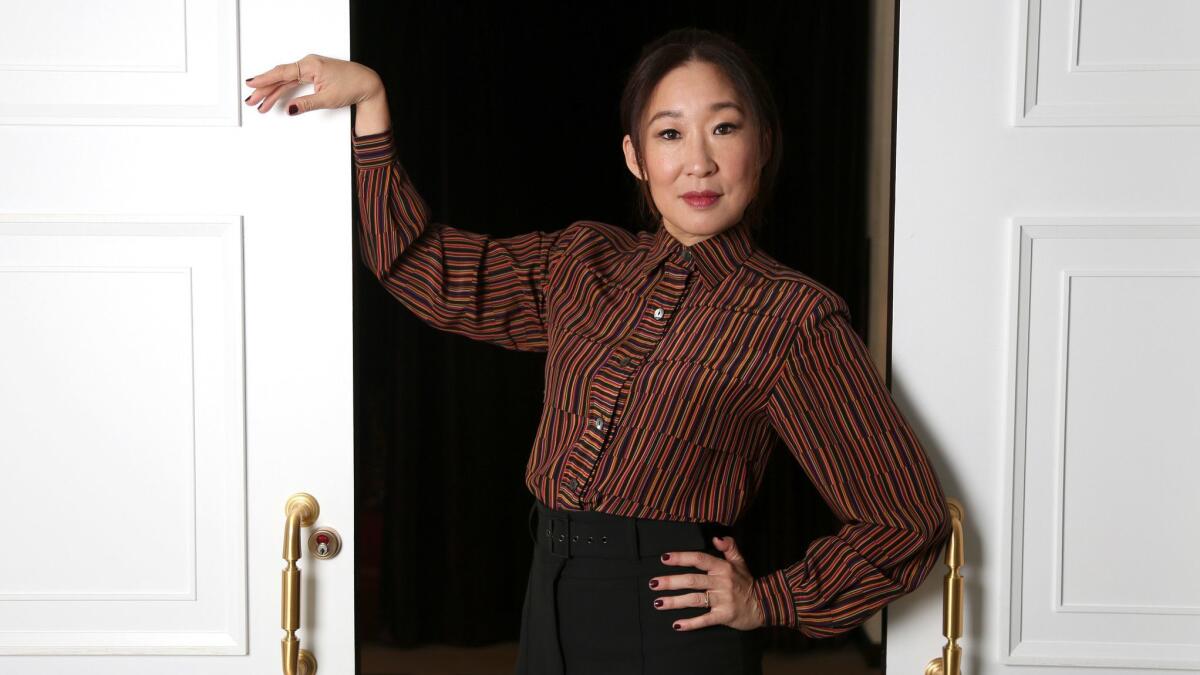 Just days away from beginning production on Season 2 of BBC America's "Killing Eve," Sandra Oh was reviewing script drafts at her London flat the moment she made Emmy history.
Her part in the thriller is her first headlining role, and it yielded her first lead actress in a drama nod when Emmy nominations were announced Thursday. But the firsts didn't end there: Oh's nomination carries an added layer of distinction because it makes her the first person of Asian descent to be recognized in the category in the award show's 70-year run.
At a time when Hollywood is reckoning with calls for greater inclusiveness, the historic aspect of Oh's nomination serves as yet another sobering reminder of the industry's deep-rooted diversity problem.
2018 Emmy nominations: The complete coverage »
Not that reminders are needed. It was only three years ago that Viola Davis stood up on the Emmy stage as the first African American winner in the category for her role on "How to Get Away With Murder." And just last year, Donald Glover made history as the first black person to win the Emmy for directing, for his comedy series, "Atlanta."
The significance of Oh's lead role and nomination are not lost on her.
"I've really been learning a lot about the responsibility of that leadership role," said Oh, who is a self-described Korean Canadian Angeleno. "For me, I know I want to make the best of it —be as truthful as possible and also stretch the limits of what we see. We haven't really seen a character like Eve or someone like myself — an Asian person — play this kind of role before. I take that deeply into consideration. Because if that cuts through, it will have ripple effects. My greatest hope is that it will ripple through and demonstrate that there is a whole world of people who are storytellers and who can be storytellers. It doesn't have to always remain in the white realm. That's one of the things I know I represent."
Despite the historic element of her nomination, Oh is not an Emmy newcomer. The 46-year-old actress scored five supporting actress nods during her 10-year run as Dr. Cristina Yang on ABC's popular "Grey's Anatomy."
2018 Emmy nominations: Watch all of our Emmy contender chats »
Hailing from the mind of Phoebe Waller-Bridge ("Fleabag"), "Killing Eve" premiered in April to critical acclaim and, week after week, had viewers taking notice of Oh's quirky and layered performance as Eve Polastri, a brainy agent in the British intelligence service who becomes fixated with the young female assassin (Jodie Comer) she's tracking.
"It's a show that's not trying to be anything else but itself," Oh says of its appeal. "I love the way it focuses on the psychology and this dance between these two female characters … and explores and gives time to a full-range — the dark parts, the witty parts, the absurd parts — of what it is to be a woman."
For Waller-Bridge, who also received an Emmy nomination Thursday morning for writing for a drama series, the thriller's resonance was boosted by Oh's performance — and, maybe, her mane.
"She's working as a fearless truth-seeker and comedic genius at the top of her game," Waller-Bridge said. "She's the smartest and best out there, she made our show shine and for God's sake, that hair."
"Killing Eve" steadily established itself as a bright spot for BBC America through word of mouth. It yielded weekly ratings growth over the course of its eight-episode run — its finale garnered 1.25 million total viewers when viewing over three days is tallied, up 86% from its premiere. The cable network was so confident in the show that it renewed "Eve" for a second season days before the series premiered.
"We knew we had a great show on our hands," said Sarah Barnett, president and general manager of BBC America, in a telephone interview. "But in a world with 500 scripted series, that's not enough. But people found the show. It grew every week, all eight weeks of its run — it had a certain kind of electric resonance in today's world. It felt like a new conversation."
"Killing Eve" marks Oh's most notable return to television since departing "Grey's Anatomy" in 2014. In the intervening four years, she took other roles on screen and on stage, including as a social worker in the third season of ABC's "American Crime" and as a writing professor in the local staging of Julia Cho's "Office Hour."
As she reflected on the turn of events with a glass of wine on her patio, Oh said she was in a celebratory mood — taking pride in the historic nature of her nomination and what it could mean for the future.
"I am happy in this present moment," Oh said. "Now, let's move it forward. It's a long game. Let this be a moment where some girl who is 12 and Thai American can look at her Instagram and say, 'Huh, that can be me.' Let this be a moment where she can believe in herself."
Emmy Roundtables 2018: See interviews with your favorite stars and showrunners
Twitter: @villarrealy
Get our L.A. Goes Out newsletter, with the week's best events, to help you explore and experience our city.
You may occasionally receive promotional content from the Los Angeles Times.