Pat Derby dies at 70; rescuer of exotic and performing animals
Pat Derby and a lion cub are shown in 1968 in a promotional image for her NBC-TV show, "Big Cats, Little Cats."
(NBC-TV)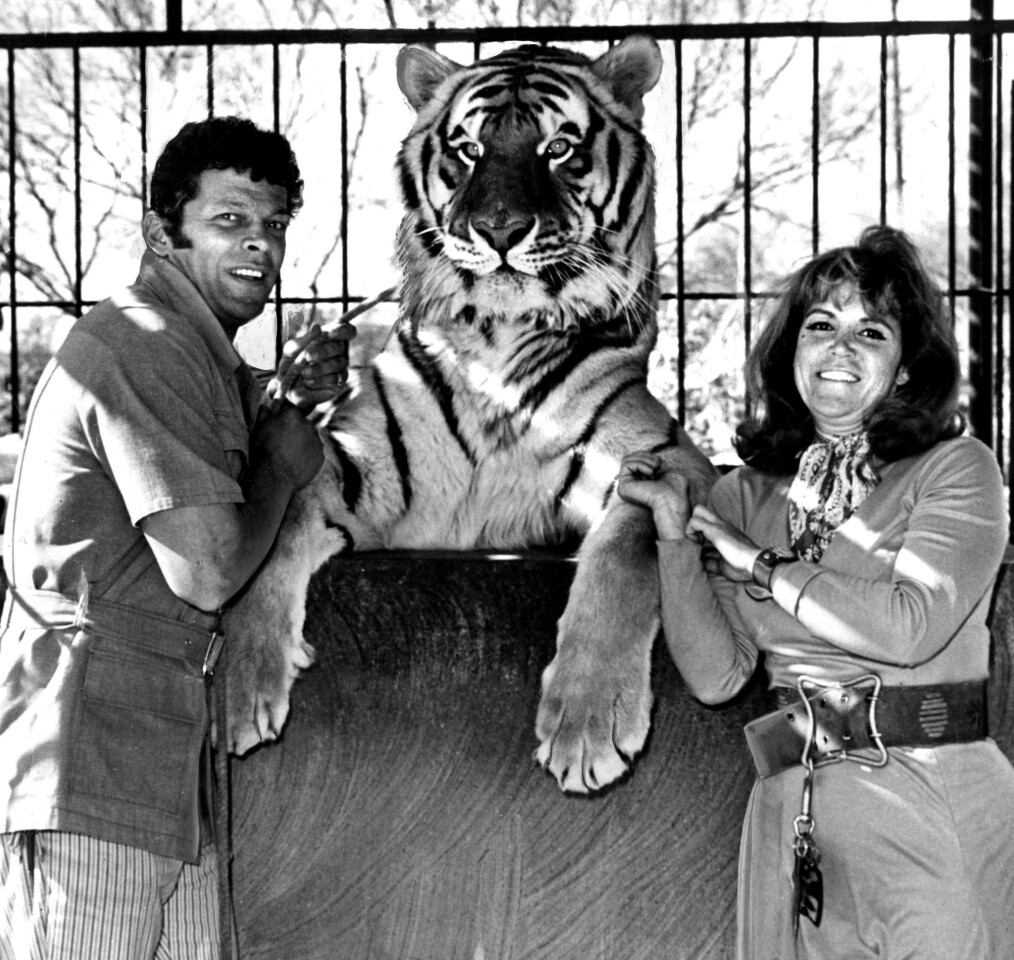 Ted and Pat Derby are shown with Rijo, a Siberian tiger weighing 700 pounds.
(Los Angeles Times)
Pat and Ted Derby are shown with their pet jaguar, Clyde, in 1973.
(Los Angeles Times)
Pat Derby is shown with Seymour, a 7-year-old, half-ton grizzly bear. The image is from her 1976 book, "The Lady and Her Tiger," co-written by Peter S. Beagle.
(Dutton)
From left are shown Dr. Elliot Katz, Gretchen Wyler, Pat Derby and Dr. Jane Goodall at the In Defense of Animals Guardian Awards Fundraiser at Paramount Studios in Hollywood in 2004.
(Michael Tullberg / Getty Images)
Pat Derby, founder and director of the Performing Animals Welfare Society, is shown at the ARK 2000 Sanctuary near San Andreas, Calif., in 2009.
(Rich Pedroncelli / Associated Press)
Pat Derby could coax Willie the bear with a handful of jelly beans, make Christopher the cougar twitch his tail on command, and even kissed Rijo the tiger.
But when it came to Walt Disney, she had less patience. Derby, a Hollywood animal trainer turned animal rights activist, once walked out on him in the middle of filming for "Disney's Wonderful World of Color" after he subjected her bear cub to two hours of retakes under the hot studio lights.
She always got along better with animals than people, anyway, she often said. "I am not a natural at public relations," she once wrote.
Derby, who later devoted her life to protecting and rescuing exotic and performing animals, died Friday after a long battle with throat cancer, said her longtime partner, Ed Stewart. She was 70 and died at their home in San Andreas, southeast of Sacramento and the site of a sprawling, 2,300-acre animal sanctuary they established in 2000.
In the 1960s and '70s, Derby was known in Hollywood circles as a trainer of anteaters, tigers and grizzly bears. She worked on the TV shows "Flipper," "Lassie" and "Gunsmoke" but later quit to become one of the most vocal critics of the abuse of animals in show business.
Her 1976 book, "The Lady and Her Tiger," was a stinging expose of the industry's practices and angered much of the Hollywood elite. Her organization, the Performing Animals Welfare Society, or PAWS, became a leading voice calling attention to the plight of animals in captivity and operated one of the first sanctuaries for former wild animal pets and performers in the United States.
"She was a giant of the animal rights movement," said TV game-show host Bob Barker, a friend of nearly 30 years and a fellow activist whose donations helped send a number of animals to the sanctuary, including Ruby, an elephant from the Los Angeles Zoo. "There was just no limit to what she could do. She had this great energy."
Derby could also be a formidable force defying anyone she perceived to be mistreating animals. She made friends of some zoos and foes of others. She once called the Hollywood chapter of the American Humane Assn., which certifies films using animals, little more than a public relations firm for movie studios. Another time she saw video of a circus elephant in Oregon being struck with a rod. Two days later, she was at the circus organizers' door with TV cameras.
To anyone who knew her well, Derby was simply an "elephant lady." She nursed them back to health, often sleeping next to the huge mammals in the barn. She fought to end their use in traveling shows like circuses, a practice she considered cruel.
"I cannot imagine living without elephants," she told the Modesto Bee in 2004. "Unless they could all go back to the wild and live there."
Patricia Bysshe Shelley was born June 7, 1942, in East Sussex, England, the second of two children born to Charles Boswell Shelley, a Cambridge University professor, and Mary, a homemaker. In her book she wrote that she was related to famed English poet Percy Bysshe Shelley.
She often begged her father to take her to the circus so she could see the elephants.
Derby's father died when she was 12, and at 15 she moved on her own to New York City. She dabbled in ballet and theater and enrolled in classes at Columbia University but dropped out to follow her Hollywood dreams to California.
She met animal trainer Ted Derby at a San Francisco nightclub where they were both performing. He showed her pictures of himself tumbling with tigers and kissing bears; they married in 1964.
The couple worked as a team, training wild animals for TV and movies, pioneering "affection methods" that avoided causing pain for the animal. They kept their menagerie first at a ranch in Newhall and later in Buellton, where they set up a roadside zoo to make enough money to feed the animals. But the couple clashed over his insistence on using an electric cattle prod as a training tool and divorced in the mid-1970s, dividing the animals between them.
With no room to care for them, Derby was forced to euthanize many of the animals for fear they'd go to unkind owners. It was an experience that haunted her for years.
In 1976, Derby was at a Cleveland auto show working with Christopher, her cougar in Lincoln Mercury ads, when she met Ed Stewart, whose brother was a local manager for the car company. Ed had never owned a cat or dog, but when the feisty, fire-haired Derby asked him to clean Christopher's dressing room, he obliged.
They eventually moved to a ranch in Mendocino, taking Derby's dozen remaining animals with her. They intended to give them room to roam until their last days.
But call after call came about abused elephants, tigers purchased as pets, and retired zoo critters with nowhere to turn. The couple formed PAWS in 1984, lobbied the state for stricter standards for animals in captivity, helped to pass a related law the next year and later opened their first animal sanctuary in Galt, south of Sacramento.
In 2000, they moved to their dream property that included a mountain, lake and 80 acres for her elephants, and plenty of space for the lions, tigers and bears in separate enclosures.
She'd always said she wanted a place where "the elephant butts could go over the hill and you couldn't find them," Stewart said. From her window during her last days, Derby saw just that.
She is survived by Stewart, her partner of 37 years.
---
Must-read stories from the L.A. Times
Get the day's top news with our Today's Headlines newsletter, sent every weekday morning.
You may occasionally receive promotional content from the Los Angeles Times.