Patrick McCarthy, former Women's Wear Daily editor and influential force in fashion, dies at 67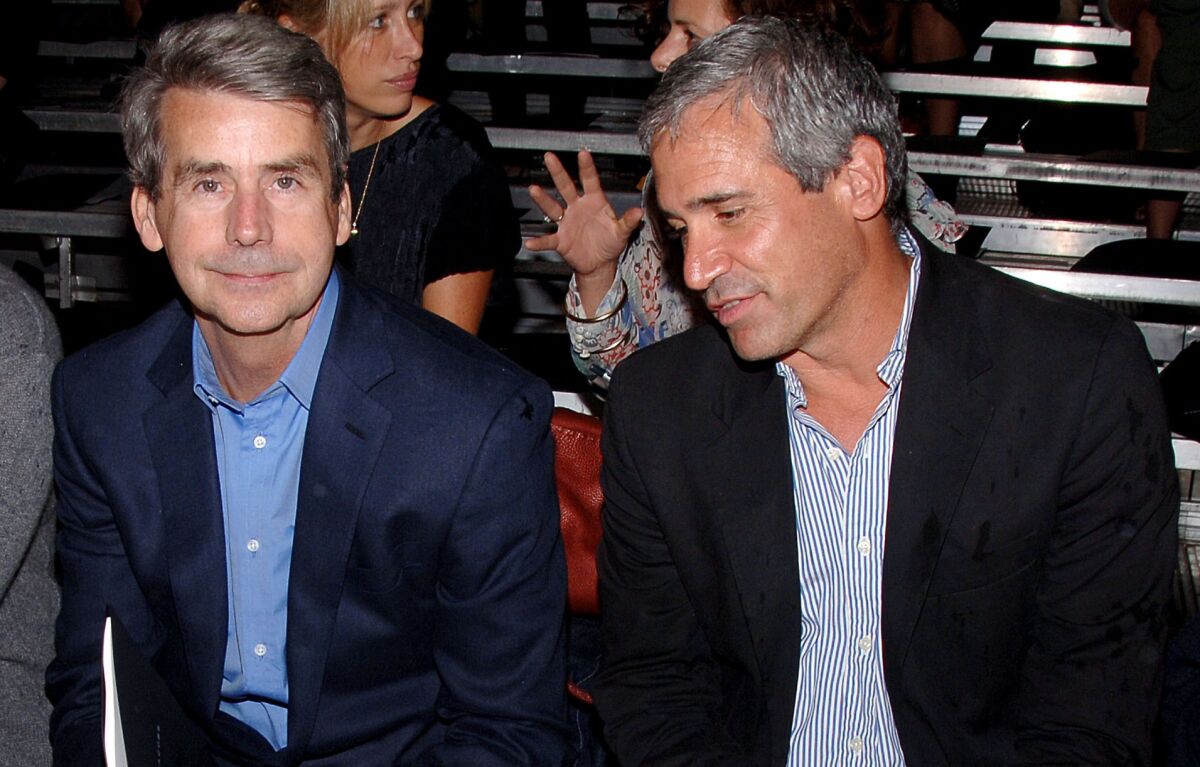 Patrick McCarthy, former editor of Women's Wear Daily and chairman of Fairchild Fashion Group, a fiercely competitive writer and editor and one of the most influential figures in fashion journalism, has died in New York. He was 67.
His sister, Anne Marie Gustin, confirmed McCarthy died Feb. 24 at Lenox Hill Hospital but gave no cause.
A protege of the fearsome John Fairchild, and later his successor, McCarthy served as the Paris bureau chief of WWD, often referred to as "the bible of the fashion industry," from 1980 to 1985. Twenty-nine, handsome and witty, he quickly made a splash in the French capital.
The famed nightclub hostess known as Regine threw him a welcome party, and he became a fixture on the social scene and developed close friendships with designers such as Giorgio Armani and the late Karl Lagerfeld.
In 1985, McCarthy moved to New York and was named editor in chief of WWD, and then, in 1997, he moved up to succeed the retiring Fairchild as chairman. McCarthy, who at various points in his career also oversaw W and Los Angeles magazines, retired from the company in 2010. (In 2014, Los Angeles-based Penske Media Corp. acquired Fairchild for about $100 million.)
Over the course of his career, McCarthy found that there was nothing more thrilling than getting a great scoop or more devastating than losing that scoop to another publication, a lesson he absorbed during his long apprenticeship to Fairchild.
"No one else could get the story, and if anyone else got the story, someone had to pay," he told New York magazine in 1997. "Mr. Fairchild instilled it in me. I'm like the abused child that is now abusing. I will kill for the story, and if I don't have it, I will get angry."
Fashion designer Michael Kors, a longtime friend of McCarthy, recalled to WWD that the editor never seemed to be off duty. "If I ran into him on St. Barth's on vacation, the next day there would be a dispatch from St. Barth's in WWD," Kors told the publication. "His eyes and ears were always open, and his mind was always clicking."
Born in Dedham, Mass., on June 6, 1951, Patrick Joseph McCarthy III graduated from Boston University in 1973. He earned a master's degree in journalism from Stanford University and then moved to Washington to take a job as a reporter for Fairchild Energy News Service. He later moved to London to be bureau chief for all of Fairchild's publications, including WWD.
It was there he caught Fairchild's eye and started his ascent up the corporate ranks. The catalyst was a profile of the legendary British socialite Lady Diana Cooper, an interview McCarthy pursued for months and apparently finally landed because of his gender. According to the 1997 New York magazine profile of McCarthy, Cooper had turned down all previous interview requests — because they had all had been made by female journalists. "She hated girls," McCarthy said.
When it was published, he got a note from Fairchild: "What a magnificent first effort. We must meet."
Soon afterward, Fairchild took him to his first couture show — Yves Saint Laurent — and over the years, the two were frequent front-row seatmates at fashion shows in Paris and New York, forming a bond that, at times, seemed almost physical.
"It was highly amusing to watch Patrick echo his every gesture and movement; the crossing of the legs, the exasperated pursing of the lips as yet another show took forever to start," Anna Wintour, editor in chief of Vogue and artistic director of Condé Nast, told WWD.
"Yet Patrick was far, far more than a doppelganger of his beloved mentor," she added. "If John took a gleeful delight in shaking things up, inciting a reaction [if not a riot], then Patrick, a handsome, smart, shrewd man, always maintained a cool, detached demeanor while navigating the temperamentally choppy waters of our industry."
Besides his sister, McCarthy is survived by three nieces.
Must-read stories from the L.A. Times
Get the day's top news with our Today's Headlines newsletter, sent every weekday morning.
You may occasionally receive promotional content from the Los Angeles Times.