Paul Bacon dies at 91; he revolutionized the design of book covers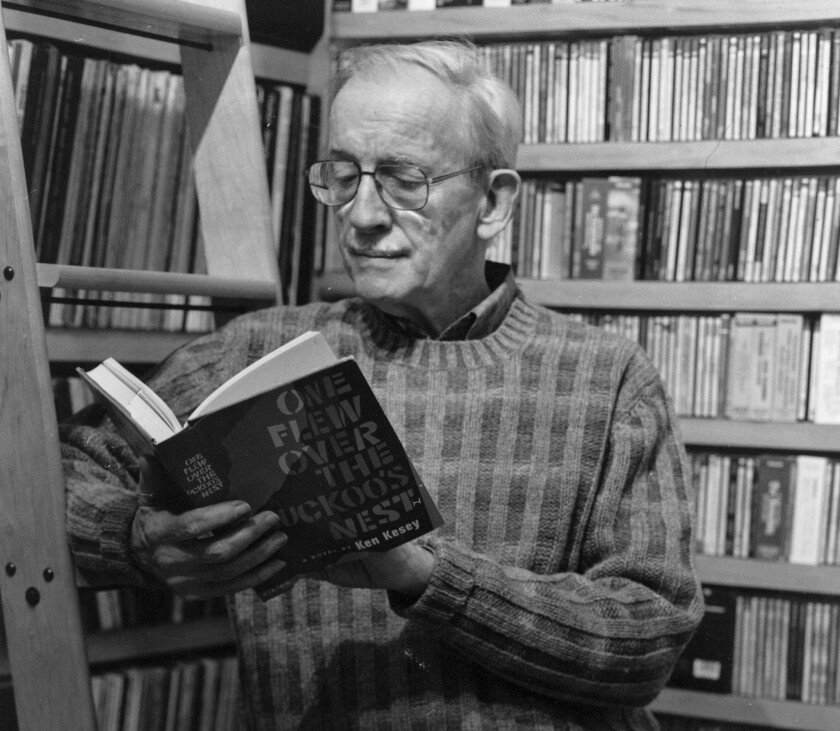 Paul Bacon's name may be unfamiliar, but anyone who has browsed the bestseller racks over the last 60 years knows his work.
If a book cover is a canvas, Bacon was its Matisse or Dali, who used minimal imagery and bold lettering to sell such iconic novels as Joseph Heller's "Catch-22," Ken Kesey's "One Flew Over the Cuckoo's Nest" and Philip Roth's "Portnoy's Complaint."
"He made a career out of dressing the most popular books of a particular age and you know those books in your mind's eyes because of those jackets," said Steven Heller, a New York-based historian of illustration.
Heller, for many years art director of the New York Times Book Review, described Bacon as perhaps the inventor of the bestseller jacket and the style that became known as the "Big Book Look."
Bacon, who designed more than 6,000 book jackets and was also a jazz singer, musician and noted designer of record album covers for Thelonious Monk, Dizzy Gillespie and other jazz masters, died June 8 after a stroke in Fishkill, N.Y., said his son, Preston. He was 91.
Book covers at mid-20th century were dominated by realistic illustrations and tame typography, but Bacon's stark, dramatic work for "Compulsion," a nonfiction novel based on the Leopold-Loeb murder case, upended the prevailing aesthetics.
The only pictorial element Bacon drew for "Compulsion" was two small, red figures running off the edge of an empty block of space toward the title, which he rendered in large, black, roughly drawn letters across the top of the cover. "A novel by Meyer Levin" appeared in smaller letters across the bottom. There was no other embellishment.
"Compulsion" was a blockbuster and its startling cover became a template for a changing industry.
His cover for 1961's"Catch-22" was similar in style to "Compulsion," but with a more antic air provided by the cutout of protagonist John Yossarian in his airman's cap dancing off the author's boldly lettered name. Bacon tossed out nearly a dozen sketches, he said in a 2002 interview for Print magazine, before coming up with "the little guy that I tore out of a piece of paper, representing Yossarian in full flight from everything."
The novelist, for whom Bacon designed five jackets, including the one for "Catch-22" sequel "Closing Time," once called his work "original, surprising and wonderful."
His signature style — the prominent lettering and smaller, abstract image that captured a book's essence — caught on.
"Paul Bacon understood how to make a selling jacket, he knew how to ... direct your eye to the crucial bit of information," said Peter Mendelsund, an art director for Knopf and author of "What We See When We Read." "But he still made his jackets personal, inviting and with this lovely handmade quality."
Bacon was born in Ossining, N.Y., on Christmas Day in 1923 and spent the Depression years moving around the Eastern Seaboard with his family. He began to draw as a child and graduated from Arts High School in Newark, N.J., in 1940. He served in the Marine Corps during World War II.
He married Maxine Shirey in 1951; she died in 2004. Besides his son, he is survived by a sister, a brother and two grandchildren.
After the war, he returned to New York and found a job in a design studio. In his spare time he pursued his other passion, jazz.
He played a kazoo-like instrument made from a comb wrapped in cellophane. He also wrote reviews for the Record Changer, a magazine founded by Bill Grauer and Orrin Keepnews, who would go on to start the Riverside jazz label. Bacon became Riverside's chief designer in its early years.
He later created hundreds of album covers for Blue Note Records and was friends with many of the label's artists, particularly Monk. "The High Priest of Be-bop," Bacon's 1949 essay about the iconoclastic pianist-composer, is still cited for its insights.
Yet, as Bacon said in the Print interview, "If I was born to do something, it was to design book jackets."
His first cover came about by accident after a friend's father asked him to illustrate a 1950 book about searching for chimpanzees in Africa called "Chimp on My Shoulder." The publisher, E.P. Dutton, was impressed enough to have Bacon design the jacket too.
Over the next decades, he worked for all the major publishing houses. Sometimes he settled on all type, which he found was the perfect solution for the salacious "Portnoy's Complaint." That approach was also the key to the covers of Kurt Vonnegut's "Slaughterhouse-Five," William Styron's "Sophie's Choice" and E.J. Kahn's "The Big Drink: The Story of Coca-Cola," which featured the title and author's name in black, green and red lettering squeezed into the shape of a Coke bottle.
His jacket for "One Flew Over the Cuckoo's Nest" was one of his favorites, a pastiche of hand-torn letters in shades of pink, red and yellow.
Bacon "read every book he designed covers for," said publisher Bruce McPherson, who met the artist on a New York City bus 36 years ago. Bacon was reading a manuscript. "Not all designers do that, but he wanted to figure out what sort of book it was and how to sell it."
The designer rarely had contact with the authors, whose suggestions were generally not helpful. Among the few he spoke to was Norman Mailer, who had an idea for the cover of his 1965 novel "An American Dream."
As Bacon recalled in a 2012 interview for the website Out of Print, the pugnacious writer complimented his work, then said, "How would you feel about adding something to it?" It was a photograph of his girlfriend, and Mailer said he didn't care if Bacon made it as small as a postage stamp.
That was exactly how Bacon treated it and, he acknowledged, "it didn't do a bit of harm."
Twitter: @ewooLATimes
---
Must-read stories from the L.A. Times
Get all the day's most vital news with our Today's Headlines newsletter, sent every weekday morning.
You may occasionally receive promotional content from the Los Angeles Times.