Paul Goldenberg dies at 87; 'King of Big Screen' founded Paul's TV store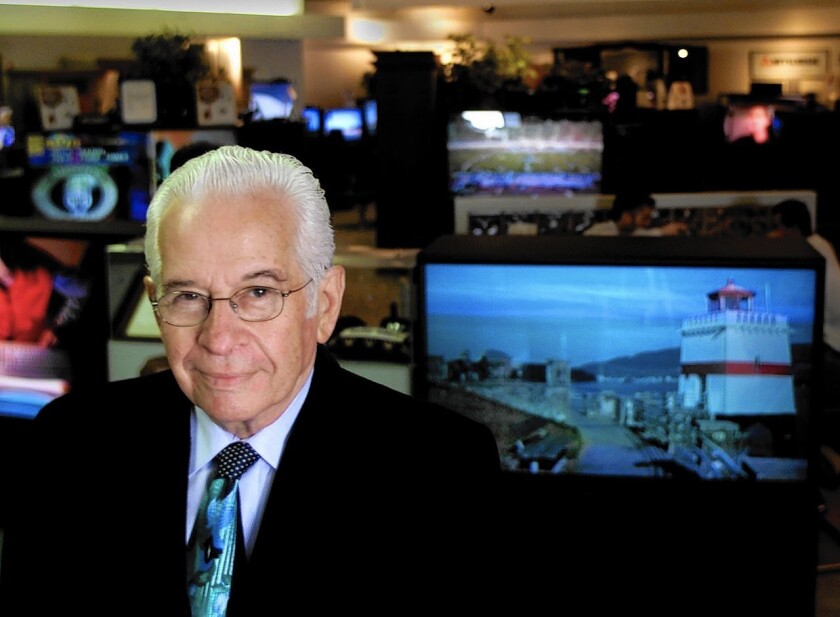 Paul Goldenberg's business model was dazzlingly simple. He had one store and sold two brands of big-screen TVs. He kept prices low, offered same-day delivery and preached that the customer was always right.
The monster sets flew out of his La Habra showroom through the 1980s and '90s, racking up more sales than any other single store in the TV business.
"I am the king!" the founder of Paul's TV crowed in ads that bombarded Southern California airwaves for nearly three decades.
The self-proclaimed "King of Big Screen," who turned a small television repair shop into a retail powerhouse, sported a crown in commercials, and became a generous benefactor of local institutions and charities, died Thursday of natural causes at his La Habra home, his family said. He was 87.
"He was a genius about selling and marketing," said Bob Sodergren, who for years supplied Goldenberg with big-screen TVs from Mitsubishi, one of the first major manufacturers of the mega-sets.
"He figured it out before a lot of people did that people would like to see movies on a big screen at home," Sodergren said. "He was the real pioneer who understood the value of the big screens and put them in the marketplace."
Goldenberg opened a repair shop at Hollywood Boulevard and Vermont Avenue in Los Angeles in the early 1950s and sold TVs on the side. In 1960, he joined the march to the suburbs and opened the La Habra store, selling appliances alongside RCA televisions.
By the late 1970s, however, forces converged that helped turn his store into a regional electronics giant. Home video players, which began appearing in the mid-'70s, were giving Americans another reason to glue themselves to the tube. Then, in 1979, manufacturers began hitting the market with screens that exceeded 25 inches in diameter — boast-worthy for the time.
When the larger projection TVs were introduced, a light went on for Goldenberg. A fan of classic films, he wanted to see his favorites, such as Bette Davis, Cary Grant and Barbara Stanwyck, on a larger screen and figured that other movie buffs would too.
Sports fans were also among the early converts. By the 1984 Summer Olympics in Los Angeles, demand for big screens was booming. Super Bowl Sundays brought blockbuster sales and lines so long that TV news choppers hovered over Goldenberg's store to capture the action.
"They've taken this little box and changed it into something exciting," Goldenberg said in 1990, when 45- and 50-inch screens were becoming the new norm and 120-inch behemoths were on the horizon.
At its height, Paul's TV sold 10,000 sets annually — mainly Mitsubishi and Panasonic — at an average price of about $3,000, or about $30 million a year. That was more than some multi-store operations, said Sodergren, who spent 30 years in sales for Mitsubishi and other manufacturers.
"Nobody did what he did out of a single store," Sodergren said.
The son of Jewish immigrants from Poland and Russia, Goldenberg was born in Los Angeles on April 22, 1928. A Dorsey High School graduate, he entered UCLA when he was 16, but after two weeks decided that college was not for him.
------------
FOR THE RECORD
Aug. 15, 9:20 p.m.: An earlier version of this article incorrectly stated that Paul Goldenberg was born April 19, 1928. He was born April 22, 1928.
------------
After serving in the Army as a photographer, he enrolled in a TV repair course. In 1952, he borrowed $1,000 from a relative to open a repair shop near Hollywood. "I spent $400 in rent, $300 for an old truck and had $300 for capital," he recalled in The Times in 1992. When he installed antennas, he had to rent a ladder.
A few decades later, he had a picture of himself wearing a crown on the wall of his La Habra showroom. Although he had an office there, he often preferred the action on the floor, helping customers with paperwork, resolving complaints, and making sure his employees were courteous and efficient.
Once described as a detail-oriented autocrat, Goldenberg acknowledged that he had little tolerance for "screw-ups." He instructed his installers to always open the front doors of the store in instead of out when carting a big TV so that they wouldn't bump into customers. He also told them to wipe their feet before entering a customer's home.
To uphold his promise of same-day delivery, he maintained a fleet of 20 to 30 trucks that covered Ventura to San Diego.
"The big thing was delivering in four hours or less," said Steve Morse, his cousin and accountant. "Someone would walk out of the store and he'd say, 'What time will you be home?' And when they got home it was waiting for them."
In 2006, Goldenberg sold Paul's TV to a private equity company and concentrated on philanthropy. He was a benefactor of institutions such as the City of Hope and the Los Angeles Jewish Home and was a major Democratic Party donor.
He funded college scholarships and trips to Washington, D.C., for high school students. For a few years he played Santa Claus on skid row, where he passed out $10 bills.
Despite his long advertising blitz as "the king," he was seldom recognized in public, which he said suited him just fine. "I'm just a guy who has a TV store," he once said, "and works hard."
Goldenberg is survived by his son, Douglas Goldenberg, and a granddaughter.
Twitter: @ewooLATimes
---
Must-read stories from the L.A. Times
Get all the day's most vital news with our Today's Headlines newsletter, sent every weekday morning.
You may occasionally receive promotional content from the Los Angeles Times.