Philip Pumerantz, university founder who helped resurrect osteopathic medicine, dies at 85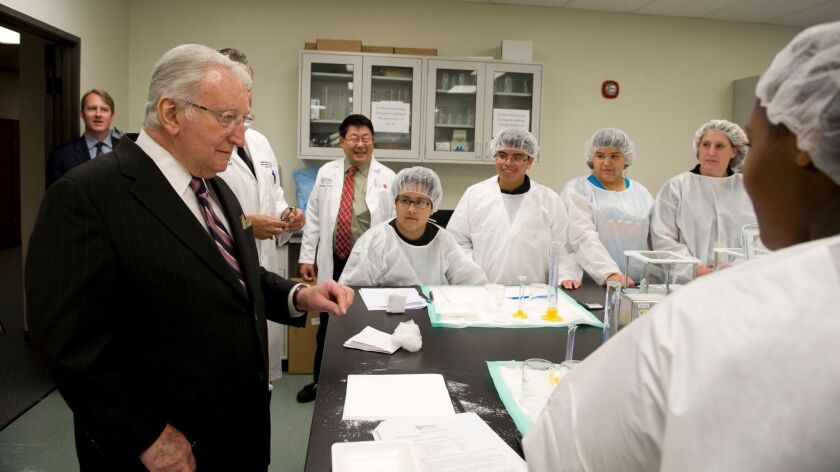 Philip Pumerantz, a former high school teacher who helped resurrect the once-maligned practice of osteopathic medicine in California by founding what's now a bustling medical school, has died at his home in Upland.
Pumerantz, who was one of the longest-serving university presidents in the country when he retired in 2015, died Dec. 26. He was 85.
Under his guidance, what's now Western University of Health Sciences grew from a school of 36 would-be osteopaths studying in the bowels of a shuttered J.C. Penney store in downtown Pomona to a campus of 3,900 students.
The university now sprawls over a 25-acre campus in the heart of Pomona and consists of nine colleges, including Southern California's only college of veterinary medicine. The university has a second campus in Oregon.
Osteopathy had been shoved to the margins by traditional medical practitioners when Pumerantz was recruited to raise the profile of humanistic medicine by opening a school for osteopaths.
Condemned to certain extinction when California banned further licensing of osteopathic physicians in 1962, the practice had been given new life when the state Supreme Court overturned the ban.
The Pomona university, known as the College of Osteopathic Medicine of the Pacific when founded by Pumerantz in 1977, supplied much of the energy — and training — for osteopathy to become a credible alternative to traditional medicine.
As fully licensed physicians, osteopaths must meet the same licensing standards of all doctors and are trained to prescribe drugs and perform surgery just like traditional doctors. Many bring a humanistic approach to medicine by considering the body's muscular and skeletal structure in diagnosing and treating an illness or disease.
As founder of Western University, it was Pumerantz's mission to achieve a peaceful working relationship between osteopathy and traditional medicine.
Born Nov. 3, 1932 in New London, Conn., Pumerantz had to grow up quickly when his father died young. He worked odd jobs to help the family, served overseas with the U.S. Army during the Korean War and ultimately became the first in his family to attend college.
After earning a degree in history from the University of Connecticut, Pumerantz became a teacher and later a high school principal. Chipping away at his education as he worked, he went on to earn a master's degree and doctorate from the University of Connecticut in education administration.
Pumerantz was well into a career as an education consultant when he was named director of education for the American Osteopathic Assn. in Chicago. And when a group of osteopathic physicians in California went looking for someone to help establish the state's first osteopathic medical school after the overturned ban, he seemed like a natural fit.
But when he arrived in Pomona and took a look at what would be the future home of the school, he winced.
The Pomona Mall was a tired-out shopping center. Stores had fled or boarded their windows. The few remaining retailers were just hanging on. If there was a future here, it was tough to immediately spot.
"This shopping center, this mall…there was nobody there," he told the university's magazine in an interview shortly before his retirement. "There were tumbleweeds going down the center of the street."
Nestling into the old J.C. Penney, Pumerantz and others carved out space for classrooms, offices and an anatomy lab, just enough to serve the first wave of students.
The nonprofit school grew rapidly, adding programs for nursing, dentistry and biomedical sciences. In keeping with the core principles of osteopathic medicine, future doctors were offered courses such as Literature in Medicine, in which students read Tolstoy, Kafka and Camus to heighten their empathy.
"Patients are people with feelings, dreams and fears," Pumerantz told The Times in a 1987 interview. "It is essential that their doctors have a sensitivity to their social and psychological needs."
In 2003, Western University and Chapman University in Orange County considered a merger. The idea of combining an undergraduate liberal arts college that could steer students to a nationally accredited health sciences university initially seemed attractive to Pumerantz and his counterpart at Chapman, James Doti. But the proposal was halted when both schools decided to remain independent.
During his career, Pumerantz won numerous awards, wrote textbooks and made a point of mingling with students on campus.
He is survived by his wife, Harriett; their three children, Andrew, Beth and Richard; five grandchildren, Zachary, Alexander, Clarice, Shayna and Zoe; and a brother, Howard.
---
Must-read stories from the L.A. Times
Get the day's top news with our Today's Headlines newsletter, sent every weekday morning.
You may occasionally receive promotional content from the Los Angeles Times.