Suzanne Pleshette, sexy star of 'Bob Newhart Show,' dies at 70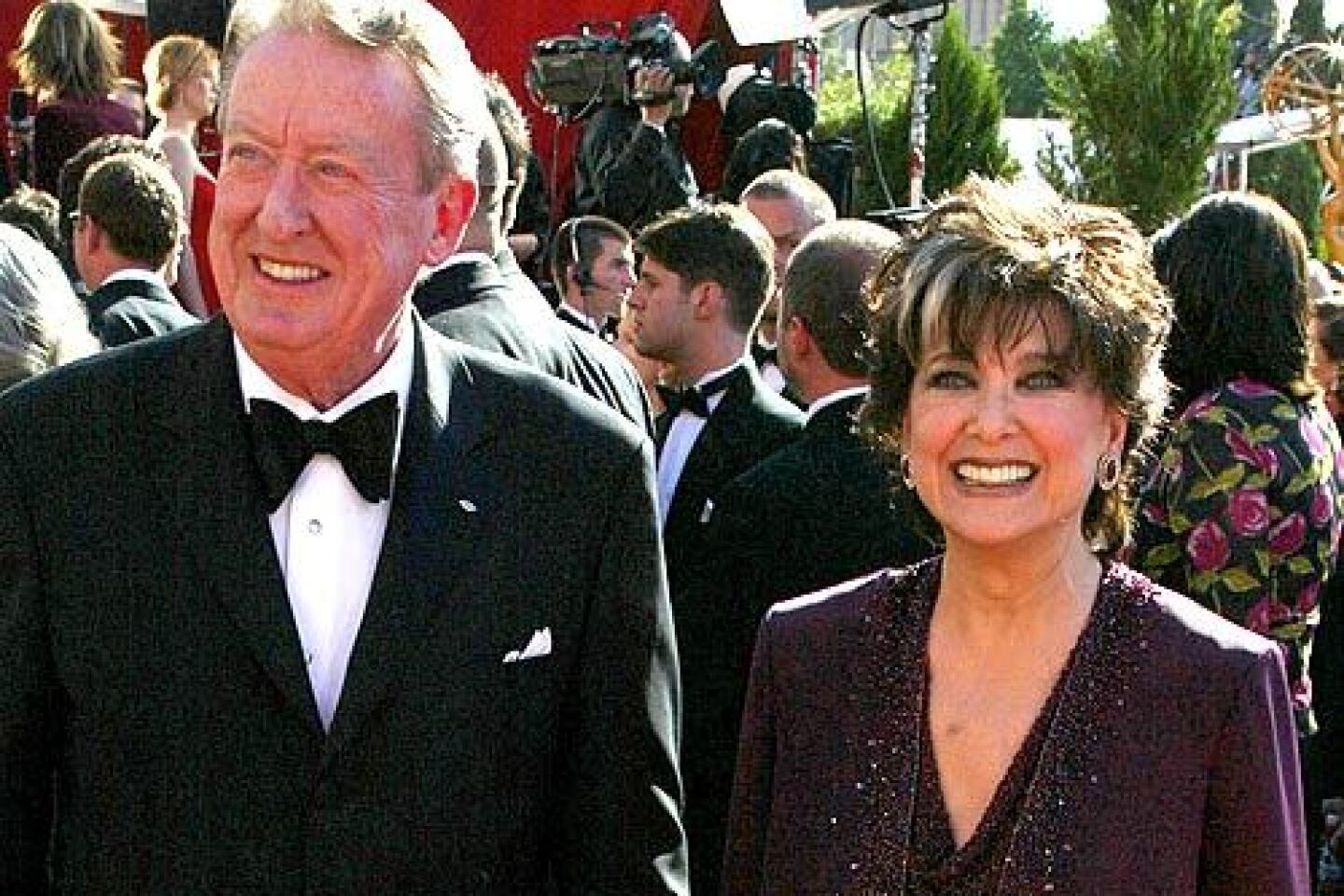 Suzanne Pleshette and her third husband, actor Tom Poston, arrive at the Emmy Award show in 2002 at the Shrine Auditorium. They met — and dated — when they appeared together in a 1959 Broadway show. They were both dealing with the deaths of their spouses in 2000, when they resumed dating and were married the next year. He died in April.
(Robert Gauthier / LAT)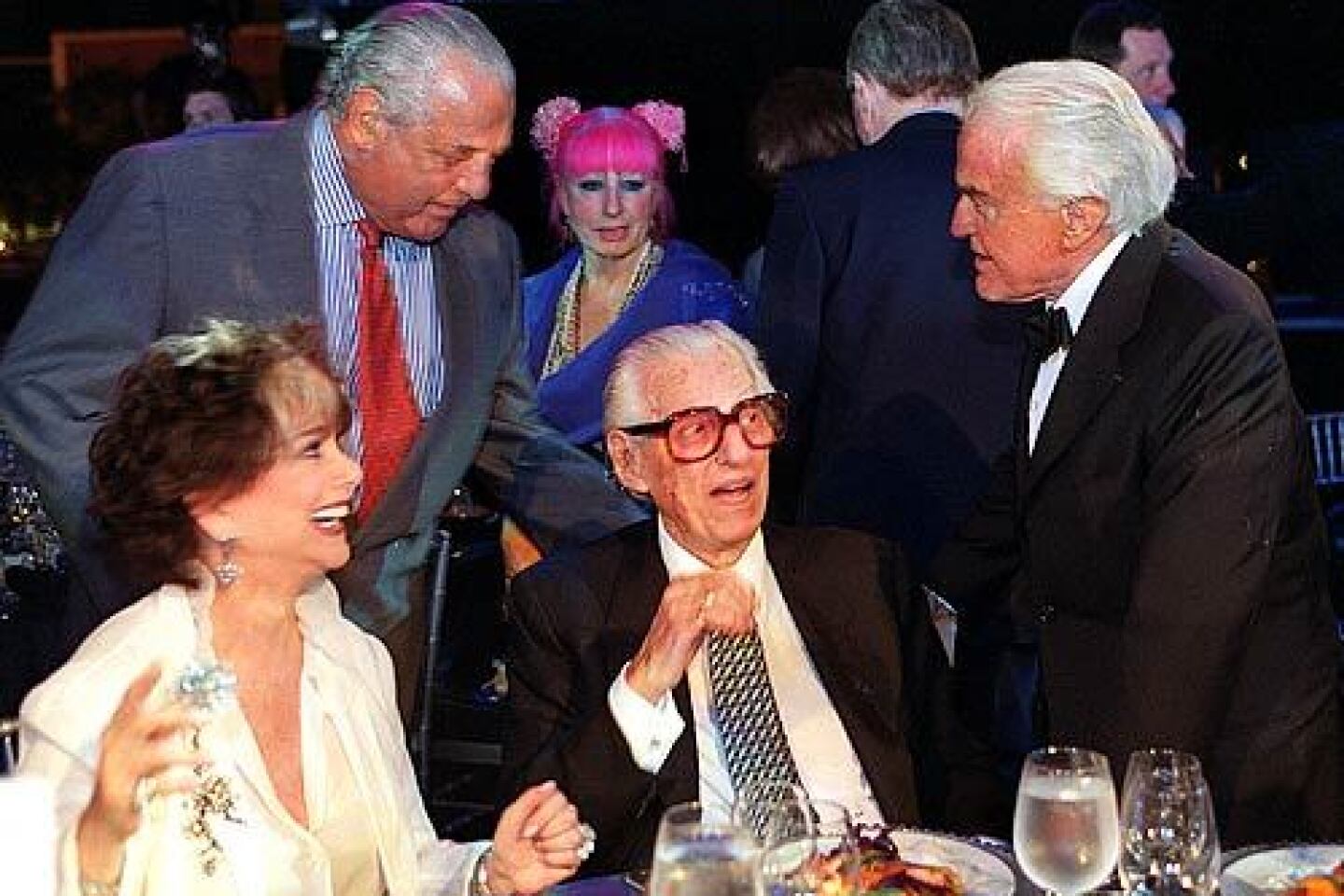 Suzanne Pleshette with MCA mogul Lew Wasserman, center, and Jack Valenti, longtime head of the Motion Picture Assn. of America, at a benefit for the Jules Stein Eye Institute in 2003.
(Stefano Paltera / For The Times)
Los Angeles Times Staff Writer
Suzanne Pleshette, the dark-haired, smoky-voiced actress who played Bob Newhart's confident and sexy wife, Emily Hartley, for six years on the popular 1970s sitcom "The Bob Newhart Show," has died. She was 70.
The widow of comic actor Tom Poston, Pleshette died of respiratory failure Saturday evening at her Los Angeles home, Robert Finkelstein, an entertainment lawyer and family friend, told the Associated Press. Pleshette underwent chemotherapy in 2006 for lung cancer.
A stage-trained New York actress who made her movie debut in the 1958 Jerry Lewis comedy "The Geisha Boy," Pleshette appeared in such films as "The Birds," "Nevada Smith," "Youngblood Hawke," "A Rage to Live" and "Fate Is the Hunter."
She also appeared with Troy Donahue, to whom she was married for eight months in 1964, in the 1962 romantic drama "Rome Adventure" and the 1964 western "A Distant Trumpet."
On Broadway in 1961, Pleshette replaced Anne Bancroft in the role of Annie Sullivan in "The Miracle Worker," opposite Patty Duke as Helen Keller.
And on television in 1991, she earned an Emmy Award nomination for the title role in the TV movie "Leona Helmsley: The Queen of Mean."
But she had a flair for comedy.
Among her screen credits are "40 Pounds of Trouble," "If It's Tuesday, This Must Be Belgium," "Support Your Local Gunfighter," "The Shaggy D.A.," "The Adventures of Bullwhip Griffin," "The Ugly Dachshund" and "Blackbeard's Ghost."
Pleshette, however, is best remembered for playing what New York Times critic Frank Rich once described as "the sensible yet woolly wife" on "The Bob Newhart Show," which ran from 1972 to 1978. Her role as Emily earned her two Emmy nominations.
Pleshette retired from acting after marrying her second husband, wealthy businessman Tom Gallagher, in 1968. She told TV Guide in 1972 that after she'd been hanging around the house for six months, "my loving husband said, 'You're getting to be awfully boring. Go back to work.' "
After trying to figure out how she could return to work without having to get up at 5 a.m. or go out of town for weeks on movie locations, she recalled, "I said to myself, 'What can you do best?' 'Talk,' I said. 'So what better than the talk shows on TV?' I said. I picked up the phone and asked my agent to try to book me with Johnny Carson."
She made a couple of dozen appearances on the Carson show over the next few years, including one with fellow guest Newhart -- a show seen by writers David Davis and Lorenzo Music, the creatorsof the upcoming Newhart show.
"Suzanne started talking, and I looked at Lorenzo and Lorenzo looked at me," Davis told TV Guide. "There she was, just what we were looking for.
"She was revealing her own frailties, talking freely about being over 30. She was bubble-headed but smart, loving toward her husband but relentless about his imperfections. We were trying to get away from the standard TV wife, and we knew that whoever we picked would have to be offbeat enough and strong enough to carry the show along with Newhart. We didn't dream Suzanne would accept the part."
Pleshette told the magazine that "Bob is just like my husband, Tommy, letting me go bumbling and stumbling through life. And the way it's written, the part is me. There's the stream of non sequiturs by which I live. There are fights. I'm allowed to be demonstrative. But the core of the marriage is good."
Off-camera, Pleshette was known for being what an Orlando Sentinel reporter once described as "an earthy dame, an Auntie Mame who isn't afraid to tell a dirty story." Or, as TV Guide put it in 1972: "Her conversations -- mostly meandering monologues -- are sprinkled with aphorisms, anecdotes, salty opinions and X-rated expletives."
She enjoyed talking so much that during the making of "The Geisha Boy," Lewis took to calling her "Big Mouth."
Newhart, according to the TV Guide article, "was finding himself outtalked by Suzanne on the set about 12 to 1 but professed to be unperturbed by the phenomenon."
"I don't tangle," Newhart said, "with any lady who didn't give Johnny a chance to exercise his mouth -- even to sneer -- for 10 whole minutes."
Although Newhart got a new TV wife, played by Mary Frann, for his 1982-90 situation comedy "Newhart," Pleshette had the last laugh -- making a memorable surprise guest appearance as Newhart's previous TV wife, Emily, at the end of the series' final episode.
In it, Dick Loudon, the Vermont innkeeper Newhart played on "Newhart," is knocked out by a stray golf ball. Then the show cuts to a darkened bedroom as he wakes up and turns on the light to reveal Chicago psychologist Bob Hartley's bedroom from "The Bob Newhart Show." The Vermont-set "Newhart" and its colorful characters, it turns out, had only been a dream, and Pleshette's Emily tells Bob he should watch what he eats before going to bed.
In a 1990 interview with "CBS This Morning," Pleshette recalled that when the "Newhart" studio audience first saw the familiar bedroom set from the old series, she heard gasps.
"And then they heard this mumble under the covers, and nobody does my octave, you know," she recalled. "And I think they suspected it might be me, but when that dark hair came up from under the covers, they stood and screamed."
For her and Newhart "to be together again with the old rhythms, looking into each other's eyes, was just wonderful," she said. And, she said, it was "very touching and so dear" that the studio audience "remembered us with such affection."
Pleshette was born Jan. 31, 1937, in New York City. Her mother had been a dancer, and her father was the manager of the New York and Brooklyn Paramount theaters during their big-band days.
After attending the New York High School of the Performing Arts -- "I found myself there," Pleshette later said -- she spent a semester at Syracuse University and a semester at Finch College before moving on to the Neighborhood Playhouse School of the Theatre and acting teacher Sanford Meisner.
Pleshette also starred in the short-lived sitcoms "Suzanne Pleshette Is Maggie Briggs" (1984) and "The Boys Are Back" (1994-95) and the dramatic series "Bridges to Cross" (1986) and "Nightingales" (1989).
More recently, she played the lusty grandmother in the sitcom "Good Morning, Miami" (2002-03).
Pleshette was married to Gallagher from 1968 until his death in 2000.
She first met -- and dated -- Poston when they appeared together in the 1959 Broadway comedy "Golden Fleecing." They were both dealing with the deaths of their spouses in 2000 when they got back together. They were married the next year.
"They are a romantic duo," actor Tim Conway, a friend of Poston's, told People magazine in 2001. "It's almost embarrassing. You have to put cold water on them."
Poston died in April at age 85 after a brief illness.
Details on survivors were not immediately available.
Must-read stories from the L.A. Times
Get the day's top news with our Today's Headlines newsletter, sent every weekday morning.
You may occasionally receive promotional content from the Los Angeles Times.