Prince, master of rock, soul, pop and funk, dies at 57
Prince performs at the Forum in Inglewood on Feb. 18, 1985.
(Liu Heung Shing / Associated Press )
People get emotional while talking about Prince at a memorial for the artist in Leimert Park.
(Barbara Davidson / Los Angeles Times)
A rainbow appears over Paisley Park near a memorial for Prince in Chanhassen, Minn. Prince, widely acclaimed as one of the most inventive and influential musicians of his era with hits including "Little Red Corvette," ''Let's Go Crazy" and "When Doves Cry," was found dead at his home at Paisley Park on Thursday.
(Carlos Gonzalez / Star Tribune via AP)
Prince performs at the St. Paul Civic Center in St. Paul, Minn. on Dec. 25, 1984.
(David Brewster / AP)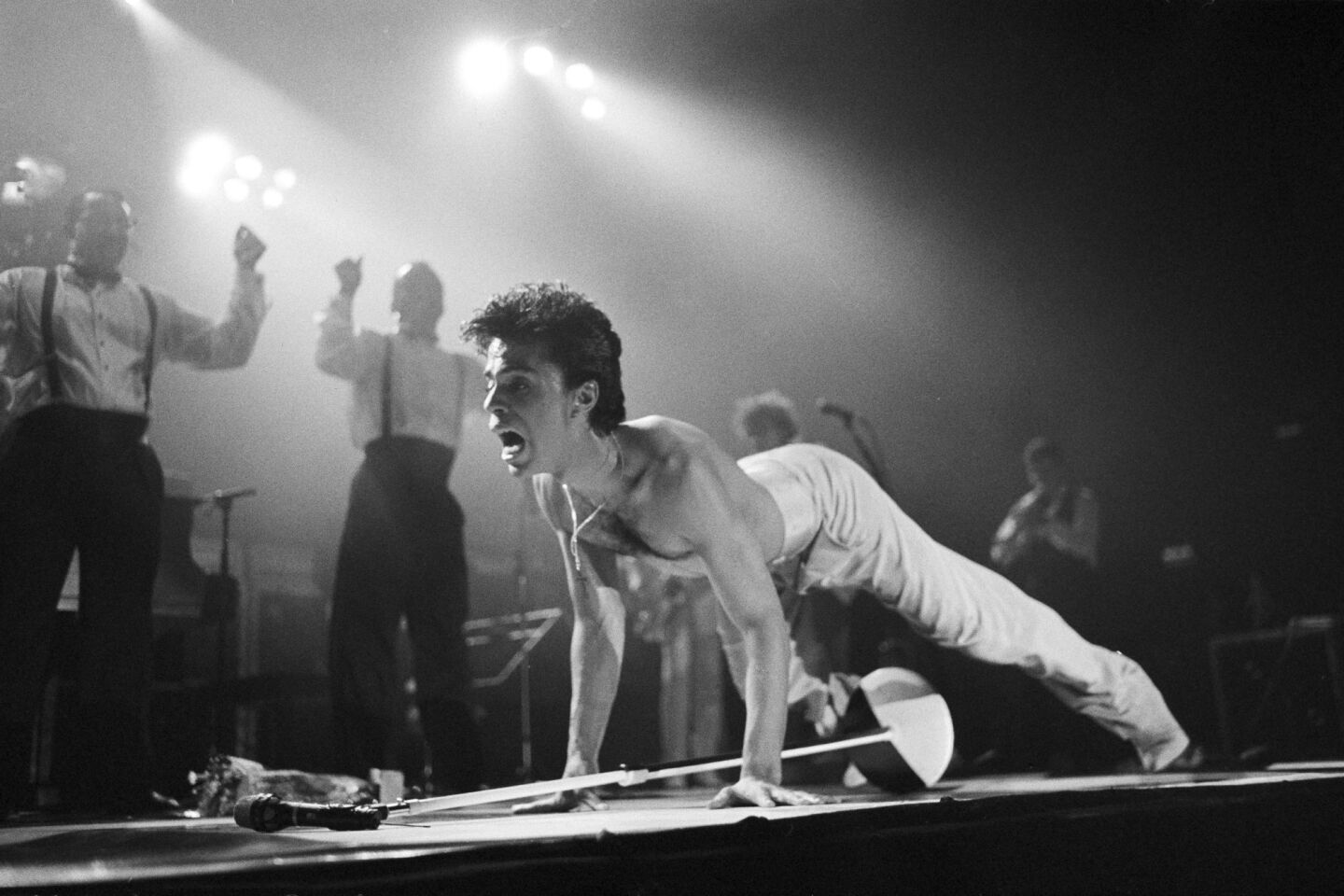 Prince performs on stage on the Hit N Run-Parade Tour at Wembley Arena in London in August 1986.
(Michael Putland / Getty Images)
Prince performs at the Sziget Festival in Budapest, Hungary, on Aug. 9, 2011.
(Balazs Mohai / EPA)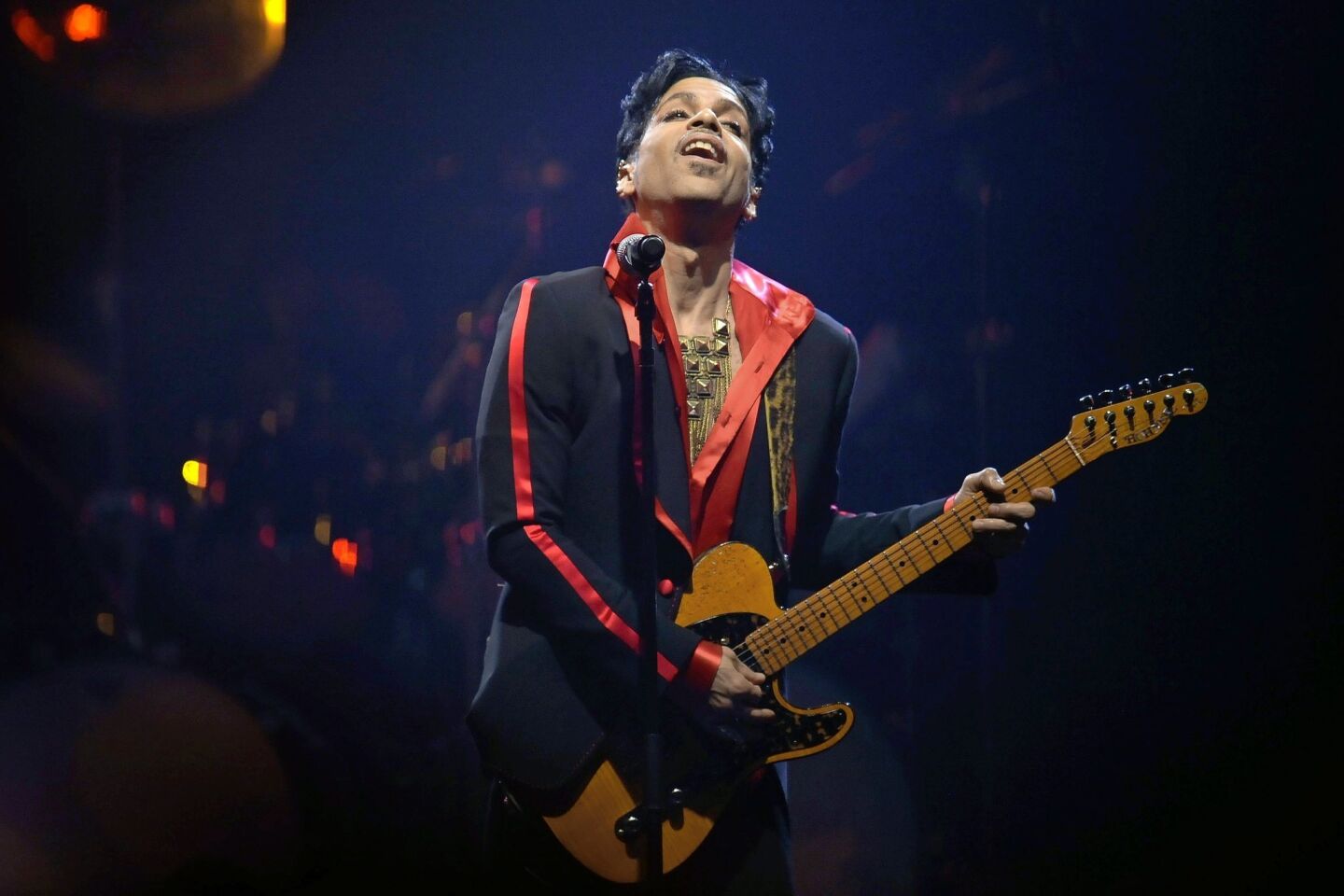 Prince at the Sportpaleis in Antwerp, Belgium, on Nov. 8, 2010.
(Dirk Waem / EPA)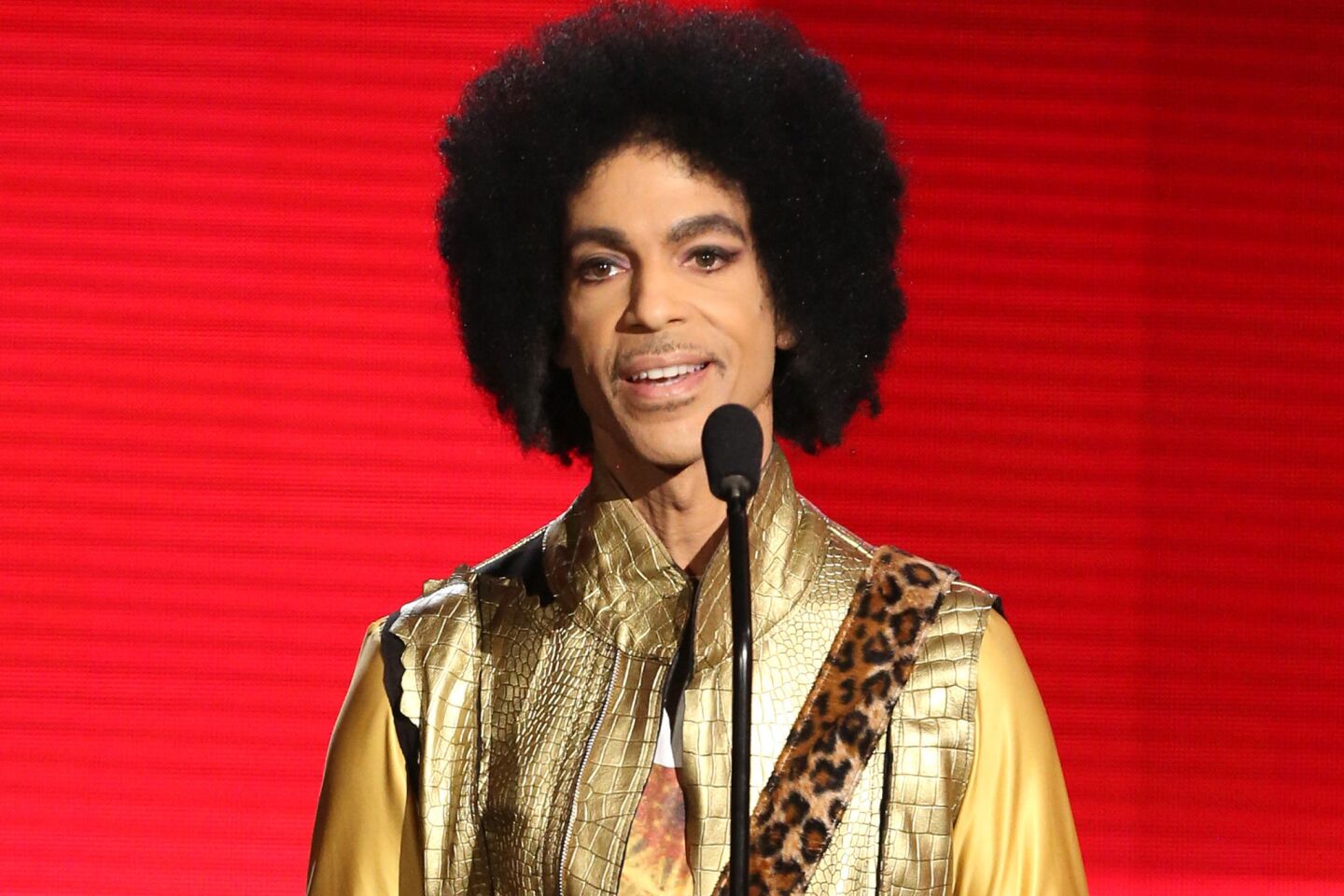 Prince presents an award at the American Music Awards in Los Angeles on Nov. 22, 2015.
(Matt Sayles / Invision / Associated Press)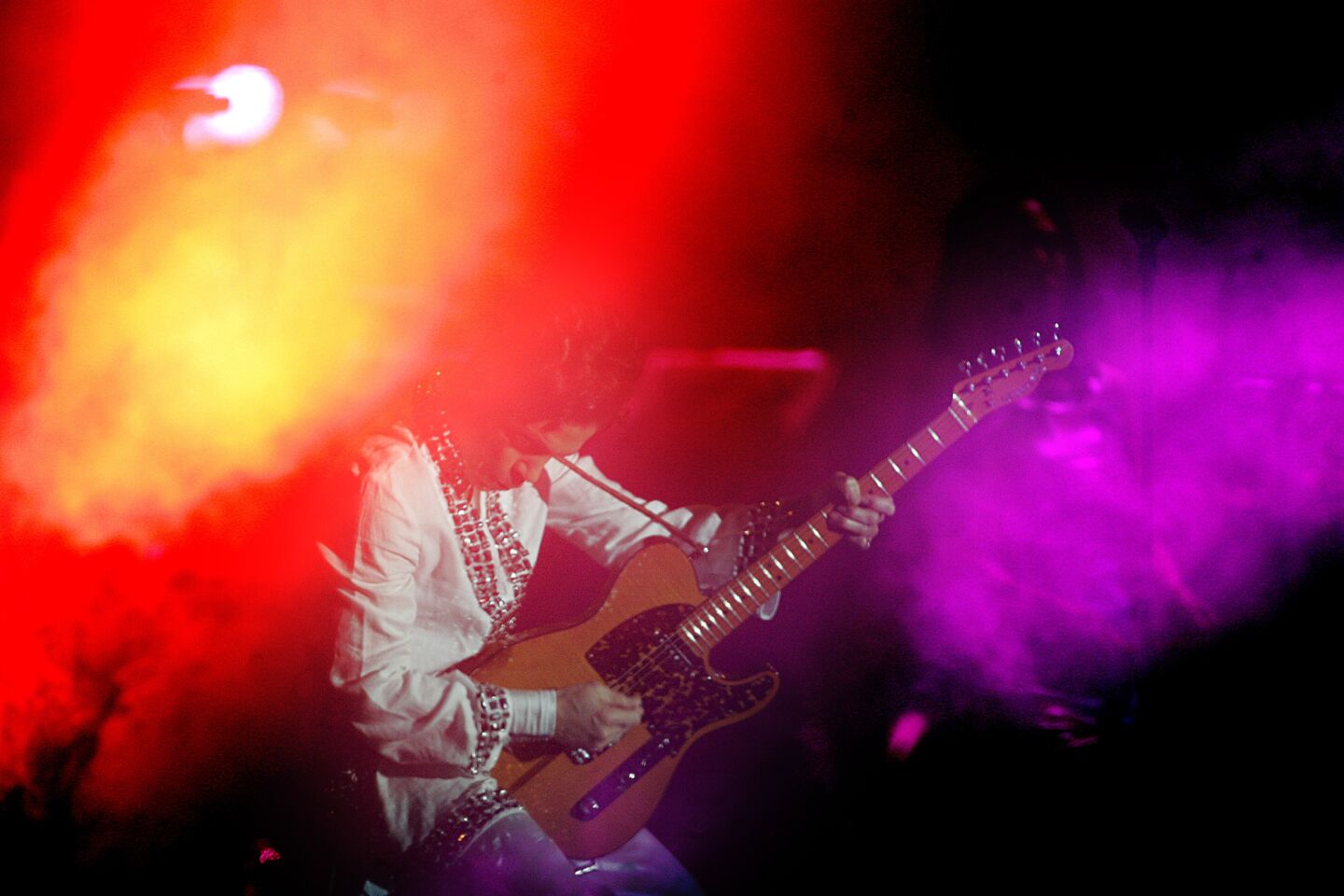 Prince performs at Coachella Valley Music & Arts Festival in 2008.
(Spencer Weiner / Los Angeles Times)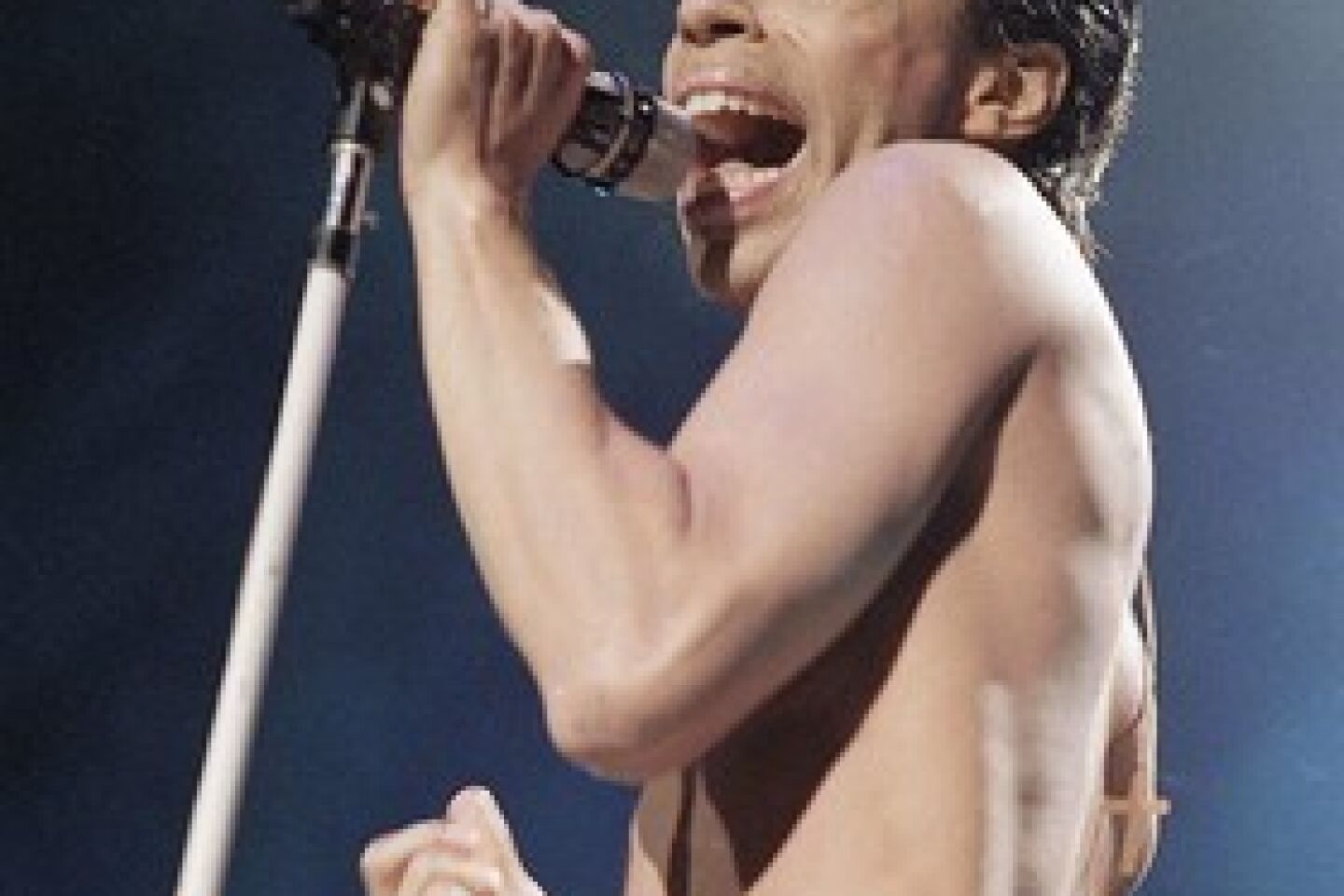 A shirtless Prince performs in 1986.
(Mario Suriani / Associated Press)
Prince and Manuela Testolini arrive at the 2005 Academy Awards.
(Robert Gauthier / Los Angeles Times)
Prince and Manuela Testolini arrive at the 2005 Annual Academy Awards.
(Al Seib / Los Angeles Times)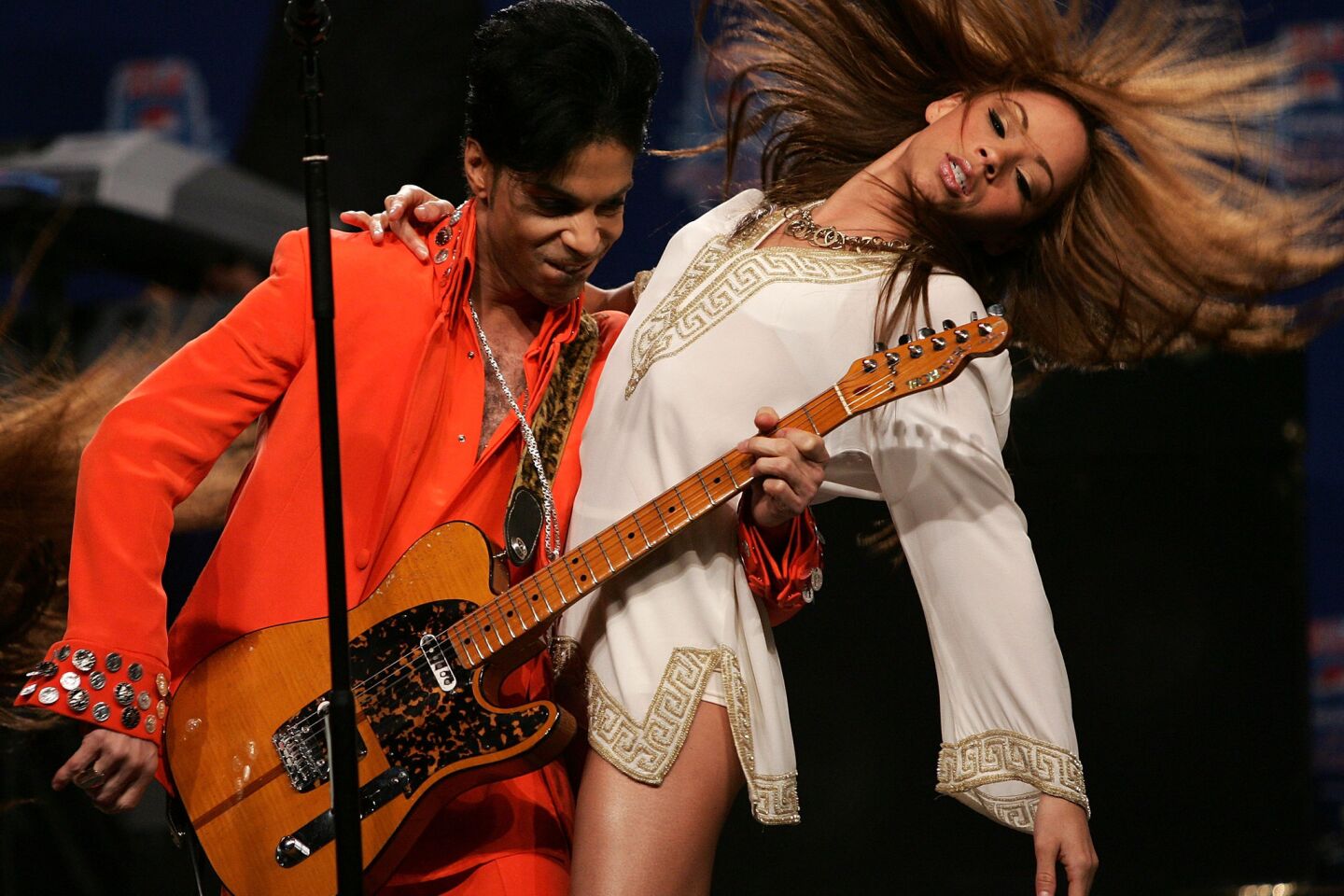 Prince performs at the Super Bowl in 2007.
(Evan Agostini / Getty Images)
Prince in 2008.
(Spencer Weiner / Los Angeles Times)
Prince performs "Purple Rain" at the 46th Annual Grammy Awards in 2004.
(Richard Hartog / Los Angeles Times)
Prince performs at the Super Bowl in 2007.
(Chris O'Meara / Associated Press)
Prince with Beyonce at the 2004 Grammy Awards.
(Richard Hartog / Los Angeles Times)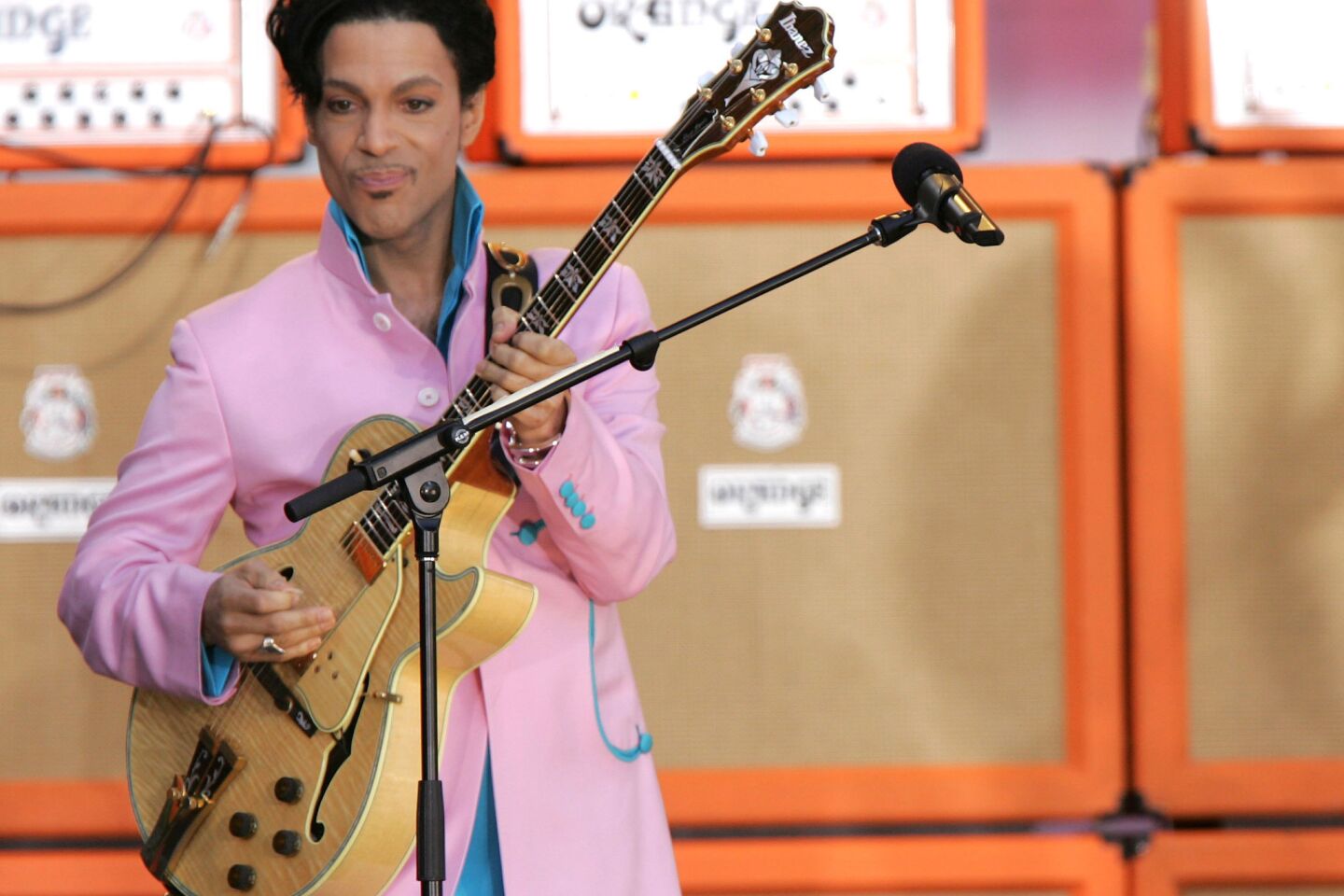 Prince performs on ABC's "Good Morning America" in 2006.
(Peter Kramer / Getty Images)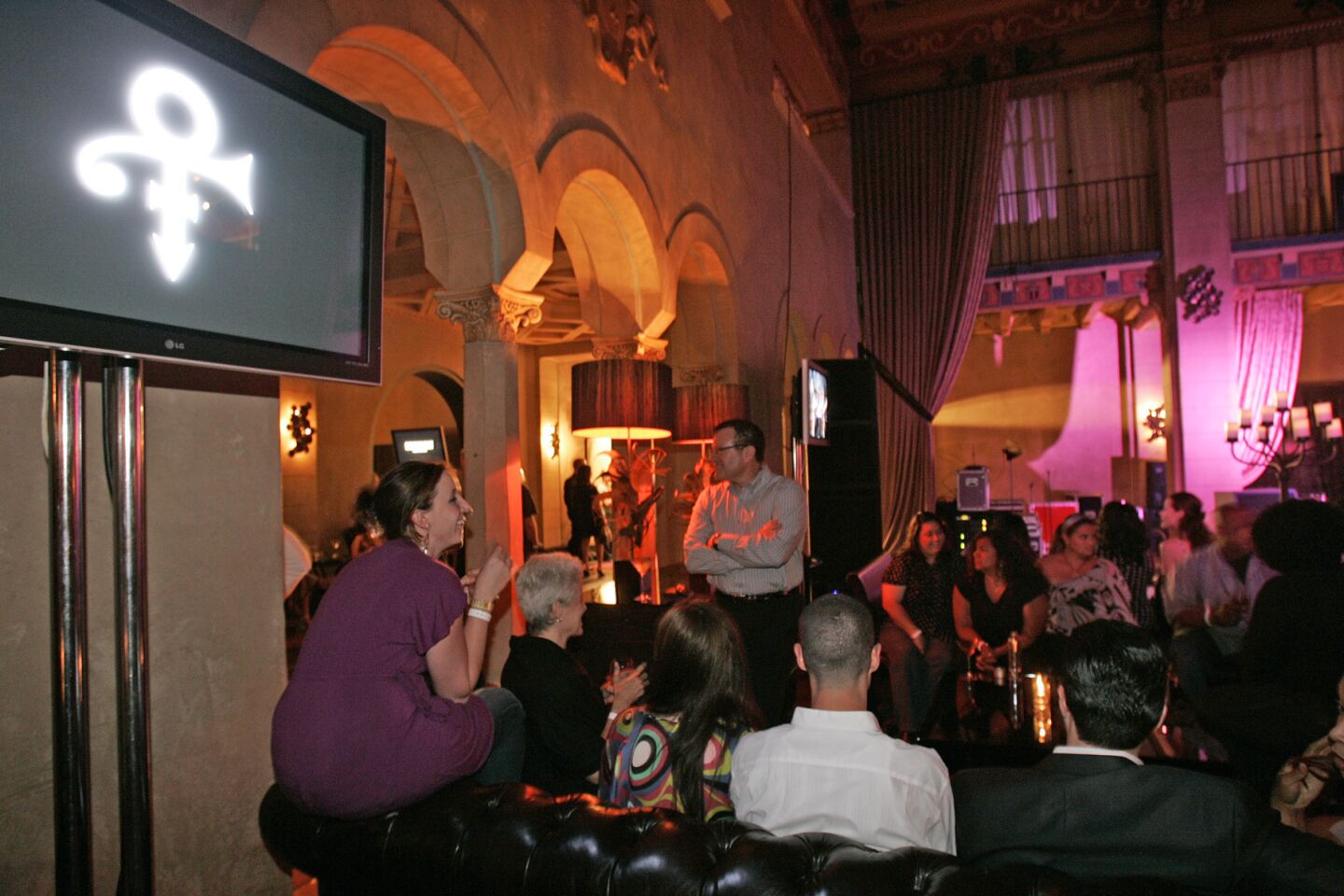 The crowd at the Roosevelt Hotel in Hollywood before a Prince concert in 2007.
(Lori Shepler / Los Angeles Times)
Prince performs in France in 2011.
(Bertrand Guay / AFP/Getty Images)
At the Rock and Roll Hall of Fame induction ceremony in 2004, Prince walked on stage with fellow rock legends Tom Petty, Jeff Lynne and others to pay tribute to the late George Harrison with a cover of the Beatles' "While My Guitar Gently Weeps."
Dressed in a red hat and matching shirt unbuttoned to his stomach, Prince took the song's final solo — burning through riff after riff of instrumental fireworks. Then he threw his guitar over his head and walked offstage without saying a word.
In a room of legends, Prince still had no equal. A sexual boundary pusher and devout Jehovah's Witness, he was our first post-everything pop star, defying easy categories of race, genre and commercial appeal.
See the most-read stories in Entertainment this hour >>
He was one of the best-selling artists of all time, and showed the way to a transcendent new future for pop music, influencing artists as diverse as Madonna, Bruno Mars and Pharrell.
Prince, 57, had been hospitalized in Illinois last week for what his representative said at the time was the flu, which he had been battling for weeks, leading to the cancellation of two shows on his "Piano and a Microphone" tour. He was released after three hours and returned to his home, Paisley Park, in Minnesota.
On Thursday morning, authorities found the singer unresponsive in an elevator at Paisley Park Studios in Chanhassen, Minn. "First responders attempted to provide lifesaving CPR, but were unable to revive the victim. He was pronounced deceased at 10:07 a.m.," the Carver County Sheriff's Office said in a statement. "We are investigating the circumstances of his death."
Testifying to the enormous impact Prince had on the pop culture landscape, reactions quickly poured out from fans and music peers including Justin Timberlake, Katy Perry and Elton John, who called him the "greatest performer I've seen. A true genius."
Even President Obama saluted the late performer. "Few artists have influenced the sound and trajectory of popular music more distinctly, or touched quite so many people with their talent," he said. "As one of the most gifted and prolific musicians of our time, Prince did it all."
Former Times pop music critic Robert Hilburn talked about Prince's enigmatic nature.
"Off stage, Prince could be as shy and fragile as Michael Jackson, but on stage, he was transformed into a musical superman," Hilburn said. "If we pause and look around at today's wonderfully diverse music scene, it is a testimony to Prince's boldness and influence. Though he was overshadowed commercially by Michael, Prince … , when considering songwriting and productivity, may stand as the greater artist."
Born Prince Rogers Nelson in Minneapolis on June 7, 1958, the trailblazing performer sold more than 100 million records over his career, fusing rock, pop, funk and R&B and demonstrating an audacious, idiosyncratic sense of style and a willingness to court controversy. A Rock and Roll Hall of Fame inductee, he won seven Grammy Awards and an Academy Award for original song score for the 1984 film "Purple Rain."
Prince married twice, first to his backup singer and dancer Mayte Garcia in 1996, then again to Manuela Testolini in 2001. He had a son with Garcia; the boy died a week after birth. Before, between and after his marriages, he was romantically linked to many celebrities and musical collaborators, including Madonna and Kim Basinger.
A highly prolific and restless artist who blended androgynous sexuality with impeccable pop craftsmanship, Prince released more than three dozen albums over his four-decade career. He scored more than 50 Top 40 hits around the world since 1979, including such songs as "When Doves Cry," "1999," "Little Red Corvette" and "Raspberry Beret."
Drawn to music from a young age, in part as a way to escape a turbulent home life, he wrote his first song on his father's piano when he was just 7 years old.
"I was born epileptic and I used to have seizures when I was young," he told PBS host Tavis Smiley in 2009. "My mother and father didn't know what to do or how to handle it, but they did the best they could with what little they had .... From that point on, I've been having to deal with a lot of things — getting teased a lot in school — and early in my career I tried to compensate for that by being as flashy as I could and as noisy as I could."
While attending Minneapolis' Central High School, Prince joined his first band, Grand Central, playing piano and guitar while performing a mix of covers and original songs that touched such varied influences as James Brown, Miles Davis, Jimi Hendrix and Sly and the Family Stone.
Having developed into a virtuosic multi-instrumentalist, Prince produced, arranged, composed and played all 27 instruments on his 1978 debut album, "For You." But it was with his second album, titled simply "Prince," that the singer's career began to explode, with the infectious, brazenly sexual singles "Why You Wanna Treat Me So Bad?" and "I Wanna Be Your Lover" driving the album to platinum sales.
Prince's music was steeped in the contradictions of his background — a black artist who toyed with his racial background in the casting of "Purple Rain," sexually flamboyant and gender playful, with a Midwestern self-reliance that created space for his idiosyncrasies. Minneapolis' First Avenue nightclub was his home base, and few musicians have defined a city so thoroughly.
"Prince was the Patron Saint of First Avenue. He grew up on this stage, and then commanded it, and he united our city," said representatives of First Avenue in a statement. "It is difficult to put into words the impact his death will have on the entire music community, and the world."
Songs like "Darling Nikki" and "Head" were some of the most frankly sexual tracks of the era. Yet unlike many of his rock peers, they were always rooted in a tender, sometimes mystical spirituality that made even his bawdiest lyrics feel generous. Coupled with his one-of-a-kind fashion sense — ubiquitous purple, alluring makeup and frilled garments — he was matched only by David Bowie for his appeal across all sexualities.
The Los Angeles County Museum of Art made it rain purple in honor of Prince on Friday.
(Barbara Davidson / Los Angeles Times)
Dancing in Leimert Park.
(Barbara Davidson / Los Angeles Times)
The 35W bridge lit in purple to commemorate the life of Prince on in Minneapolis, MN.
(Stephen Maturen / Getty Images)
Julya Baer honors Prince in Leimert Park, where fans laughed, cried and danced in remembrance of the music legend.
(Barbara Davidson / Los Angeles Times)
An impromptu block party held outside First Avenue nightclub in Minneapolis, MN.
(Stephen Maturen / Getty Images)
People dance during a candle light vigil in remembrance of Prince outside the Warner Theatre in Washington, DC.
(ANDREW CABALLERO-REYNOLDS / AFP/Getty Images)
The Superdome in New Orleans is lit purple to honor Prince.
(Gerald Herbert / Associated Press)
The High Roller at The LINQ Promenade on the Las Vegas Strip is lit with purple lights in memory Prince.
(Ethan Miller / Getty Images)
The Melbourne Arts Centre spire is lit in purple to honor Prince in Melbourne, Australia.
(JULIAN SMITH / EPA)
Los Angeles City Hall is decorated with purple lights in memory of Prince.
(Robert Lachman / Los Angeles Times)
A home, and a fan, in Long Beach.
(Rick Loomis / Los Angeles Times)
A gathering in Leimert Park.
(Barbara Davidson / Los Angeles Times)
Tori Trikki Dozier, right, and Loretta Thomas at Leimert Park.
(Barbara Davidson / Los Angeles Times)
Overcome with grief while listening to "Purple Rain."
(Barbara Davidson / Los Angeles Times)
A wall outside the First Avenue nightclub in Minneapolis.
(Stephen Maturen / Getty Images)
Timettra Wellington, left, of Long Beach and LaWanda Butler of San Bernardino get emotional while talking about Prince in Leimert Park.
(Barbara Davidson / Los Angeles Times)
Michael Hampton honors Prince in front of the Fox Theatre in Atlanta.
(Ben Gray / Atlanta Journal-Constitution)
Prince's star outside the Warner Theatre in the nation's capital.
(Andrew Callero-Reynolds / AFP-Getty Images)
People gather outside the Apollo Theater in New York.
(Don Emmert / AFP-Getty Images)
A mural in the lobby of the Grammy Museum in Los Angeles.
(Kevork Djansezian / Getty Images)
The Hard Rock Cafe in New York.
(Jewel Samad / AFP-Getty Images)
Perfectly poised to capitalize on the advent of music videos, Prince would go on to rule the pop charts in the 1980s, releasing a string of wildly successful albums, including "1999," "Around the World in a Day" and the soundtrack to the semi-autobiographical "Purple Rain," in which he also starred, an album that has sold more than 22 million copies worldwide and is regularly ranked as among the best in rock history.
Prince's ambition never slowed with age. His 1987 album "Sign O' The Times" was one of his major achievements, a double LP that explored global politics, sexual intimacy and spiritual rebirth. In 2011, he played 21 dates at the Forum in Inglewood and other L.A. nightclubs. "He has earned the right through his musical genius and success and cultural impact to do things the way he wants to do them," Randy Philips, then the chief executive of AEG Live and co-promoter of Prince's 21-night 2007 London stand, told The Times.
Ken Ehrlich, executive producer of the Grammy Awards show, called Prince "one of music's true original creators and performers."
"The several times we were fortunate enough to work with him were always times of incredible showmanship and artistic brilliance, and for my money, he was one of the greatest guitarists in the world," Ehrlich said in a statement. "His opening number with Beyoncé on the Grammy Awards has always been thought of as one of our greatest Grammy moments."
Raised a Seventh-day Adventist, he later became a Jehovah's Witness and often referenced spirituality in his lyrics. "Dearly beloved, we are gathered here today to get through this thing called life," he intoned in the manner of a preacher in 1984's "Let's Go Crazy."
Speaking to Smiley in 2009, he cited his religious views to explain why he hadn't voted for President Obama: "The reason why is that I'm one of the Jehovah's Witnesses, and we've never voted.... President Obama is a very smart individual and he seems like he means well. Prophecy is what we all have to go by now."
Leveraging his status as a respected tastemaker, Prince wrote songs that became hits for other artists, like the wrenching Sinead O'Connor ballad "Nothing Compares 2 U," and nurtured the careers of a series of proteges, including Morris Day, Vanity and Sheila E, who wrote, "My heart is broken. There are no words. I love you" on her Twitter page.
A strong and vocal proponent of artists' rights, he publicly waged a battle in the early '90s against his label at the time, Warner Bros., changing his name to an unpronounceable symbol and writing the word "slave" across his face. Last year, in protest of what he saw as paltry royalties being paid to musicians, he pulled his music off of all streaming services except Tidal.
"The art of making records, I give it so much respect," Prince told The Times in a rare interview in 2009. "But it gets trampled on for the sake of commerciality."
Even as the music business shifted dramatically around him, Prince remained productive. In recent years, he continued to release albums at a steady clip, including 2015's two-part "HITnRUN." And he never lost his penchant for provocation, making headlines in 2007 with a Super Bowl halftime show that featured a phallic guitar silhouette.
Despite his illness, Prince still made it to Atlanta's Fox Theater last week for an intimate, piano-focused show. On April 15, just after his hospitalization and just days before his death, Prince had written a grateful note to fans on Twitter. "I am #transformed."
Randy Lewis and Libby Hill contributed to this report.
MORE ON PRINCE
When Prince bended gender, he gave black men permission to be free
Appreciation: From beginning to end, Prince was always surprising us
Prince took a protective stance on music copyrights
Celebrities react to Prince's death: 'And just like that ... the world lost a lot of magic
From the Archives: Prince: 'If I knew the things I know now before, I wouldn't be in the music industry'
Must-read stories from the L.A. Times
Get the day's top news with our Today's Headlines newsletter, sent every weekday morning.
You may occasionally receive promotional content from the Los Angeles Times.