Ray Briem dies at 82; all-night radio host in L.A.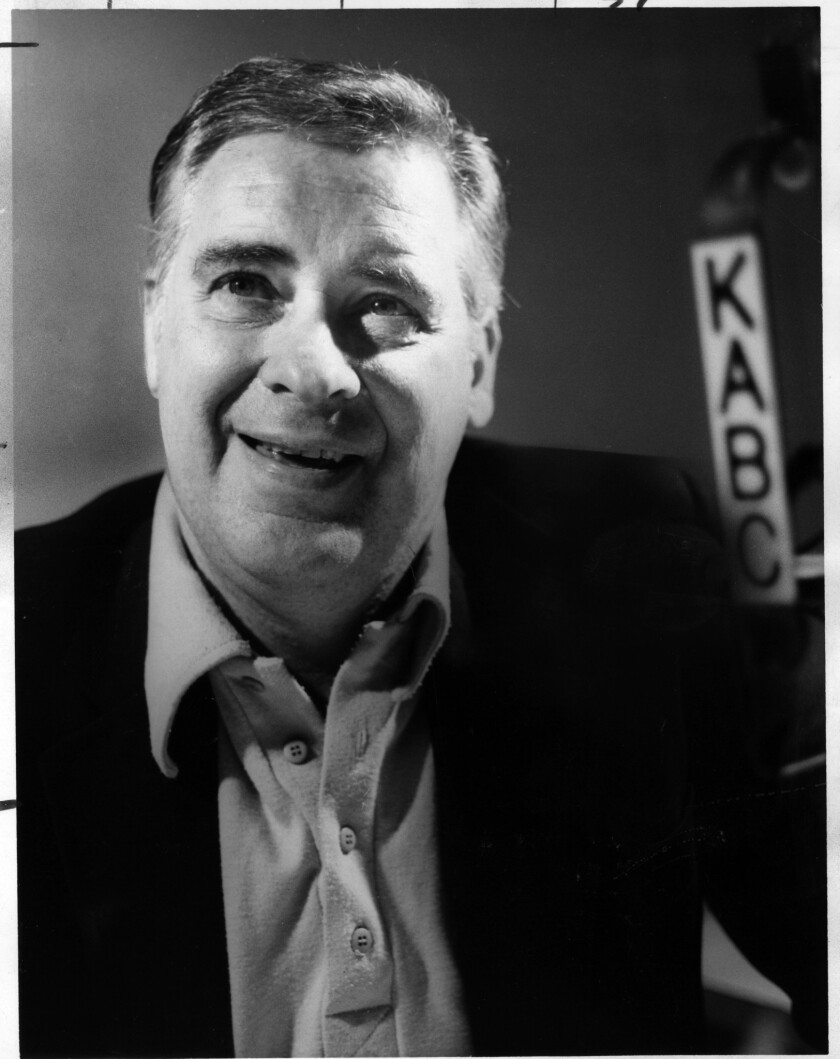 Ray Briem, the longtime KABC-AM talk show host who ruled all-night radio for nearly three decades with his phone calls to the famous and the quirky and his opinionated banter slamming liberals, championing conservative causes and extolling the big-band music he loved, died Wednesday at his Malibu home. He was 82.
The cause was cancer, said his son Bryan.
Briem spent most of his life on the radio, reaching his largest audience as the host of a popular midnight-to-5 a.m. talk show on KABC from 1967 to 1994. During those 27 years he helped set the mold for what has become a major radio genre.
WALK OF FAME: Visit Ray Briem's star
"We consider him one of the most important radio talk-show hosts of all time," said Michael Harrison, publisher of Talkers magazine, the main trade publication for the talk radio industry. "There were only a handful of stations in the entire country doing talk then. It hadn't been formulated, researched, standardized and consulted. It was all based on these creative characters … and Ray Briem was one of the originals."
One of the first conservatives to establish a beachhead in radio, Briem dominated the post-midnight hours, consistently attracting the largest ratings of any overnight talk show. The year he left KABC he was drawing 15.7% of the available audience, a remarkable share in any era. He was also one of the station's most effective pitchmen, whose show "brought in more than a million dollars a year in revenue," said former KABC General Manager George Green.
His political crusades also turned tides.
Briem gave Proposition 13 author Howard Jarvis a regular platform during the 1970s and was credited by Jarvis for helping build the public groundswell that led to the anti-tax measure's resounding victory in 1978. Its passage proved that conservative radio did not play "only to the fringe," Briem said, but had mainstream appeal. "We spoke to the people, and the people responded," he told The Times in 1996.
The veteran broadcaster later bolstered the campaign for Proposition 187 led by Harold Ezell, who credited Briem with helping to get the controversial initiative cutting state services for illegal immigrants on the 1994 state ballot.
Briem also defended President Nixon during the Watergate scandal, which so endeared him to one loyal listener that when she died at 100 she left Briem her house.
An avid pilot, Briem sold the house to buy an airplane.
"He was of a different era," said Michael Jackson, another talk-radio icon who was a daily presence on KABC but attracted a more liberal base than Briem. "Politically we disagreed on almost everything, but I liked him — you couldn't help it. He had no affectation. He cared about the caller. He was always fair.... And his audience trusted him."
Briem was born Jan. 19, 1930, in Ogden, Utah, where his mother was a teacher and his father was a railroad engineer. He briefly attended the University of Utah, where he studied chemistry but abandoned his plans for a science career after "he blew up his chemistry set in the house," his son said.
By then Briem already had the radio bug. When he was 15, he and his buddies conceived a 15-minute radio drama called "The Adventures of Vivacious Vicky" that Ogden's tiny radio station agreed to air. When a staffer at the station went on a drunken binge on V-E Day in 1945, Briem was asked to fill in. Later that year, he was hired full time.
He worked with Armed Forces Radio during the Korean War, hosting live shows with big-name bands, including those led by Harry James, Guy Lombardo, Count Basie and Duke Ellington.
In 1953, after completing his military service, Briem moved to Los Angeles to spin records at KGIL-AM. He remained a deejay through the early 1960s, including a stint in Seattle where he worked for King Broadcasting on both its radio and TV outlets. He hosted a popular teen dance show that led fans to call him "the Dick Clark of Seattle."
In 1958, he married Elsie Child. The marriage ended in divorce in 1964. He is survived by their two children, Bryan, of Malibu, and Kevin, of San Diego; and five grandchildren.
In 1960 Briem came to Los Angeles to deejay at KLAC-AM. He was mentored there by Joe Pyne, the abrasive forerunner of confrontational talk show hosts such as Wally George, Rush Limbaugh and Glenn Beck. When the station asked Briem to switch to nighttime talk, "I went into it kicking and screaming," and endured a steep learning curve, he told The Times. "I realized what a dumb head I was. I knew very little about politics or the workings of government, and the first year I was an embarrassment."
But he built up a following during his seven-year stint, engaging listeners with straightforward topics, "like cats, frogs and even submarines," he said in a 1966 Times interview, noting that the submarine show elicited a call from a Nazi U-boat commander who had settled in L.A.
Briem also made "Kooky Calls," the most celebrated of which featured a Hogansville, Ga., police chief who regaled L.A. night owls with stories about confiscating and testing Georgia moonshine. When Briem brought the chief to Hollywood for a week of V.I.P. treatment, he was met by a welcoming party of 300 KLAC listeners.
When Briem was hired at KABC in 1967, he continued to fill the hours with unusual phone calls. One of his most memorable long-term phone pals was Vladimir Pozner, the Radio Moscow commentator who went on to become a Western media celebrity.
After thousands of nights helping the lonely and insomniac pass the hours, Briem "pulled the plug" in 1994. KABC threw him a retirement party at the Century Plaza, which drew more than 1,000 Briem listeners who paid $50 apiece to see their idol and listen to some of his favorite musical artists, including Frankie Laine and the Mills Brothers.
WALK OF FAME: Visit Ray Briem's star
"I'm 65 and my body says staying up all night ain't the right thing to do," he told The Times shortly before he retired. "You never get used to it. Your biological clock, your circadian rhythms are always upset. There will be times when I will miss it, but being able to sleep at night — oh, how wonderful! That will more than compensate for the pangs of not having a forum."
His retirement was brief. Less than a year later he was back on the air, anchoring an afternoon drive show for KIEV-AM. He retired for good in 1997.
A memorial service will be held at 11 a.m. Dec. 22 at the Church of Jesus Christ of Latter-day Saints, 575 Los Liones Drive, Pacific Palisades.
---
Must-read stories from the L.A. Times
Get all the day's most vital news with our Today's Headlines newsletter, sent every weekday morning.
You may occasionally receive promotional content from the Los Angeles Times.