From the Archives: 'The Genius' Put His Stamp on Music, From Soul to Country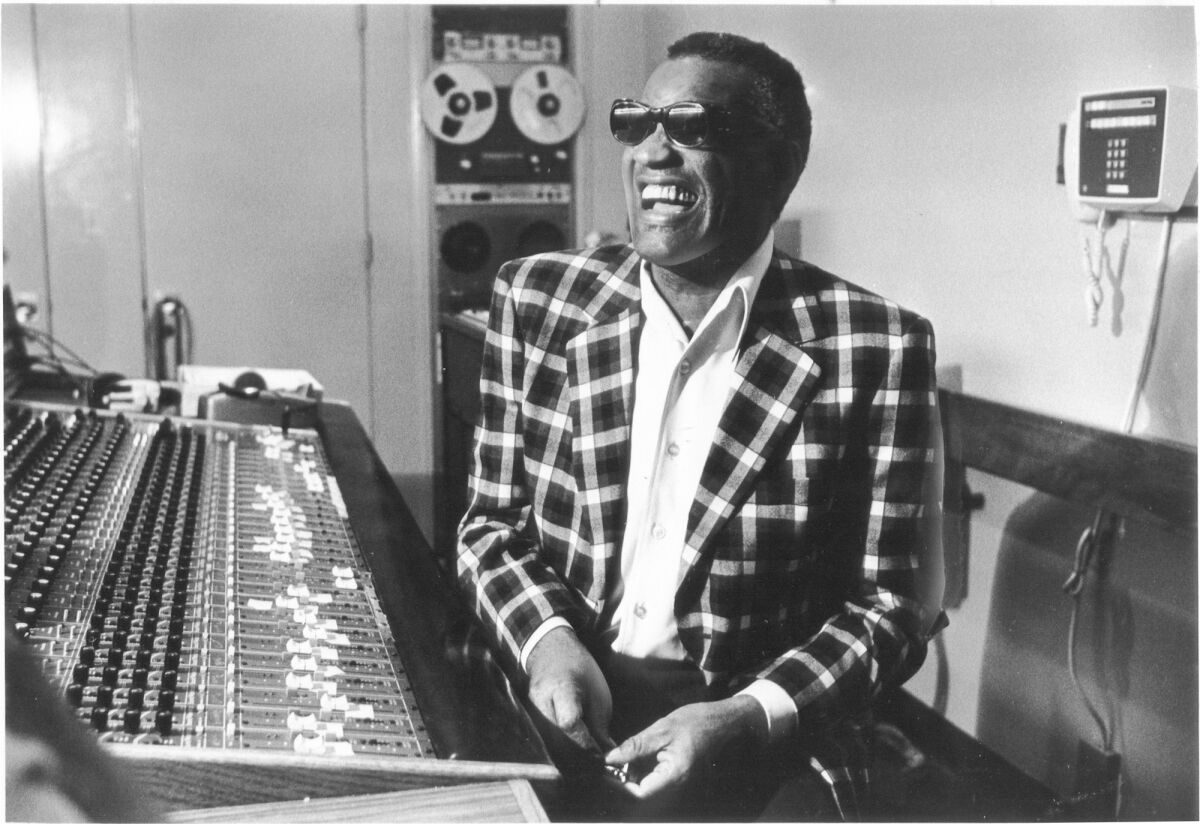 Times Staff Writers
Ray Charles, the musical innovator whose bold, effortless fusions left an indelible mark on the rock, soul and country music of the past half-century, died Thursday at his Beverly Hills home. He was 73.
The cause of death was complications of liver disease, according to his publicist, Jerry Digney.
The hard-working musician, blind since childhood, had undergone successful hip-replacement surgery last fall, canceling a concert tour for the first time in 53 years on the road. Other ailments, including liver failure, were diagnosed while he was recuperating from the surgery and his health continued to deteriorate.
------------
FOR THE RECORD
The obituary of singer Ray Charles in Friday's Section A said he composed the theme song of the TV series "Three's Company." It was written by Don Nicholl and Joe Raposo.
------------
Still, he moved forward with his latest recording project, working in the studio as recently as April on an album of duets with Willie Nelson, B.B. King, Elton John, Bonnie Raitt, Norah Jones and others.
Charles' last public appearance was on April 30, when the city of Los Angeles designated the singer's studios on Washington Boulevard a historic landmark.
Charles' recordings from the early 1950s, such as "I've Got a Woman," combined gospel and rhythm and blues to form one of the cornerstones of rock 'n' roll and laid the foundation for soul music. His landmark 1962 album, "Modern Sounds in Country and Western Music," took the twang out of country music, bringing a sophistication and ambition to the genre that opened the door to its modernization.
His relatively modest showing on the pop charts — just 12 singles in the Top 10 — fails to reflect his profound influence and stature in the music world. He was inducted into the Rock and Roll Hall of Fame in 1986, part of the institution's inaugural 10-member class that also included Elvis Presley, Chuck Berry, James Brown and Jerry Lee Lewis. He received the Recording Academy's lifetime achievement award at the 1987 Grammys.
"How do you deconstruct genius?" Jerry Wexler, the noted producer and record executive who worked on many of Charles' recordings for Atlantic Records, said Thursday. "He took the Lord's music and the devil's words and make this amalgam they call soul music.
"And as a performer, there is no one you can compare him to, and the distance to whoever is second is immeasurable. That's the way it is with Bob Dylan and Aretha Franklin in their areas. No one has ever performed at the piano with as much charisma as Ray Charles."
Few would argue that. Sitting at the keyboard in front of his large band and his three shimmying backup singers, the Raelettes, Charles was a commanding stage figure. His trademark dark glasses added to his mystique, and he would lean back from the piano and sway to the music. The finishing touch was one of the most identifiable, emotive voices in pop music — a gravelly, elastic instrument that could be tearfully plaintive one moment and slyly salacious the next.
"Everyone felt like they knew Ray Charles and in a way they did, because he was embodied by his music," said Ahmet Ertegun, Atlantic Records' co-founder. "We were on tour and playing these tobacco barns in the South and the crowd would just be packed in to see him. The women would come up to the bandstand and yell, 'Just let me touch him once!' It was like he had descended from heaven, a beloved idol and an inspiration to so many of us."
Ray Charles Robinson was born Sept. 23, 1930, in Albany, Ga., and moved with his family as an infant to Greenville, Fla. His childhood was marked by poverty and tragedy — he witnessed his brother's death when the younger boy fell into a washtub and drowned, and Ray was afflicted with glaucoma at 5. He had lost his sight by the time he was 7.
Charles, who sang in a Baptist church choir as a youngster and later discovered jazz though a friend's "Jazz at the Philharmonic" recordings, studied music at the State School for Deaf and Blind Children in St. Augustine, playing clarinet, piano and other instruments and learning to read music by Braille.
On his own as a teenager — his father died when Charles was 10 and his mother five years later — he began playing in bands around Florida. He moved to Seattle in 1947 and formed a trio, playing Nat King Cole-style jazz in area nightclubs.
It was there that Charles struck up a friendship with another teenage musician, Quincy Jones. The two met, according to the noted producer and musician, at "bebop sessions in the city's red light district."
"Ray's the one who got me turned on to writing," Jones said in a 1998 Times interview. "He'd sit there and tell me, 'See, this is a dotted quarter note, and the trumpets play this and the trombones do that.' I was 14 and he was 16. That was a long time ago."
Jones issued a statement Thursday saying, "There will never be another musician who did as much to break down the perceived walls of musical genres. Ray used to say that if he had a dime, he would give me a nickel. Well, I would give that nickel back to have him still be here with us, but I know that heaven has become a much better place with him in it."
Jones, who described Charles' musicianship as "unmatched," served as a composer or arranger on "The Great Ray Charles" and "The Genius of Ray Charles," two seminal Atlantic albums from the late 1950s that established Charles' jazz credentials. Charles sang a duet with Chaka Khan on "I'll Be Good to You," a track from Jones' 1989 pop album, "Back on the Block."
Charles' group, the Maxin Trio, recorded its first R&B hit, "Confession Blues," in Los Angeles in 1949. Charles, who had dropped his last name to avoid confusion with boxer Sugar Ray Robinson, released a single under his own name in 1951 for the Swing Time label, and it would have far more impact than its No. 5 R&B chart showing would suggest.
"Baby Let Me Hold Your Hand" was Ertegun's introduction to Charles' singing, and he called it "a staggering experience." The label owner was so swept up by "that thrilling, amazing and soulful voice" that he nearly wore the record out. Soon after, Ertegun and Atlantic purchased the singer's contract, a move that would prove to be a franchise-building coup for the label.
"He was the artist that put us on the map and there would be no person more responsible for the success of Atlantic Records than Ray Charles," Ertegun said Thursday.
It would be a while before Charles made that mark, and it was a stint with New Orleans blues musician Guitar Slim that set Charles on his musical path. He arranged and played piano on Slim's million-selling single "Things I Used to Do," and that record's rough style stayed with Charles, surfacing in his sensuous recording "I've Got a Woman."
That song hit No. 1 on the R&B charts in 1955 and was followed in the top spot by "A Fool for You" and "Drown in My Own Tears." But it was his 1959 recording of "What'd I Say" that marked his arrival at the forefront of popular music. With its urgent, Latin-flavored rhythm and sexy call-and-response bridge, it became his first million-seller and his introduction to the Top 10 on the pop charts.
"With the success of 'What'd I Say' ... Ray brought gospel and R&B to a crossover audience and forever changed the course of popular music," singer-guitarist Bonnie Raitt said in a statement Thursday. "It's impossible to overestimate the impact his music has had on generations of musicians around the world."
Though the record made him a star, Charles — whose versatility and command earned him the sobriquet "the Genius" — was too mercurial an artist to be easily categorized.
"I never considered myself part of rock 'n' roll," he wrote in "Brother Ray," his 1978 autobiography. "My stuff was more adult. It was more difficult for teenagers to relate to; my stuff was filled with more despair than anything you'd associate with rock 'n' roll. Since I couldn't see people dancing, I didn't write jitterbugs or twists. I wrote rhythms that moved me. My style requires pure heart singing."
The catholic musical taste that would be the hallmark of his career was evident early in his enthusiasm for jazz (he once said the "genius" tag really belonged to his keyboard hero, Art Tatum), his facility at singing gospel music at church and his fondness for listening to Nashville's Grand Ole Opry radio show.
Charles made an unprecedented musical foray after leaving Atlantic and signing with ABC-Paramount, applying his soulful style to songs by Hank Williams, Don Gibson, Eddy Arnold and other country songwriters on "Modern Sounds in Country and Western Music."
"There's an expansiveness about what he was able to bring forth that changed the way people perceived country music in general and in many profound ways from that day forward," Dan Cooper, former content curator for the County Music Hall of Fame in Nashville, said Thursday. "For some audience members who weren't as tuned into country music, for someone of Ray Charles' stature not only to sing those songs but to say overtly, 'These are my interpretations of country music,' that had a huge impact."
Charles returned to country music regularly over the years and is part of the Country Music Hall of Fame's permanent exhibit in a section devoted to musicians who brought new audiences to the genre.
"Modern Sounds" topped the album chart for 14 weeks and the single "I Can't Stop Loving You" was the biggest-selling single of 1962. Other hits from the early '60s included "Georgia on My Mind," "Hit the Road Jack" and "Busted."
Charles' career was at a peak in the mid-'60s when he was arrested in Boston for possession of heroin and marijuana. He revealed that he'd been addicted to heroin for 20 years, but he kicked the habit in 1965.
Charles' music gradually moved into a more mainstream mode as he continued to record and tour. He interpreted songs by the Beatles, Randy Newman and Stevie Wonder as well as Broadway tunes, wrote the theme for the TV series "Three's Company" and appeared in the movie "The Blues Brothers."
Some feared his schedule was taking a toll on him.
"Take it easy?" he said in an interview with The Times in 1988. "For what? Music is like a part of me. It's not something I do on the side. It's like my bloodline, like my breathing apparatus. I think the people that worry about things like [aging] are pretty silly.
"If the day comes when I don't got it no more, that's it. But think of all the time you would use up worrying about what might happen. And if it does happen, what can you do anyway? My voice right now is in the best shape it has ever been. I can make it do anything I want to right now. How long will that last? I'll just enjoy it while I can."
In recent months, he had met in the studio with King, Nelson, John, Jones, Michael McDonald and others to record his collection of duets, which is slated for release in August.
"I lost one of my best friends and I will miss him a lot," Nelson said Thursday.
Charles was an avid chess player who was known to set up a game between sets at nightclubs or concert halls and frequently engaged his peers in matches.
"Ray could kick my ass any day in a chess game," Nelson said. "He gloated over that. Last month or so, we got together and recorded 'It Was a Very Good Year,' by Frank Sinatra. It was great hanging out with him for a day."
According to his publicist, Charles also had been overseeing production of new releases for his own label, Crossover Records. A feature film, "Unchain My Heart, the Ray Charles Story," starring Jamie Foxx, completed principal filming last year.
The Rev. Jesse Jackson on Thursday called Charles "America's music laureate, a national treasure."
"Ray was a consummate musician who saw the world through the lens of music," Jackson added. "He is the soul of music, taking gospel and weaving it together with R&B ... like a minister preaching in full music.
"Yes, Ray saw music through the whole door and not just through a keyhole."
Charles and his wife, Della, divorced in 1977 after 20 years of marriage. His survivors include 12 children, Evelyn, Ray Jr., David, Robert, Charles, Sheila, Rene, Retha, Robin, Vincent, Alexandra and Corey; 20 grandchildren; and five great-grandchildren.
Details for a planned public viewing and memorial service are pending.
Times staff writers Geoff Boucher and Mike Boehm contributed to this report.
(BEGIN TEXT OF INFOBOX)
Hit Maker
Singles
(Song, year, pop chart peak)
"Swanee River Rock," 1957, No. 34
"What'd I Say," 1959, No. 6
"I'm Movin' On," 1959, No. 40
"Sticks and Stones," 1960, No. 40
"Georgia on My Mind," 1960, No. 1
"Ruby," 1960, No. 28
"One Mint Julep," 1961, No. 8
"Hit the Road Jack," 1961, No. 1
"Unchain My Heart," 1961, No. 9
"Hide 'Nor Hair," 1962, No. 20
"I Can't Stop Loving You," 1962, No. 1
"You Don't Know Me," 1962, No. 2
"You Are My Sunshine," 1962, No. 7
"Your Cheating Heart," 1962, No. 29
"Don't Set Me Free," 1963, No. 20
"Take These Chains From My Heart," 1963, No. 8
"No One," 1963, No. 21
"Without Love (There Is Nothing)," 1963, No. 29
"Busted," 1963, No. 4
"That Lucky Old Sun," 1963, No. 20
"My Heart Cries for You," 1964, No. 38
"Baby, Don't You Cry," 1964, No. 39
"Crying Time," 1966, No. 6
"Together Again," 1966, No. 19
"Let's Go Get Stoned," 1966, No. 31
"I Chose to Sing the Blues," 1966, No. 32
"Here We Go Again," 1967, No. 15
"In the Heat of the Night," 1967, No. 33
"Yesterday," 1967, No. 25
"Eleanor Rigby," 1968, No. 35
"Don't Change on Me," 1971, No. 36
"Booty Butt," 1971, No. 36
Grammy Awards
1960: Best Vocal Performance Single Record or Track, Male, "Georgia on My Mind"
Best Performance by a Pop Single Artist, "Georgia on My Mind"
Best Rhythm and Blues Performance, "Let the Good Times Roll"
Best Vocal Performance Album, Male, "The Genius of Ray Charles"
1961: Best Rhythm and Blues Recording, "Hit the Road Jack"
1962: Best Rhythm and Blues Recording, "I Can't Stop Loving You"
1963: Best Rhythm and Blues Recording, "Busted"
1966: Best Rhythm and Blues Recording, "Crying Time"
Best R&B Solo Vocal Performance, "Crying Time"
1975: Best R&B Vocal Performance, Male, "Living for the City"
1990: Best R&B Performance by a Duo or Group with Vocal, "I'll Be Good to You" (with Chaka Khan)
1993: Best R&B Vocal Performance, Male, "A Song for You"
Associated Press
Must-read stories from the L.A. Times
Get the day's top news with our Today's Headlines newsletter, sent every weekday morning.
You may occasionally receive promotional content from the Los Angeles Times.