Rise Stevens dies at 99; mezzo soprano sang 'Carmen'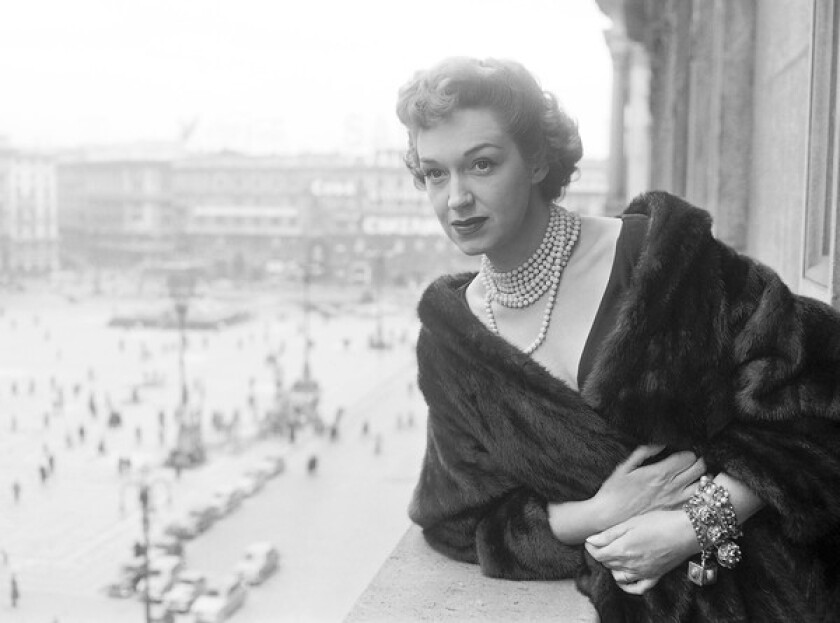 Rise Stevens, an American mezzo soprano celebrated for her earthy interpretation of "Carmen," whose career also encompassed television and movie appearances alongside matinee idols Bing Crosby and Nelson Eddy, died Wednesdayof natural causes at her home in New York. She was 99.
Her death was confirmed by her son, Nicolas Surovy.
Stevens sang for the Metropolitan Opera for more than two decades beginning in 1938. She was known for her sensuous voice, described by the International Dictionary of Opera as "pure velvet."
PHOTOS: Notable deaths of 2013
She was most famous for her portrayal of the central character in Georges Bizet's "Carmen," a role she performed 124 times for the Met with tenor Richard Tucker, her frequent co-star, playing Don Jose.
She imbued Carmen with an air so tough and calculating that she seemed "one step away from a prostitute," as the opera dictionary described the diva's performance. But Stevens managed to walk that delicate line with a skill that allowed her to enrich — and own — the part.
"Rise told it like it was, managing the sensational feat of exuding captivating, totally credible voluptuousness without corrupting her interpretation with so much as a microgram of vulgarity," Astrid Varnay, another Metropolitan Opera star of the 1950s, wrote in the introduction to John Pennino's 2006 biography, "Rise Stevens: A Life in Music."
Stevens found playing Carmen challenging not only from a musical but from an acting standpoint. Recalling director Tyrone Guthrie's directions, she said he "told me, 'think of your body and nothing else, from the top of your head to your feet.' I had to learn to move my body and feel like this Spanish woman."
In 1952 her "Carmen" was telecast from the Met to more than 30 "television theaters" across the country in what was believed to be the largest audience ever to see a single opera performance.
She was identified with the starring role long before the unusual telecast when she performed an aria from "Carmen" in "Going My Way," the Oscar-winning Crosby musical that was one of the highest-grossing movies of 1944.
Although movie mogul Louis B. Mayer wanted her to appear in more movies, she knew that opera was "her medium" and that nothing could match the musical heights and expansive themes she found there. "She knew it, felt it, lived it," her son, speaking of her dedication to opera, told the Associated Press last week.
Her range was enviable. Not only could she bring the full force of a seductress to Carmen but she had an impressive ability to play male characters convincingly. Her cross-gender skill was particularly noteworthy in the role of Octavian, the young lover of a princess in the Strauss-Hofmannsthal comic opera "Der Rosenkavalier."
Among her other celebrated roles were Orfeo in "Orfeo ed Euridice," Orlovsky in "Die Fledermaus," Cherubino in "The Marriage of Figaro" and Dalila in "Samson et Dalila."
She played an important role in promoting opera in the United States as co-director of the Met's National Company, which was launched in 1964 and took opera on tour to dozens of American cities where it was not available. She also was an advisor to the Young Artist Development Program at the Met, which last week called her "a consummate artist, treasured colleague, and devoted supporter of the company for 75 years."
As president of New York's Mannes College of Music from 1975 to 1978 she helped restore the college's shaky finances.
She was a recipient of the Kennedy Center Honors in 1990. In 2011 she was recognized by the National Endowment for the Arts for her work fostering the development of young opera singers.
She was born Rise Steenberg in New York City on June 11, 1913. Her first name, pronounced REE'-zah, came from her Norwegian father. "In school, I was called everything but Rise," she once recalled. "I would have arguments with the teachers. I would say, 'I should know how to pronounce my own name."'
Her mother took her to audition for a radio children's hour when she was about 10, and she won a place on the show, for which she learned some opera melodies.
After a prominent voice teacher, Anna Schoen-Rene, heard her in a little theater opera production when she was 16, she won a scholarship to the Juilliard School and later studied in Europe.
She made her professional opera debut in Prague, where she met actor Walter Surovy, who became her manager and husband. They were married for more than 60 years, until his death in 2001.
Besides their son, Nicolas, she is survived by a granddaughter.
Her brief Hollywood career began in 1941 opposite Eddy in "The Chocolate Soldier." Its success led to her role in the Crosby blockbuster "Going My Way."
"I probably would never have reached that vast public had I not done films," she said. "At least, I won a lot of people over to opera."
In 1961, when she was 48, she retired from performing opera, explaining that she wanted to leave the stage when her voice was still robust.
"It always bothered me," she said in the Washington Times, "these great singers when I heard them again and again, remembering how magnificent they sounded once and no more."
---
Must-read stories from the L.A. Times
Get all the day's most vital news with our Today's Headlines newsletter, sent every weekday morning.
You may occasionally receive promotional content from the Los Angeles Times.