Robert Cushman dies at 62; photograph curator for film industry's library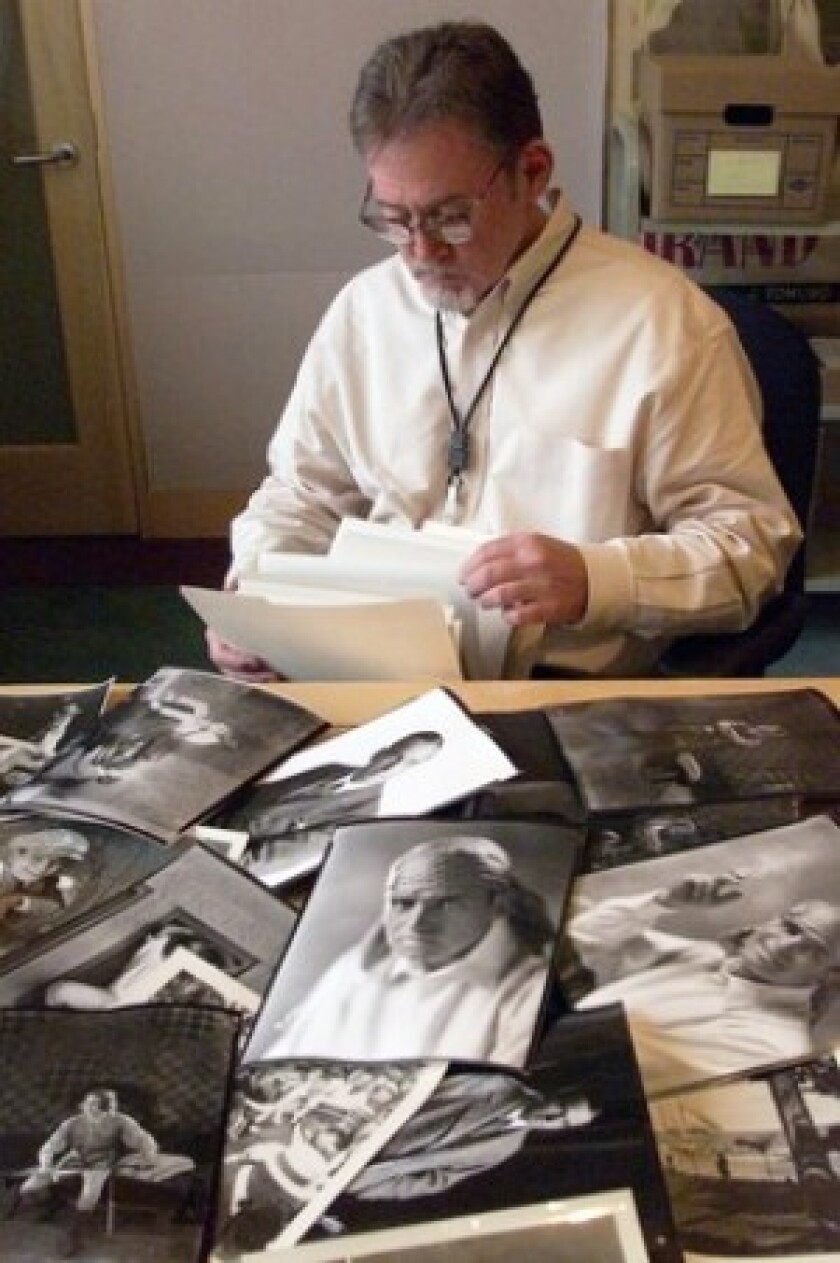 Robert Cushman, photograph curator for the Academy of Motion Picture Arts and Sciences' Margaret Herrick Library in Beverly Hills, has died. He was 62.
Cushman died Monday at St. Elizabeth's Hospital in Edgewood, Ky. He had been visiting his high school alma mater in Fort Wayne, Ind., and attending a wedding in Kentucky when he became ill. Though no cause of death was disclosed, Cushman had had health problems over the years.
"There were signs that he was not well the last month," said library director Linda Mehr, adding that Cushman never discussed his health issues.
The Margaret Herrick Library staff was in shock at the news of his death.
"There was no equal," Mehr said. "He was a unique individual with an encyclopedic knowledge of movies that could not be matched. And it wasn't limited to any one time period. You could bring him a still and he would tell you who was in it. He was just phenomenal. It was one-stop shopping. He had all the answers."
And he was always expanding his knowledge of the cinema.
"He was taking home books every night," Mehr said. "He wanted to be up to date. In some ways he was an old-fashioned guy, but he took to new tools. What truly was outstanding is that even though we have over 10 million photographs, he knew we weremissing things. . . . It is the end of an era."
Born Nov. 7, 1946, in Indianapolis, Cushman fell in love with movies in 1950 when he saw a reissue of the 1939 classic "The Wizard of Oz" at the Rialto Theater in Fort Wayne.
Cushman earned his bachelor's degree at UCLA, where he also completed some graduate work. He was a research fellow at the American Film Institute and wrote program notes for film series at the Los Angeles County Museum of Art before joining the Academy staff in 1972.
During his 37-year tenure, Cushman was credited with developing and expanding the library's photographic collection, obtaining major studio archival collections as well as those from individuals such as George Cukor, Douglas Fairbanks, Katharine Hepburn, Buster Keaton and Harold Lloyd.
"He also developed the protocols of organizing the material so it was accessible," Mehr said.
Cushman also was methodical in his preservation methods and created a cleaning process that enabled the removal of photographs glued into still books. "This cleaning process not only removed them from that paper but also got rid of the residual chemicals, so you could keep them in better shape," Mehr said.
Among his published works are " Hollywood At Your Feet: The Story of the World-Famous Chinese Theatre" (with Stacy Endres), " Mary Pickford: Rediscovered: Rare Pictures of a Hollywood Legend" (introduction and photograph selection) and "Douglas Fairbanks" (photographic editor).
Cushman had interests beyond the movies, including his 1895 Queen Anne Victorian residence he restored, which was declared a Historical Cultural Monument in Los Angeles in 1979, as well as his English bulldog, Dude.
He left no known survivors.
---
Must-read stories from the L.A. Times
Get all the day's most vital news with our Today's Headlines newsletter, sent every weekday morning.
You may occasionally receive promotional content from the Los Angeles Times.