Robert M. Takasugi dies at 78; Japanese American federal judge had been interned in World War II relocation camp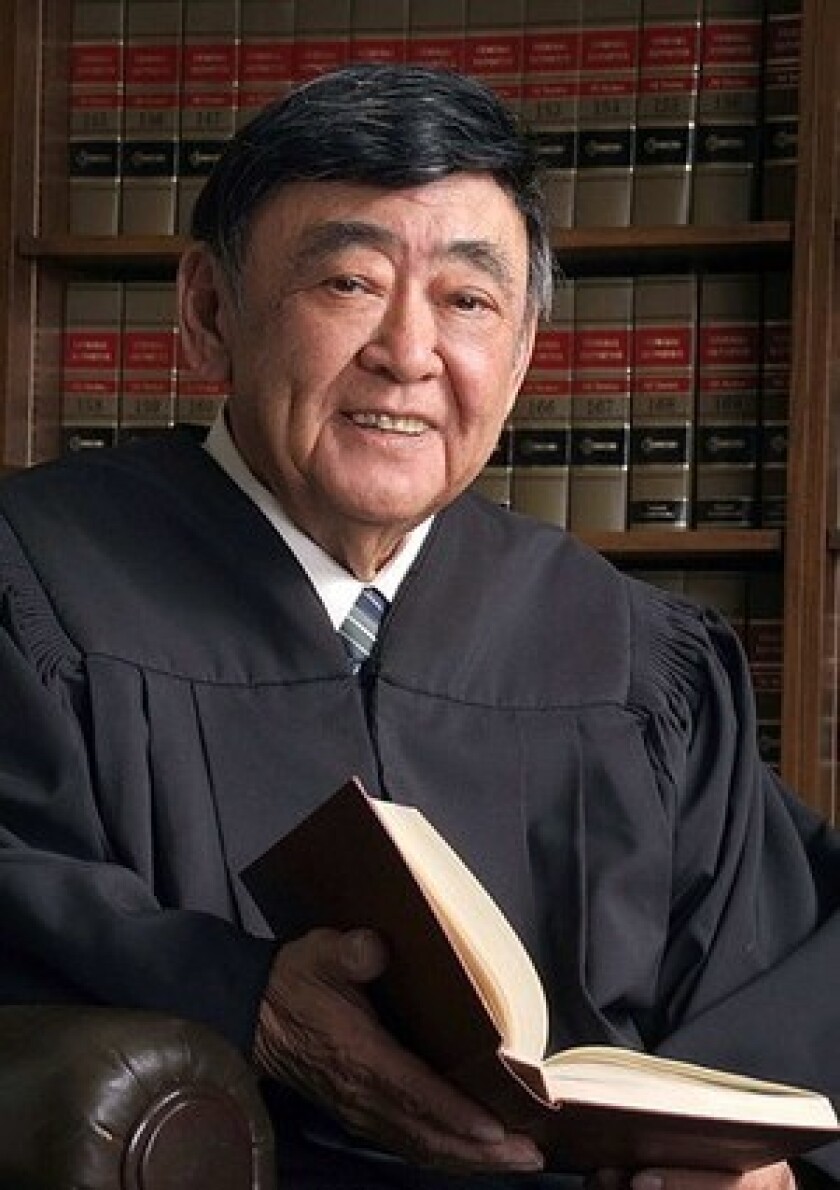 U.S. District Judge Robert M. Takasugi, a survivor of a World War II relocation camp for Japanese Americans who was known for his compassion for victims of injustice and his calm demeanor in the face of sometimes outrageous courtroom antics, has died. He was 78.
Takasugi died Tuesday at a Los Angeles nursing home after battling numerous ailments over the last year, said his son, Los Angeles County Superior Court Judge Jon Takasugi.
The veteran jurist, who spent most of his 36-year judicial career on the federal bench, handled a number of high-profile cases, including a 1980 case that led to a Los Angeles Police Department ban on chokeholds and the 1984 cocaine-trafficking trial of automaker John Z. DeLorean.
In the latter trial, Takasugi was seen as the epitome of judicial restraint when a peripheral but colorful figure in the case, sex-magazine publisher Larry Flynt, disrupted the proceedings with profane outbursts and provocative attire, including a diaper fashioned from an American flag. Takasugi didn't bat an eye at the outfit, but he fined the publisher $250,000 for refusing to reveal the source of a mysterious audiotape that threatened to derail the case.
He also had a reputation for being pro-defense but earned the respect of lawyers on both sides of the courtroom.
"He was completely devoted to assuring that the proceedings in his court would be fair and seen to be fair," said Andrea Ordin, who appeared before Takasugi when she was a U.S. attorney in the late 1970s. "He also had a very high bar for the prosecutors. He was vigilant that the power of prosecutors not be abused. The prosecutors during the years I was there became better advocates because of it."
Among his other noteworthy cases was a 25-year legal battle between a University of California historian and the federal government, which was withholding the FBI files of former Beatle John Lennon on national security grounds. At one point in the case, he directed the FBI to disclose whether it had "used unlawful activities" in connection with its investigation of Lennon's political activities. The unusual order led to negotiations that eventually resulted in the release of the final 10 documents in 2006.
"When the government came in and claimed national security, he didn't take that lightly, but he wasn't prepared to suspend the law just based on the representation that national security might be implicated," said Mark Rosenbaum, legal director of the American Civil Liberties Union of Southern California, who appeared in Takasugi's courtroom numerous times. "He said, 'Prove it up to me.' If the government couldn't prove it up, he didn't think twice about saying these documents belong in the public domain."
One of Takasugi's more recent cases involved an ACLU challenge in 2002 of a post-9/11 federal law requiring airport screeners to be U.S. citizens. Takasugi ruled that the hiring restriction amounted to a "constitutional deprivation" that cost thousands of noncitizen screeners their jobs. The law was later amended to allow permanent residents to serve as screeners.
In 2002 he also threw out an indictment against seven Los Angeles residents who had been accused of fundraising for an Iranian opposition group listed as a terrorist organization by the State Department. Takasugi said the law classifying terrorist groups deprived the defendants of due-process rights because they were not given a chance to rebut the terrorist allegations before their group was placed on the list.
"He was the first judge to issue an opinion overruling this portion of the Patriot Act," Jon Takasugi said. "Part of that was because he was a victim of the terms 'national security' and 'military necessity' when he was interned as a child."
Takasugi was born in Tacoma, Wash., on Sept. 12, 1930. His family moved to Los Angeles in 1942 in the midst of public hysteria about the Pearl Harbor attack and the loyalties of thousands of law-abiding Japanese Americans.
When he was 11, he was among the 110,000 citizens of Japanese descent on the West Coast who were rounded up under Executive Order 9066 and sent to detention centers and camps scattered across several states.
The Takasugis were assigned to the internment camp at Tule Lake, Calif.
Decades later, he told The Times that their imprisonment caused "the total destruction of dignity in my mother and father and others around me." He believed that a sense of hopelessness caused his father's death from a stroke at Tule Lake when he was 57.
He described the three years he spent at the camp as "an education to be fair."
After his release from Tule Lake in 1945, Takasugi and his family returned to Los Angeles. He graduated from Belmont High School and earned a bachelor's degree from UCLA in 1953. During the Korean War, he served in the Army as a criminal investigator, an experience that led him to earn a law degree from USC in 1959.
He opened a law practice in East Los Angeles with USC classmate Carlos Velarde and represented many indigent minorities, including arrestees from the 1965 Watts riots and civil disturbances in East Los Angeles in 1967.
"I remember him telling about being paid in coins and tamales," Takasugi's son recalled Thursday.
Takasugi was appointed to the Los Angeles Municipal Court in 1973 by then-Gov. Ronald Reagan. Two years later, Gov. Jerry Brown elevated him to the Los Angeles County Superior Court.
In 1976 President Ford named him to the federal bench to fill a vacancy. He went on senior status in 1996 but continued to hear cases until April, when he was hospitalized.
In addition to his son, Takasugi is survived by his wife, Dorothy; a daughter, Lesli Takasugi, of Los Angeles; and two grandchildren. Funeral arrangements are pending.
---
Must-read stories from the L.A. Times
Get the day's top news with our Today's Headlines newsletter, sent every weekday morning.
You may occasionally receive promotional content from the Los Angeles Times.