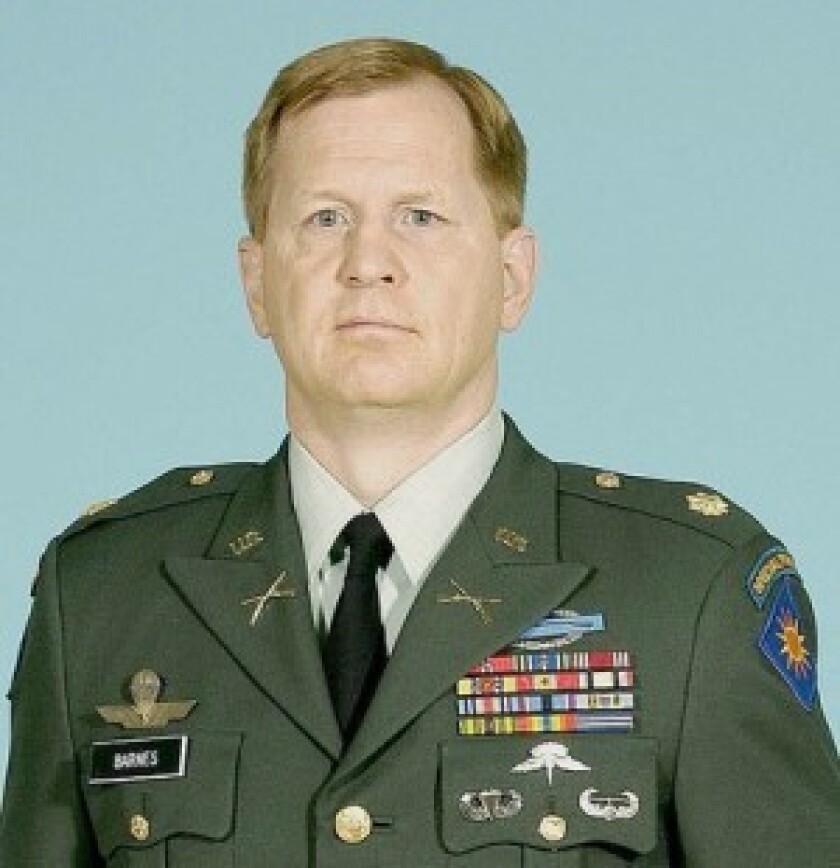 Maj. Rocco M. Barnes was supposed to be back home in Los Angeles this summer at the end of his fourth overseas tour with the California Army National Guard. But the 51-year-old entertainment company executive was killed June 4 in Afghanistan, the victim of what officials described as a vehicle rollover.
Barnes had served as a bodyguard to Arnold Schwarzenegger on film locations before the actor became governor.
An Ohio native selected for the elite Special Forces, he served two tours in Iraq and two in Afghanistan. Friends say he was driven by his passion for both the military and the movie business.
"He loved Hollywood but always, always stuck to his military guns," said Nina Ratterree, an actress and longtime friend.
"Some people join to get a paycheck and some to go to college, but he was a true, old-fashioned soldier," she said. "He did it for his country."
Barnes was chief operating officer for Fishman Productions, a company based at the studios of Paramount Pictures. He wrote the screenplay for an action film called "Trajectory," which is to go into production next year, according to Jeff Fishman, the company's chief executive.
Barnes also was developing TV reality shows, including one focusing on bodyguards for the rich and famous.
"He was just a huge hero," said his friend and collaborator Kent Moyer. "But he was very low-key. He never bragged about himself."
When Moyer was recovering from surgery last spring, Barnes made a get-well call to him while he was out on patrol in Afghanistan.
"That's the kind of person he was," Moyer said. "He was always there for you."
As a young man, Barnes worked as a coal miner before getting into the security field. He provided security for Schwarzenegger on the sets of "True Lies" and "Collateral Damage," and was head of West Coast operations for the security company Vance International before beginning his career in entertainment.
A fitness buff, Barnes studied such martial arts as krav maga, an Israeli self-defense discipline.
Although he was quiet about his military activities, friends said, Barnes was in the thick of combat. About two weeks before his death, he was part of a team that cleared the way for the landing of a helicopter that airlifted a severely burned, 22-month-old Afghan boy to emergency care.
Barnes is survived by his mother, Grace Barnes-Filo; and a sister, Therese Rose Barnes.
---