Rolf K. McPherson dies at 96; longtime Pentecostal church leader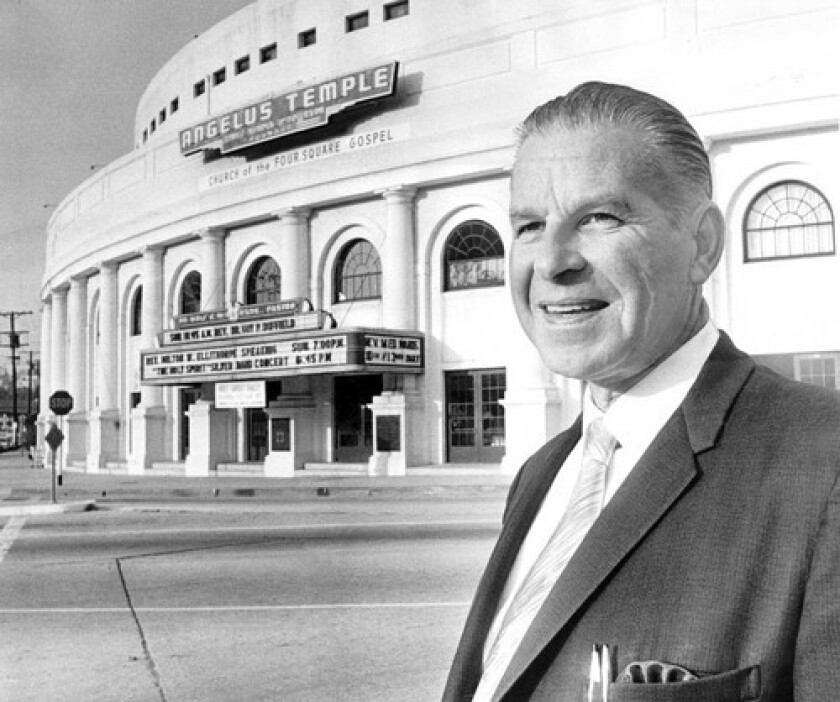 Rolf K. McPherson, a major figure in the Pentecostal movement who for 44 years guided the International Church of the Foursquare Gospel founded by his mother, charismatic evangelist Aimee Semple McPherson, died of natural causes May 21 at his Los Feliz home, according to a church spokesman. He was 96.
After his mother's death in 1944, McPherson became the leader of the church and the pastor of Angelus Temple, the domed landmark in Echo Park where his mother delivered fire-and-brimstone sermons with Hollywood pageantry during the 1920s and '30s.
McPherson lacked his mother's flamboyance but brought a steady hand to the management of the finances and day-to-day operations of the church, which now claims 8.4 million members in 144 countries.
"His most important legacy was laying the foundation for the explosive growth of the church in the second half of the 20th century," said Washington State University historian Matthew Avery Sutton, who wrote a 2007 biography of McPherson's mother. "He never had his mom's charisma, energy or excitement, but he was very sharp, a savvy and brilliant administrator" who guided the denomination into "the mainstream of American evangelicalism."
As president of the church, McPherson oversaw its LIFE Bible College (now called Life Pacific College) in San Dimas and radio station KFSG-FM, which his mother founded in 1924. KFSG was one of the first radio stations in Los Angeles and was among the oldest continuously operating Christian radio stations until it went off the air in 2003.
McPherson was one of two children of the famous evangelist. He was born in Providence, R.I., on March 23, 1913, two years after his half-sister, Roberta Semple Salter. His father was Harold S. McPherson, a businessman who wanted his wife to stay home and take care of their son and Roberta, but she chafed at the constraints the role placed on her. They were divorced after a few years, freeing her to hit the revival circuit in a stylish sedan she called the "Gospel Car."
In 1918 the itinerant evangelist settled in Los Angeles, where she eventually built a grand, 5,000-seat temple across from the lake in Echo Park north of downtown. For many followers, the highlight of her worship services was the altar call, when the sick and infirm surged forward to ask for healing. Young Rolf witnessed many of the sessions.
"They used to bring ambulances and stretchers, and they left empty," McPherson recalled in a 1996 interview with Charisma magazine. "Often Mother would . . . go down and pray for someone on a stretcher. They would get up off the stretcher and the stretcher would be carried off empty."
By the time he was 13, he and his half-sister were leading children's services at the temple. According to Sutton's book "Aimee Semple McPherson and the Resurrection of Christian America," the services regularly attracted "about a thousand of the smallest worshipers" in the Foursquare movement.
Although his mother and half-sister displayed more talent in the pulpit, McPherson "was a good preacher," said author Daniel Mark Epstein, who spoke to McPherson numerous times while writing "Sister Aimee," a biography published in 1994. "He didn't have that sort of star power, but in his own quiet way he was very articulate," Epstein said Wednesday. "His faith was very deep and authentic and he spoke from the heart."
Because his mother was often traveling, McPherson lived with other church families during much of his childhood, Sutton said. He had been staying in Yolo County when his mother mysteriously disappeared in 1926 after going swimming near Venice Beach. The incident turned scandalous after she resurfaced a month later in Mexico, claiming she had been the victim of a kidnapping. Authorities suggested she had made up the kidnapping to cover up an affair with a church employee, but she stuck to her story and was embraced by her flock upon her return.
McPherson had studied engineering but shifted his focus to the church after his mother became seriously ill in 1930. In 1936 he took her side in a management dispute with his half-sister. Salter lost the dispute and was removed from the church's leadership in 1937. She died in 2007 at 96.
He became church president in 1944 when Aimee McPherson died of an accidental overdose of barbiturates.
Under McPherson's stewardship, the Foursquare movement grew from 29,000 members in 410 churches and meeting places in 1944 to 1.2 million members in 19,000 churches and meeting places worldwide in 1988, when he retired. "He laid a foundation that made it possible for the Foursquare Church to move forward around the world," Pastor Jack Hayford, the current church president, said in a statement after McPherson's death.
McPherson is survived by his second wife, Evangeline Carmichael McPherson; a daughter, Alicia McPherson Santacroce, from his marriage to Lorna De Smith that ended with her death; a stepdaughter, Carol Parks; three grandchildren; two step-grandchildren; and a niece.
A memorial service will be held at 11 a.m. Saturday at Angelus Temple, 1100 Glendale Blvd., Los Angeles. For more information on the services and memorial donations, go to www.foursquare.org/articles/841,1.html.
---
Must-read stories from the L.A. Times
Get all the day's most vital news with our Today's Headlines newsletter, sent every weekday morning.
You may occasionally receive promotional content from the Los Angeles Times.