Roy Brown dies at 96; designer of Ford's Edsel
When Ford introduced the Edsel -- on Sept. 4, 1957 -- it was hailed as a car of the future. Named for
Henry Ford
's son Edsel, it had a powerful engine (including a 345-horsepower V8) and advanced technology.
(Stefano Paltera / For The Times)
'When you take an Edsel convertible out on the road, believe me, people notice,' says Kris Trexler of Los Angeles, who owns two Edsels.
(Stefano Paltera / For The Times)
One expert estimated that from 5,000 to 6,000 Edsels remained in circulation. That's considered a high survival rate for a car that had a total production run of less than 111,000.
(Stefano Paltera / For The Times)
Kris Trexler with one of his two Edsels.
(Stefano Paltera / For The Times)
'A lot of people like the Edsel because of the underdog thing,' said Trexler, who lived across the street from an Edsel dealer growing up in Wichita, Kan. 'But I didn't come at it from that angle at all. It was just something that reminded me of my youth.'
(Stefano Paltera / For The Times)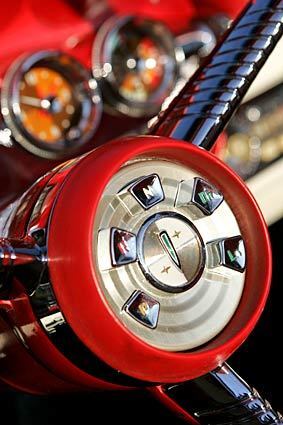 Perhaps fatally, the Edsel came out as America was sliding into a recession. The public was suddenly looking for smaller, more affordable cars.
(Stefano Paltera / For The Times)
The Edsel came with a push-button transmission mounted in the center of the steering wheel. It reportedly caused some drivers to shift gears when all they wanted to do was honk the horn.
(Stefano Paltera / For The Times)
Early critics of the Edsel made fun of the car's unusual oval grille.
(Stefano Paltera / For The Times)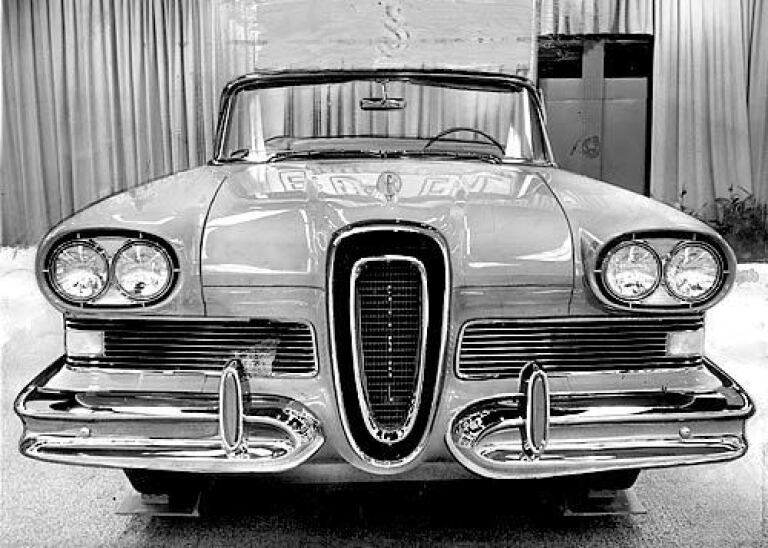 An Edsel convertible in 1957.
(Associated Press)
When Ford launched plans in the early 1950s for a medium-priced car so distinctive it would grab attention from blocks away, the challenge fell to Roy Brown to design it.
The concept he came up with blared individuality. It shunned the tail fins that adorned the era's bestselling cars but had rear lights shaped like boomerangs, sides that were two-toned and scalloped, and a front grille that defied convention with its boldly vertical layout. When company President Henry Ford II saw what Brown and his team had created, he stood up and applauded.
The car was christened the Edsel after company founder Henry Ford's only child, and rolled into showrooms in 1957 amid tremendous hoopla, including a TV extravaganza hosted by Frank Sinatra. But it wasn't long before the automaker's high hopes deflated like a bad tire.
PHOTOS: Notable deaths of 2013
Only 63,000 Edsels were sold the first year — less than half the company's annual projection — and the next two years were even more dismal. The unusual shape of the grille seemed to bear the brunt of the criticism, with Time magazine cracking that it looked like "an Oldsmobile sucking a lemon." That was a tad kinder than the critic who said the grille resembled a toilet seat.
In 1960, Ford canceled production of the Edsel, on which it had sunk more than $250 million (about $2 billion in today's dollars). Assembly workers lost their jobs, dealerships were closed and Edsel became a synonym for flamboyant failure.
"I cried in my beer for two days," recalled Brown, who died Feb. 24 in Ann Arbor, Mich. He was 96 and had pneumonia and Parkinson's disease, according to his son, Mark Brown.
The Edsel had been a gargantuan flop, but it didn't ruin Brown's career. Transferred to England, he oversaw the design of the 1962 Cortina, which became Ford's bestselling car in that country. It was produced for 20 years and made millions of dollars.
"That was redemption for Roy Brown," said Matt Anderson, curator of transportation at the Henry Ford Museum in Dearborn, Mich.
In 1966, Brown returned to Detroit, where he developed other popular vehicles, including Ford's Econoline van. He later became executive designer at the Lincoln-Mercury division.
Ironically, he derived his greatest satisfaction not from his English triumph but from the much-maligned product that had sent him into exile. Decades after the car's demise, it became a collectible, fetching five-figure prices. Edsel clubs popped up around the country and asked Brown to headline their events.
"The biggest fan of the Edsel was Roy Brown," said Larry Nopper, a past president of the Southlanders Edsel Owners Club, which hosts monthly events in Southern California. "People would ask him, 'What the hell were you thinking when you designed that car?' He was never offended. He was very proud of his creation."
The son of a Chrysler engineer, Roy Abbott Brown Jr. was born in Hamilton, Canada, on Oct, 30, 1916. He moved to Detroit as a teenager and attended a Detroit art academy.
After graduating he was hired by General Motors. "The first thing he designed was an instrument panel for the 1939 Cadillac," said son Reg Brown, one of four children who survive him along with second wife Jeanne and several grandchildren, great-grandchildren and great-great-grandchildren.
In 1953, after guarding Fort Knox for the Army, Brown was hired at Ford. He helped oversee the design of the 1955 Lincoln Futura, a show car later transformed into TV's Batmobile.
His next project was meant to appeal to consumers with upscale tastes and mid-range budgets. Priced between $2,300 and $3,800, the Edsel came out in 18 different models in eye-popping colors and was loaded with gizmos such as a push-button transmission.
Automotive writers initially were excited. Popular Science magazine wrote of "gadgets beyond a gadgeteer's dreams of glory." The Los Angeles Times reported that "road handling was excellent under the most difficult conditions."
When sales foundered, Ford resorted to gimmicks, including giving away free ponies, but nothing worked. Even Vice President Richard M. Nixon joined in the mockery. Pelted with eggs while riding in an Edsel in Peru, he quipped, "They were throwing eggs at the car, not me."
Brown, who retired from Ford in 1975, insisted the Edsel's looks were not the reason it bombed. He pointed the finger at a recession that was turning consumers to smaller, cheaper cars such as the Volkswagen Beetle.
The changing market doomed other cars in the Edsel's price range, including the Packard, Hudson, Nash and Desoto. But only the Edsel earned a Webster's dictionary entry as "a product, project, etc. that fails to gain public acceptance despite high expectations, costly promotional efforts, etc."
That was before nostalgia and notoriety secured the Edsel's place in classic-car heaven.
Brown, who drove an Edsel convertible until he was in his 80s, was often approached by slack-jawed admirers asking whether it was for sale. Long ago it had been called a lemon but, as he told an interviewer in 2007, "I call it Ford's most successful failure."
---
Must-read stories from the L.A. Times
Get all the day's most vital news with our Today's Headlines newsletter, sent every weekday morning.
You may occasionally receive promotional content from the Los Angeles Times.