Run Run Shaw dies at 106; filmmaker built Asian entertainment empire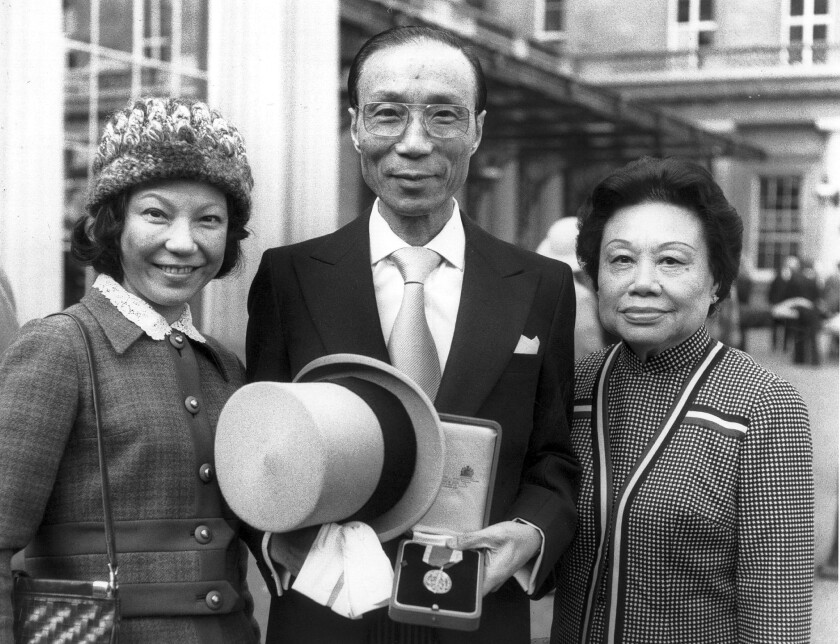 BEIJING — In 1957, when he was nearly 50 years old, Run Run Shaw made a grand bet on his movie dreams. He bought 46 acres of hilly land in a remote part of Hong Kong — paying the British colonial government just 45 cents per square foot because of the poor topography and the Communist threat looming over the border with Mao Tse-tung's China — and set out to build his dream factory.
By the time Shaw Movietown officially opened in 1961, the mogul had 1,200 actors, directors and other employees on site, many of them living in dormitories. Visitors including Rock Hudson, Peter O'Toole and the Beatles came to see what was billed as "the busiest movie studio in the world" — a facility with 80,000 costumes, 12 soundstages and 16 permanent sets, including Chinese palaces, gardens and not least of all, a reproduction of the Great Wall.
Life magazine also came calling, chronicling Shaw's morning regimen of tea, noodles and qigong exercises, followed by a five-minute drive in his Rolls-Royce from his mansion down to the studio, where he would churn out up to 50 films a year. Shaw's movies — particularly his martial arts pictures — won over audiences not just in Asia but around the world in the 1960s and '70s, and influenced filmmakers from John Woo and Ang Lee to Quentin Tarantino for decades afterward.
"He set up Hollywood East when he built that big studio," said USC professor Stanley Rosen, an expert in Chinese cinema. "He was really the mogul of Hong Kong."
Shaw, who died Tuesday at 106 in Hong Kong, was the "end of an era, the end of a dynasty in Asian film," said Stefan Hammond, author of several books on Hong Kong film, including "Sex & Zen and A Bullet in the Head" and "Hollywood East."
Shaw's studio, which he ran with his brother, Runme, produced more than 1,000 films over more than five decades. He also co-produced American movies, including Ridley Scott's "Blade Runner."
But his empire went much further, extending to movie theaters, amusement parks, magazines and later a sprawling television operation, TVB, that now produces thousands of hours of programming a year. TVB's school has become well known for training top Chinese actors and directors, including Chow-Yun Fat and Andy Lau.
Starting in his 70s, Shaw became a major philanthropist, donating hundreds of millions of dollars to schools and universities, primarily in Hong Kong and mainland China. In 2002, he established the Shaw Prize, which awards $1 million each year to researchers who have made breakthroughs in three areas: astronomy, life science and medicine, and math.
But movies remained his core passion. A 2003 profile of him in Variety recounted that at age 96 he was still watching films at night in his home screening room.
"In the film industry, one walks a tightrope, with all its thrills, satisfactions and dangers," Shaw said in a 1977 interview. "That is perhaps why the business of making movies has given me the pleasure, the excitement and the fulfillment which I have always craved."
Born in 1907 to a Shanghai textile merchant, Shaw was one of eight children. He joined his elder brothers Runje and Runme in the film business in the 1920s.
Runje Shaw had a silent film studio, and his brothers were dispatched to Singapore and Malaysia to buy and build cinemas to show their brother's movies and other pictures that were being made in Shanghai — then the center of the Chinese filmmaking world. By the mid-1930s, they owned more than 100 theaters.
World War II and the Communist revolution in China, however, left the Shanghai industry in tatters. The Shaws, frustrated with the quality of films available to show in their theaters, decided to greatly expand what had been a temporary production base in Hong Kong. Run Run Shaw moved to the territory in 1957, and with his Movietown, shifted the creative center of gravity of the Asian film world to the British colony, Hammond said.
"They chose Hong Kong because it was the only place they had the freedom to make the films they wanted to make," he said.
According to a history of Shaw's company featured on its Singapore website, the new studio was funded by "all the gold, jewelry and cash into which the Shaws had converted their assets prior to the war and literally buried away."
David Desser, an emeritus professor of film at the University of Illinois who now teaches at Chapman University, said the Shaw Bros. "modeled themselves after the Hollywood studios of the 1930s, with even greater control.... Run Run was like a Louis B. Mayer-type — he had a very paternal attitude toward his stars."
(Even the Shaw Bros. logo, with the initials SB over a shield, looked much like that of Warner Bros. Viewers of Tarantino's film "Kill Bill Vol. 1" may recall seeing the SB logo in the opening credit sequence, accompanied by the words "Shaw Scope" and a trumpet fanfare.)
Actors and directors — not just from Hong Kong but also Taiwan, the mainland and even Japan — were put under contract. The studio spent significant sums on their movies, working in color and widescreen. "Every penny they spent, you could see on screen," Hammond said.
But Shaw was known for keeping a close eye on the bottom line; one famous story had him refusing employees' requests for some extra buns to eat. "Films are an art, but they're also an industry. Forget that a moment and you have a money loser on your hands," he said in a 1981 interview with Signature magazine.
By the early 1960s, the Shaw Bros. were producing the most popular movies in Asia, particularly romances, dramas and musicals such as the 1963 hit "The Love Eterne," from star director Li Han Hsiang. Their films were also starting to attract notice in Europe and the U.S.: In 1962, "The Magnificent Concubine," about a Tang Dynasty beauty, became the first Chinese film to receive a prize at the Cannes Film Festival.
But Shaw's turn toward martial arts pictures starting in the mid-1960s would bring the company its greatest fame.
King Hu's "Come Drink With Me" (1966) helped usher in the era, and Chang Cheh's 1967 hit "The One Armed Swordsman" broke box office records for the studio, luring audiences with violence and bloodletting.
(Shaw's penny-pinching, however, would cost him the chance to work with Bruce Lee. Turning down what he considered a low-paying offer from the Shaws, the then-green Lee in the early 1970s took up with the Golden Harvest studio, founded by former Shaw executives Raymond Chow and Leonard Ho.)
Eventually, rivals such as Golden Harvest would come to eclipse the Shaw Bros. But well into the 1970s, the Shaws expanded their global reach by setting up theaters in places with significant populations of Chinese emigres, including San Francisco, New York and Los Angeles.
"I make movies to satisfy the hopes and desires of my audience; and the core of my audience is Chinese. What they desire to see on the screen are folklore, romances and popular subjects in Chinese history with which they are already familiar," Shaw said in a 1967 interview. "They miss the homeland they have left behind and the cultural tradition they are still cherishing."
The Shaw Bros.' martial arts movies did more, though, than attract multiple generations of Chinese American families, Desser noted. They drew in film buffs and cineastes, popularizing the kung fu genre stateside.
"The influence of their martial arts movies is almost impossible to overstate," Desser said. "There are almost no fight scenes in Hollywood movies today that don't rely on Asian martial arts. And that's directly attributable to these martial arts movies that the Shaw Bros. brought over in the 1970s."
Just as kung fu began to explode, Run Run Shaw began moving into the then-infant business of television in Hong Kong, launching TVB in 1967 and largely exiting the film business by the late 1980s. TVB now operates five channels and is one of the biggest private producers of Chinese programming in the world.
But even Shaw's move to television, Desser noted, had an influence on film, as TVB trained and gave opportunities to a new generation of directors, many of whom like Wong Kar-Wai would become key players in the Hong Kong New Wave cinema of the late 1970s and early '80s.
More recently, TVB's acting training program has graduated a slew of performers who have gone on to fame, including Tony Leung, who was named best actor at Cannes in 2000 for Wong's "In the Mood for Love."
Shaw himself continued working with TVB, giving up his chairman title at age 104. Celestial Pictures acquired rights to the extensive Shaw Bros. film library in 2003 and has released scores of its titles on DVD.
Shaw, who was knighted by Queen Elizabeth II in 1977, had two daughters and two sons. His first wife, Wong Mei-chun, died in 1987. Survivors include his wife, Mona Fong, TVB's deputy chairwoman, whom he married in 1997.
Nicole Liu and Tommy Yang in The Times' Beijing bureau contributed to this report.
---
Must-read stories from the L.A. Times
Get the day's top news with our Today's Headlines newsletter, sent every weekday morning.
You may occasionally receive promotional content from the Los Angeles Times.