Saeed Jaffrey dies at 86; Actor exuded flair and versatility from Bollywood to Britain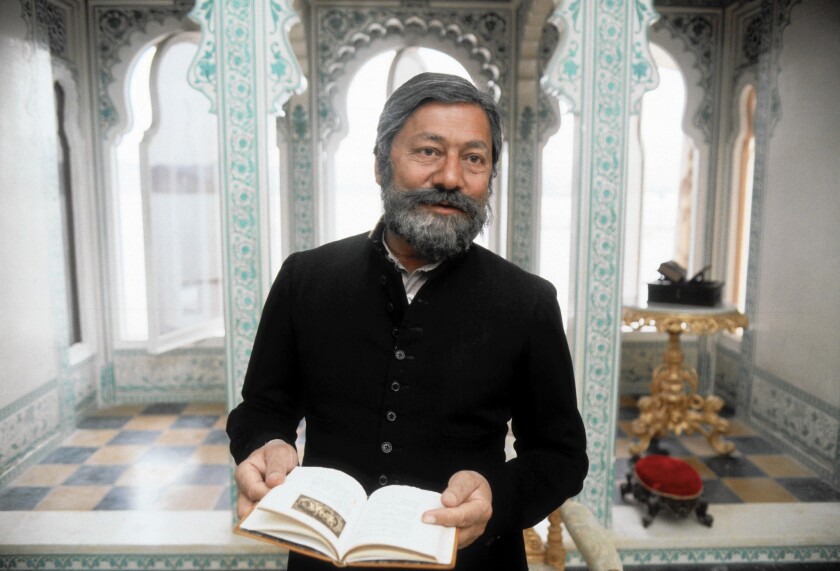 Saeed Jaffrey, a veteran Indian actor whose performances in such films as "Gandhi," "A Passage to India" and "My Beautiful Laundrette" brought him wide notice in the West, died Saturday in London. He was 86.
He collapsed at home from a brain hemorrhage, his representatives said in a statement Monday.
During a career that spanned five decades, Jaffrey worked with fabled directors, including John Huston, who cast him in "The Man Who Would Be King" (1975) with Michael Caine and Sean Connery; and Satyajit Ray, who featured him in the historical drama "The Chess Players" (1977) with Sanjeev Kumar and Richard Attenborough.
Praised by Indian Prime Minister Narendra Modi for his flair and versatility, Jaffrey appeared in more than 100 Bollywood films. He also acted on stage and in British television, including the 1980s sitcom "Tandoori Nights."
Jaffrey was born Jan. 8, 1929, in the Punjab city of Malerkotla. His father, Hamid Hussaid Jaffrey, was a physician who moved the family frequently because he worked for the government. Jaffrey credited his mother, Hadia Imam, for his creative gifts.
After earning a degree in history at the University of Allahabad, he started his career at state-run All India Radio before moving to the United States as a Fulbright scholar and studying drama at the Catholic University of America in Washington. He also studied at the Actors Studio in New York.
His first wife, Madhur Jaffrey, was an Indian-born actress, food and travel writer, and television personality. They had three children before divorcing in 1965.
His survivors include his second wife, Jennifer, whom he married in 1980; and his daughters from his first marriage, Mia, Meera Shameem and Sakina Jaffrey.
In the 1960s he appeared on Broadway as Professor Godbole in "A Passage to India," the Santha Rama Rau play based on the E.M. Forster novel. He played the judge, Hamidullah, in the 1984 film version directed by David Lean.
In later years he received admiring reviews for his performance as a jolly slumlord in "My Beautiful Laundrette," the prickly 1985 comedy directed by Stephen Frears about race relations in South London. Stanley Kauffmann, writing in the New Republic, said Jaffrey's portrayal was "the key role, tonally … irresistible in his humor and affection."
The actor appeared with his daughter Sakina in the 1993 Canadian film "Masala." Sakina Jaffrey is known to American audiences for her portrayal of a chief of staff in the Netflix hit "House of Cards."
Of all the films he made, Jaffrey said "The Man Who Would Be King," based on the Rudyard Kipling story, was his favorite. He played the Gurkha soldier Billy Fish opposite Caine and Connery.
He was fond of telling a story about Caine's advocacy on the movie set. Both Caine and Connery received chairs with their names on the back, but Jaffrey was given only a stool. After 10 days of unequal treatment, Jaffrey said, Caine "erupted" on his behalf, noting that there were "only three stars in this movie, where's Saeed's chair?"
"In 15 minutes," Jaffrey recalled in the Toronto Star, "a chair was brought with my name on it."
.
The Associated Press contributed to this report.
---
Must-read stories from the L.A. Times
Get all the day's most vital news with our Today's Headlines newsletter, sent every weekday morning.
You may occasionally receive promotional content from the Los Angeles Times.