Sarah Brady, gun control advocate and widow of James Brady, dies at 73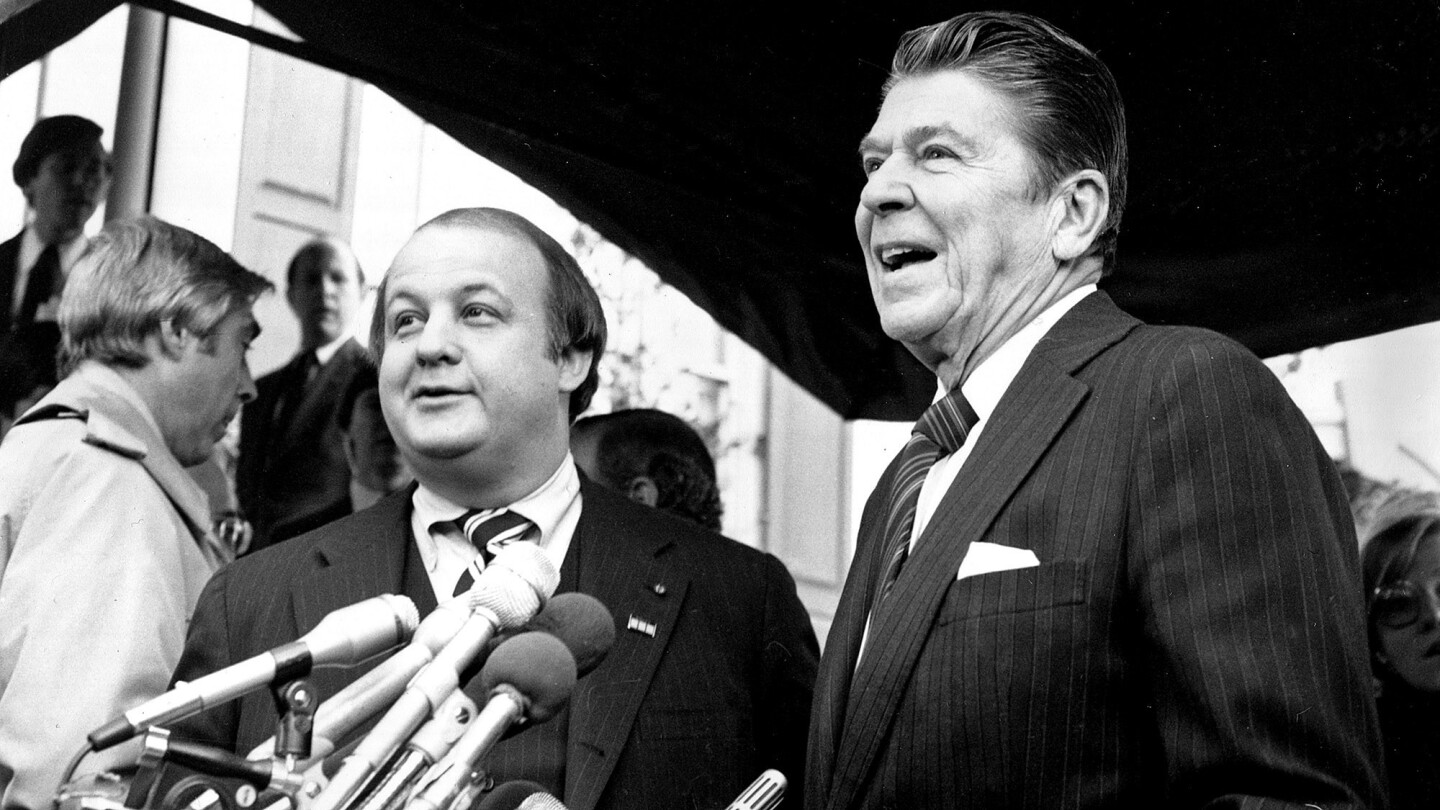 President-elect Ronald Reagan, right, introduces James Brady as his press secretary in Washington, D.C., on Jan. 6, 1981.
(Zeboxski / Associated Press)
President Reagan waves to onlookers seconds before a would-be assassin opened fire outside the Hilton Hotel in Washington, D.C., on March 30, 1981. Reagan was hit by one of six shots fired by John Hinckley and press secretary James Brady, behind and to Reagan's left, was seriously injured.
(Mike Evans / AFP/Getty Images)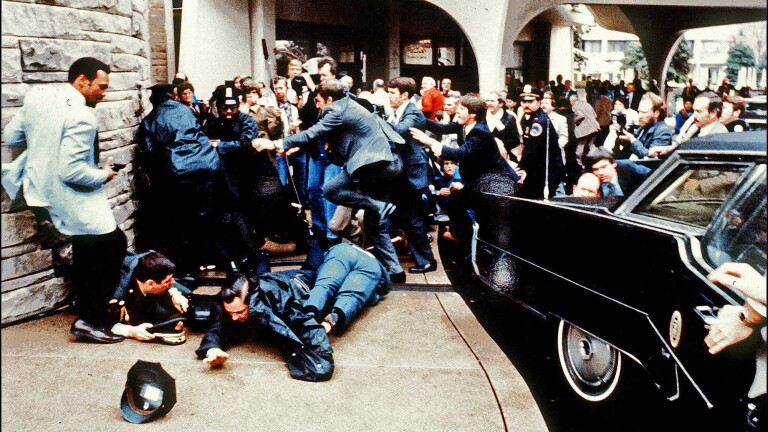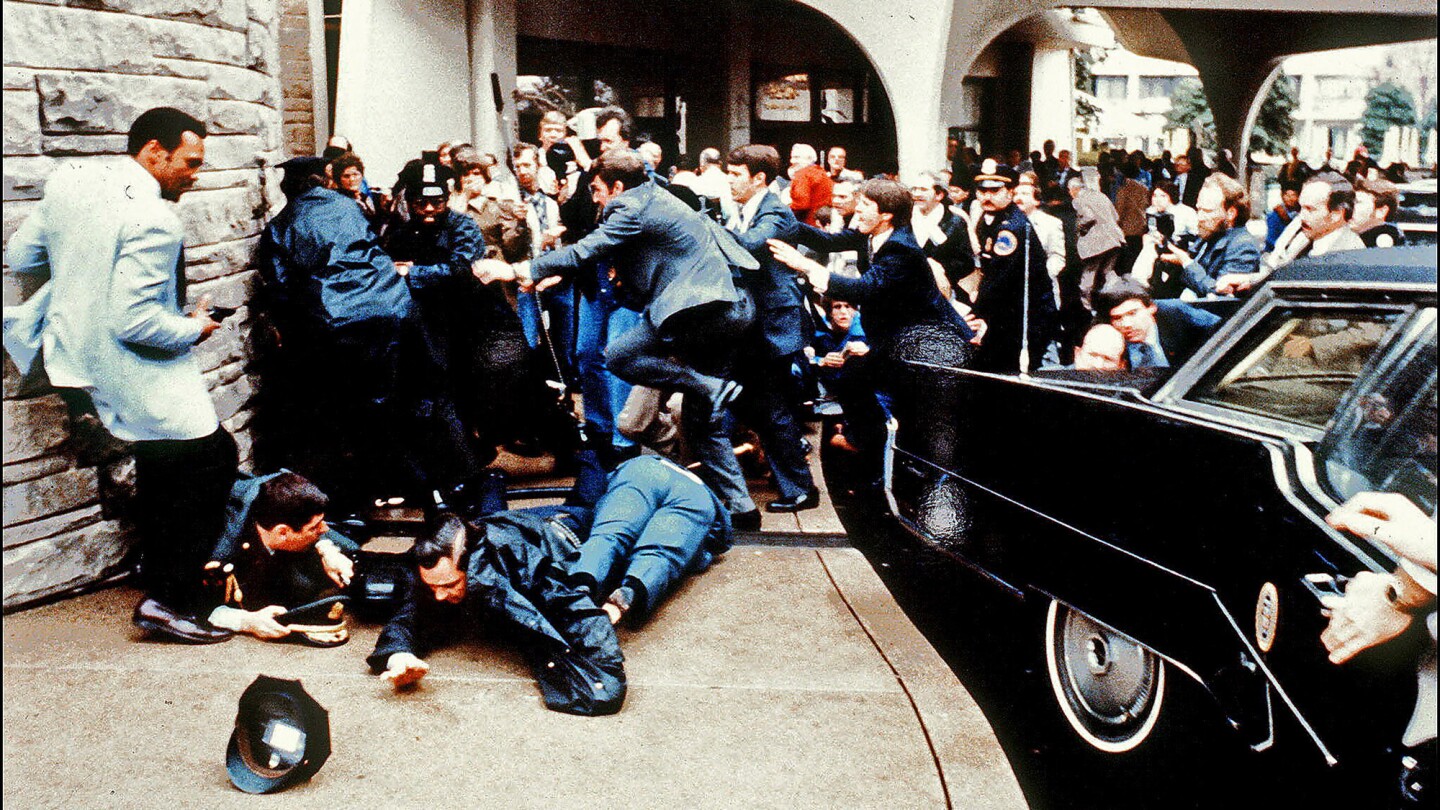 Police and Secret Service agents react during the assassination attempt on Reagan.
(Mike Evans / AFP/Getty Images)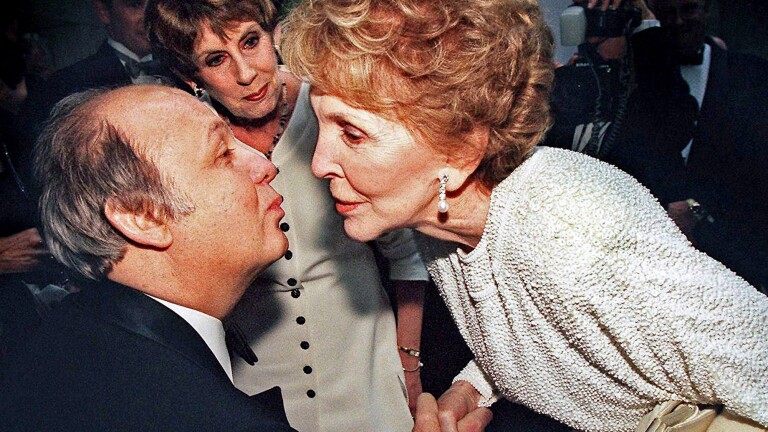 James Brady, former press secretary to President Ronald Reagan, is greeted by former First Lady Nancy Reagan in May 1999 in Washington, D.C.
(Tim Sloan / AFP/Getty Images)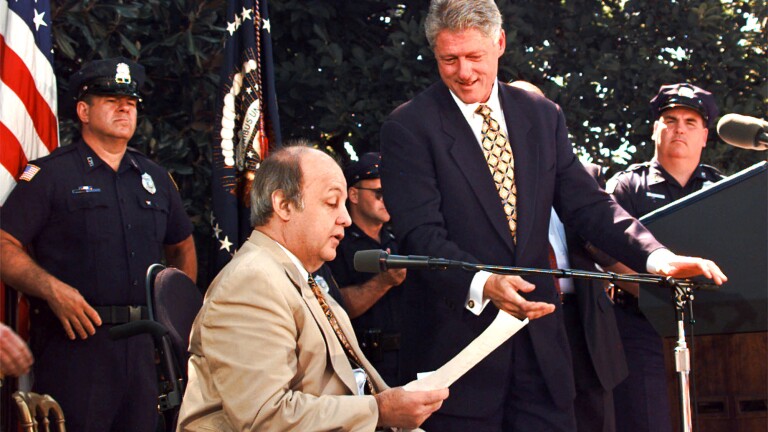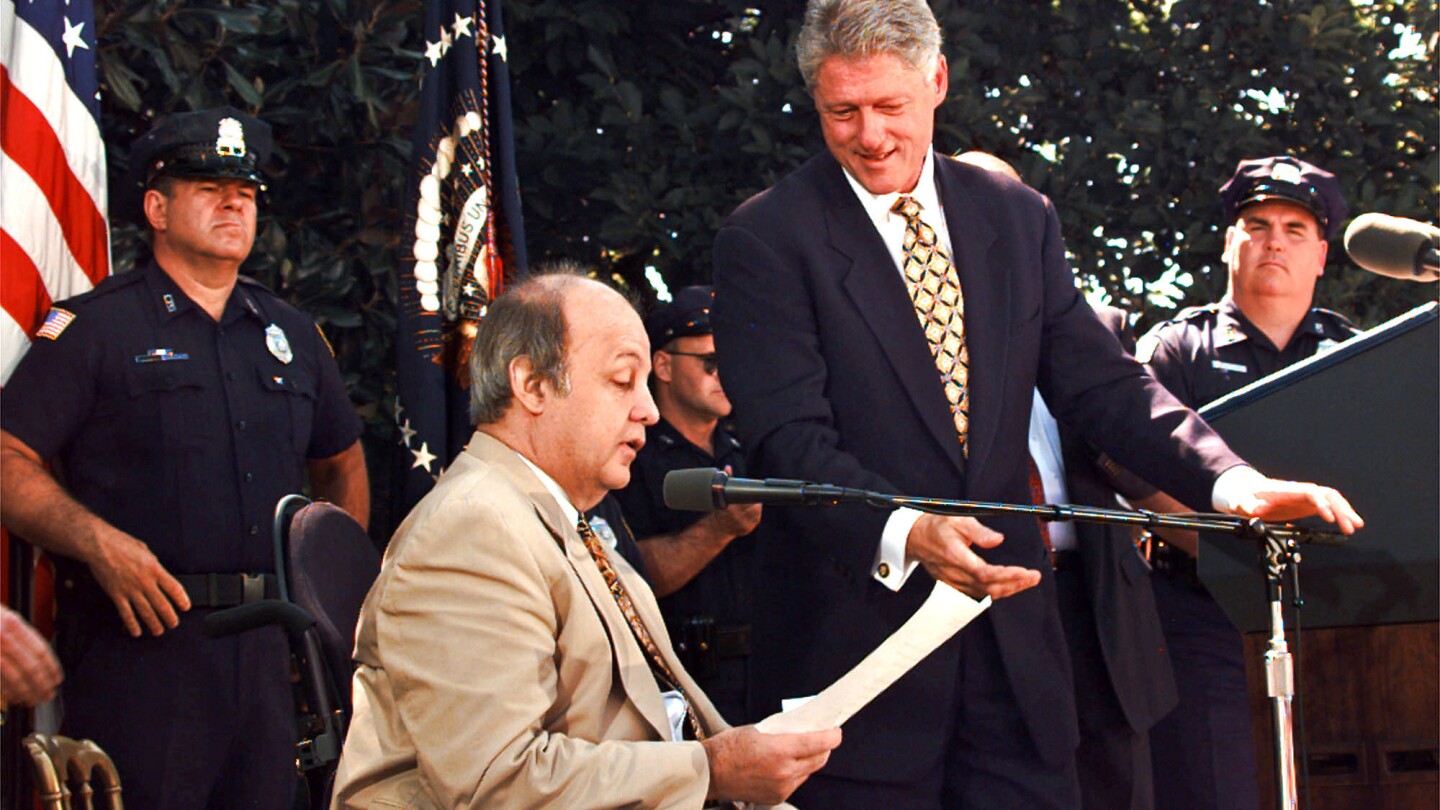 President Clinton helps former White House press secretary James Brady with the microphone in the Rose Garden of the White House on Aug. 6, 1998, where they called on Congress to extend the gun law named for Brady.
(Greg Gibson / Associated Press)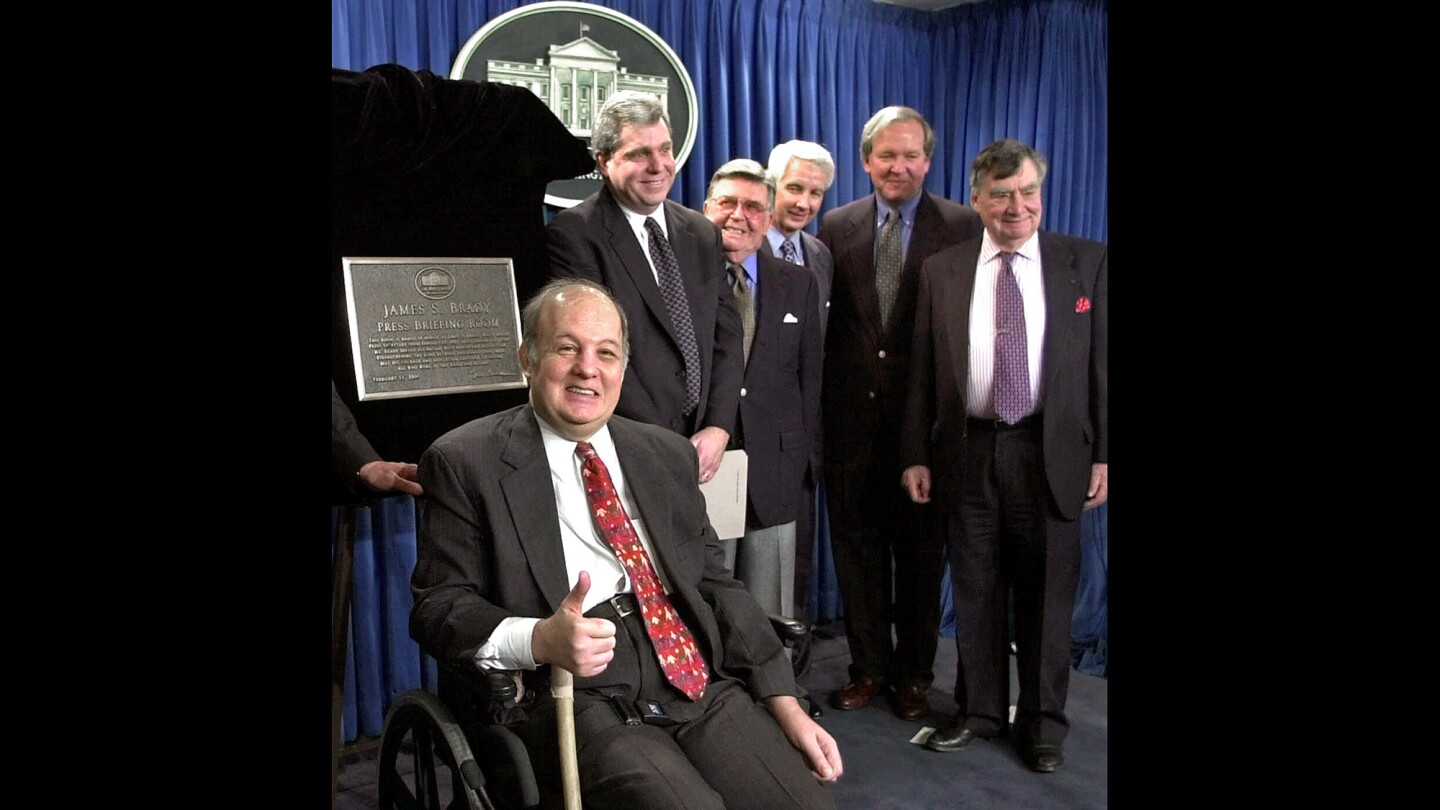 Former President Reagan spokesman James Brady, left, in February 2000 following a dedication ceremony for the new James S. Brady Press Briefing Room at the White House. From left are Brady, presidential press secretaries Joe Lockhart (Clinton), Jerald terHorst (Ford), Larry Speakes (Reagan), Mike McCurry (Clinton) and Pierre Salinger (Kennedy).
(Susan Walsh / Associated Press)
James Brady is greeted by ABC-TV national correspondent Ann Compton during his June 2009 visit to the White House Briefing Room, which is named after Brady.
(Alex Wong / Getty Images)
Former White House press secretary James Brady, who was left paralyzed in the Reagan assassination attempt, looks at his wife, Sarah Brady, during a March 30, 2011, news conference on Capitol Hill in Washington, D.C., marking the 30th anniversary of the shooting.
(Evan Vucci / Associated Press)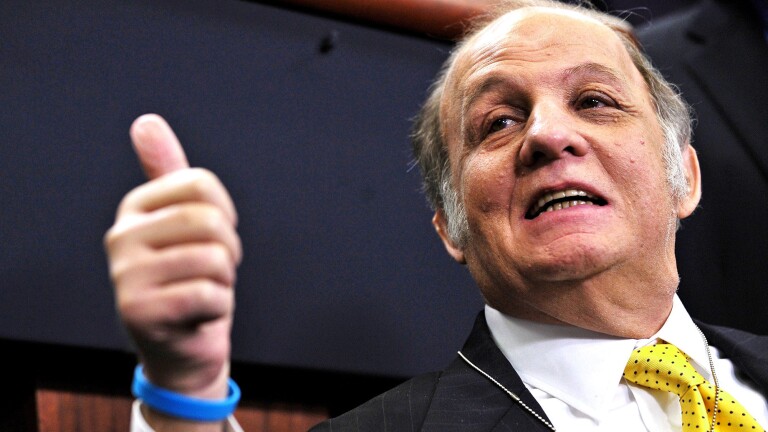 James Brady gives the thumbs-up while visiting the Brady Briefing Room at the White House in March 30, 2011.
(Mandel Ngan / AFP/Getty Images)
After the 1981 assassination attempt on President Ronald Reagan, nearly everyone knew that White House spokesman James Brady had been shot in the head and partially paralyzed in the attack by a mentally deranged assailant, John W. Hinckley Jr.
But that wasn't why his wife, Sarah, became a warrior in a daunting political fight.
During a visit to her husband's hometown in Illinois in the summer of 1985, a friend gave Brady and her then-6-year-old son, Scott, a ride in his truck. On the seat Scott found what he thought was a toy gun and waved it around.
"Except it wasn't a toy gun," Brady grimly recalled.
She carefully removed from his hand a loaded .22-caliber pistol, a cheap Saturday night special much like the one Hinckley had used to shoot her husband. Her friend was blasé about the incident and said he needed the gun for protection, but Brady was enraged by his carelessness.
That evening, she called the National Rifle Assn. "Hi, you don't know me," she told the person at the other end of the line, "but my name's Sarah Brady and I'm going to make it my life's ambition to put you out of business."
Brady, who became the nation's most prominent citizens' advocate for tighter handgun regulation and successfully pushed for passage of a historic bill aimed at keeping guns away from unqualified buyers, died Friday at a retirement home in Alexandria, Va., after a bout of pneumonia, her family said in a statement. She was 73.
A self-professed cigarette addict, she had been diagnosed with advanced lung cancer in early 2000. She underwent several rounds of chemotherapy, radiation and experimental treatments and defied the prognosis that had given her no more than a 30% chance of surviving five years.
Brady was chairwoman of the Brady Campaign to Prevent Gun Violence (formerly Handgun Control Inc.), the nation's largest citizens' lobby for tougher handgun regulation.
Her husband became a potent symbol of the struggle and was by her side in 1993 when President Bill Clinton signed the Brady Handgun Violence Prevention Act, which imposed background checks and a seven-day waiting period on prospective gun buyers.
The most significant change in federal firearms regulation in a generation, the Brady law has blocked more than 2 million sales to felons and others who do not meet the requirements of gun ownership, according to the Justice Department's Bureau of Justice Statistics.
The impact of the changes on gun crime, however, is harder to gauge. The law only restricts sales by licensed firearms dealers and not secondary sales by individuals online or at gun shows, the route researchers say is favored by many criminals seeking firearms. Efforts in Washington to expand the background checks have repeatedly failed.
The NRA, which battled the Brady bill for years, found its match in the blunt and irreverent former schoolteacher whose life was transformed by tragedy.
"Before Sarah Brady it's safe to say that the National Rifle Assn. ran this town," Sen. Edward M. "Ted" Kennedy (D-Mass.) once said. He called her efforts to change the nation's gun laws "an extraordinary national service."
"The gun lobby likes to say that Jim and I are trying to take guns away from hunters and sportsmen," Brady said some years ago. "The gun lobby is wrong. To the hunters and sportsmen of America, we say: Keep your guns. But just give us the laws that we need to keep guns out of the hands of criminals and out of the hands of children."
Those pleas were unimagined in Brady's life on March 30, 1981.
On that rainy Monday in Washington, Jim Brady was in Reagan's entourage as the president made a midday speech at the Washington Hilton. Sarah Brady was at home with their then-2-year-old son.
Around 2 p.m., she was watching a favorite soap opera when a bulletin broke in: Shots had been fired at the president.
Before she could hear the rest of the news, her phone rang. A friend who had heard a fuller report was crying and offering to come stay with Scott. Brady was confused: Why would her friend want to take care of Scott?
Then it hit her: Jim was hurt, too.
Soon she was standing on the sidewalk outside their home, waiting for a White House car to speed her to George Washington University Hospital. But before she left, she saw her husband on television, face down on the pavement in a growing pool of blood.
Of the six shots Hinckley fired, four had struck targets. One hit Reagan in the chest, piercing his lung and causing massive internal bleeding. Also injured were a Secret Service agent and a Washington patrolman.
Jim Brady was shot just above the left brow. The bullet tore through his brain and lodged on the right side. At the hospital, doctors saw gray matter seep from the wound, a sign that his condition could be beyond hope.
A neurosurgeon told Sarah Brady that only 1 in 10 survived the surgery her husband needed to repair the damage to his brain.
Although his health was severely compromised, he lived 33 more years. After he died last year at age 73, the coroner ruled his death a homicide resulting from the wounds sustained in the shooting.
Sarah Brady learned about guns as a girl. Born Feb. 6, 1942, in Kirksville, Mo., and raised in Alexandria, Va., she saw her FBI agent father carry a .38 to work and sometimes accompanied him to an FBI shooting range. The men in her family all hunted for sport, and she knew how to shoot a Tommy gun.
"I grew up with a deep respect for guns," she once told The Times. "I can still remember my father saying … you pick up a gun only in the event that you're prepared to shoot to kill."
She dreamed of following her father's path to the FBI but was discouraged by the lack of female agents. At the College of William and Mary in Williamsburg, Va., she studied to become a teacher but was politicized by the Vietnam War and in 1968 went to work instead for the Republican Congressional Committee in Washington.
She met her future husband in the late 1960s when he was running campaigns in Illinois and she was a finance liaison for the Republican Party. She nicknamed him Bear because he was built like one. He called her Raccoon because of the circles under her eyes when she was tired. They married in 1973 and Sarah Brady stopped working five years later when they started a family.
After Reagan won the White House in 1980, the Bradys' lives took a glamorous turn, only to be shattered on the 70th day of his presidency.
The press secretary was hospitalized for nine months, nearly dying several times from blood clots. He had to relearn how to walk and speak, had severe short-term memory problems and howled or blanked out from pain. Brady devoted herself to his care while struggling to raise their son.
In June 1982, Hinckley was acquitted on grounds of insanity and sent to a mental hospital, where he remains.
That same year, Brady was contacted by the handgun-control movement. Although she badly wanted to help, she turned down the request, Brady biographer Mollie Dickenson said, because her advocacy could "look bad for Jim," who was still officially the spokesman for a pro-NRA president.
She changed her mind after the frightening incident in the truck with her son. Back in Washington, she learned that the Senate was preparing to vote on a bill that would neutralize the 1968 Gun Control Act, passed after the assassinations of Sen. Robert F. Kennedy and the Rev. Martin Luther King Jr. The so-called McClure-Volkmer bill sought to weaken provisions that prohibited mail-order gun sales, forbade sales to felons and required dealers to keep sales records.
Brady called Handgun Control Inc.
She started a letter-writing campaign on Capitol Hill, made television appearances and gave speeches, lashing out at "the weaklings in Congress … who don't have the guts to stand up for what's right." Despite her hard work, the McClure-Volkmer bill passed and was signed by Reagan in 1986, but Brady's efforts helped opponents undercut its most damaging provisions.
By 1987 her face was on posters that said, "Help me fight the National Rifle Association." In 1989 she became vice chair of Handgun Control Inc. and Jim Brady, no longer on the White House payroll, joined the campaign. Two years later Sarah Brady became chair of the group's sister organization. Handgun Control Inc. was renamed the Brady Campaign in 2001 in honor of the Bradys' commitment to the cause.
After the battle over the McClure-Volkmer bill, she focused on securing passage of the Brady bill. "Jim's shooting could have been prevented if legislation such as this had been in force," she said, noting that no background check had been performed on Hinckley, who had purchased his gun by giving a false address.
Openly opposed by the NRA, the bill was stuck in legislative logjams for several years. Brady pounded on congressional doors, often accompanied by Jim Brady in a wheelchair. By 1992, Reagan, then a former president, had come out in favor of the measure, but his successor, George H.W. Bush, threatened to veto it. So Sarah Brady endorsed Bush's challenger, Clinton, who vowed to sign the bill if Congress passed it.
By 1993, opinion polls showed that the bill had the support of more than 90% of Americans. It passed the Senate on a voice vote, making it the first major gun-control legislation passed by Congress in 25 years. Brady said Clinton's signing of the bill was "the proudest moment of our lives."
She saw the law in action when, after undergoing the required checks, she purchased a hunting rifle as a gift for her son in 2001. "It felt unusual to be packing that gun into my little car, but I have always believed in the ability of law-abiding citizens to own a gun," she later told Reuters.
Brady considered the day her husband was shot the most difficult in her life, worse than her cancer diagnosis. The shooting was the first chapter of "A Good Fight," the 2002 memoir she wrote after the cancer had spread to her lymph nodes.
A reviewer described the book as a farewell letter from a dying mother and wife, but when it was published she was in remission — and, after quitting twice, had started smoking again.
"I knew perfectly well … that I was stupid enough to have smoked all this time and perhaps to have caused my own eventual demise," she wrote without guilt or self-pity. "I love life and I do not want to leave any of this behind."
Brady is survived by her son, James "Scott" Brady Jr.; a stepdaughter, Melissa "Missy" Brady Camins; and a brother, William Kemp.
Twitter: @ewooLATimes
---
Must-read stories from the L.A. Times
Get the day's top news with our Today's Headlines newsletter, sent every weekday morning.
You may occasionally receive promotional content from the Los Angeles Times.