Stan Freberg, master of comedy parodies and commercials, dies at 88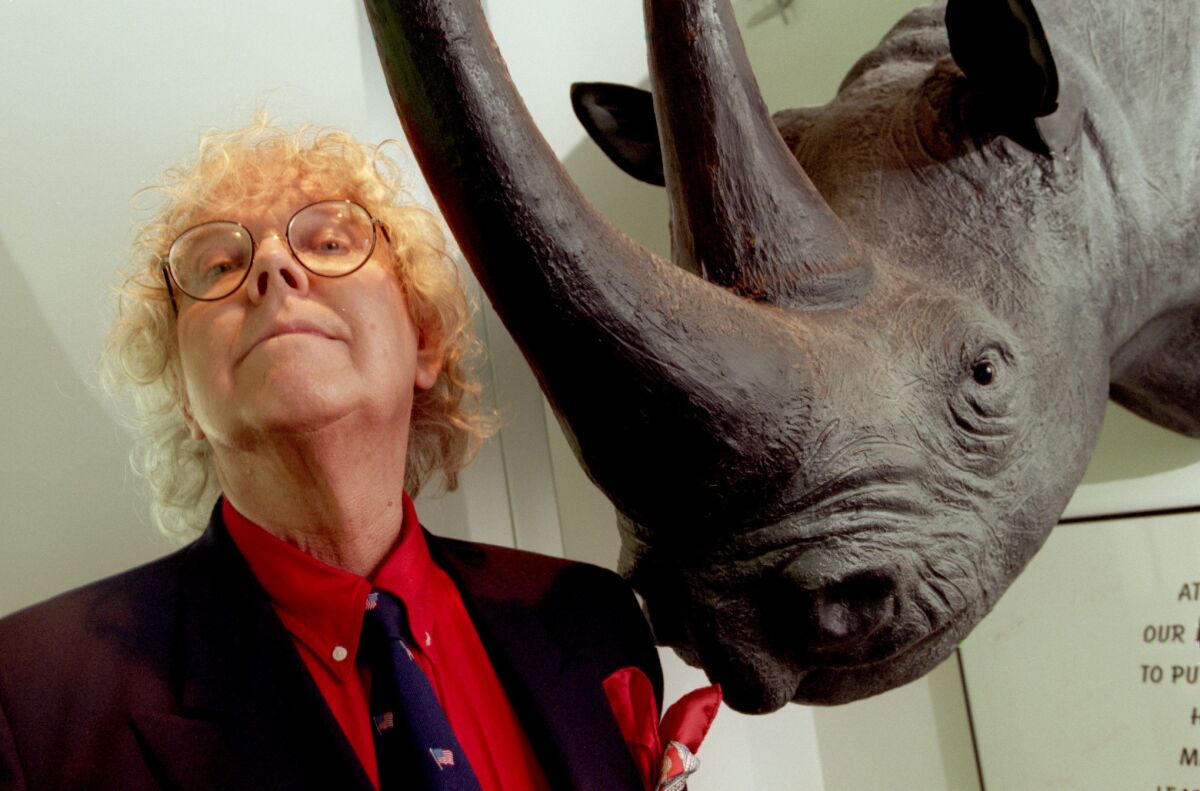 Stan Freberg, an influential master of the lampoon who channeled his off-the-wall sensibility into groundbreaking radio shows, comedy albums and hundreds of humorous television commercials for products such as chow mein and prunes, died of natural causes Tuesday at UCLA Medical Center in Santa Monica. He was 88.
His death was confirmed by his family, who said he had a number of age-related ailments, including pneumonia.
Freberg's path to the nation's funny bone was unconventional: Unlike stand-up comics who recorded comedy albums of their nightclub acts in front of live audiences, Freberg went straight into the studio at Capitol Records in Hollywood and, bolstered by actors, musicians and sound effects, created what he called "audio moments."
With totems of popular culture as his preferred targets, he created his own satirical hit parade from sendups of chart-toppers such as Elvis Presley's "Heartbreak Hotel" and venerated TV series such as "Gunsmoke," "The Honeymooners" and Edward R. Murrow's "Person to Person."
His 1953 spoof of Jack Webb's "Dragnet," called "St. George and the Dragonet," captured the cop show's famously staccato, monotone delivery and was widely considered his finest work as a mimic and parodist.
Announcer: The legend you are about to hear is true — only the needle should be changed to protect the record.
St. George: This is the countryside — my name is St. George; I'm a knight. Saturday, July 10th, 8:05 p.m. I was working out of the castle on the night watch when the call came in from the chief — a dragon had been devouring maidens — homicide. My job — slay him!"
Freberg's irreverent take on the series produced the fastest-selling single in history — more than 1 million copies in three weeks, according to Variety — and earned its mastermind a gold record.
"There has been nothing comparable to Freberg's ability to seize on a pop fad and, while it was still hot, capitalize on it," Gerald Nachman wrote in "Seriously Funny: The Rebel Comedians of the 1950s and 1960s."
Freberg's satiric vision made him an idol to fans as diverse as the Beatles, Anthony Hopkins, Steven Spielberg and Tom Hanks.
Barry Hansen, the radio host and musicologist known as Dr. Demento, told Nachman that Freberg's spoofs "were the true forerunners of the satirical style of National Lampoon and 'Saturday Night Live.'" To which Nachman added: "But with many more bull's eyes."
His 1961 musical comedy album "Stan Freberg Presents the United States of America" is often described as his masterpiece. The droll revue covers American history from Columbus through the Revolutionary War, with Freberg in roles such as Benjamin Franklin, who is heard calling the Declaration of Independence "a little overboard" in the lead-in to the song "A Man Can't Be Too Careful What He Signs These Days."
In 1996, the humorist released a sequel, "Stan Freberg Presents The United States of America, Volume 2: The Middle Years."
When he first performed some of his parodies, the reaction was not always positive. The original recordings of his barbed spoofs of Ed Sullivan and Arthur Godfrey — two of television's biggest stars in the 1950s and early '60s — were locked in the Capitol Records vault after vehement protests by lawyers for both entertainers.
That led to Freberg's frequently quoted comment on censorship: "My records are not released; they escape."
The son of a Baptist minister, Freberg was born in Pasadena on Aug. 7, 1926. Gangly and introverted, he spent hours lying on the floor with his ear next to his family's console radio.
"I was such a big radio buff when I was growing up that when the other kids ran out to play baseball, I ran inside to listen to the radio," he told the New York Times in 1983. "My idols were Jack Benny and Fred Allen."
Freberg's own offbeat sense of humor began to blossom at Alhambra High School. During his senior year, he ran for student office on the promise that he would install an 80-foot picture window in the girls' locker room and turn the principal's office into an automatic carwash.
"I was elected in a landslide but found it hard to deliver on my campaign promises," he recalled in "It Only Hurts When I Laugh," his 1988 autobiography.
He also performed a one-man show at a school assembly, playing all of the parts in "an original Freberg radio show," complete with background music and sound effects. When his fellow students gave him a standing ovation, he was hooked.
Although he earned scholarships to both the University of Redlands and Stanford, his college career was permanently sidetracked shortly after high school graduation in 1944 when he landed a job at the Warner Bros. animated cartoon unit as the voice of a cartoon dog based on President Roosevelt's famous pooch, Fala.
He went into radio supplying animal sounds on a CBS network Sunday show "Tell It Again," which dramatized a different classic children's story each week. Later, he was an actor on the Armed Forces Radio Network.
After a post-World War II Army stint in Special Services, Freberg did stand-up routines with the comedy orchestra Red Fox and his Musical Hounds. He left the band in 1949 to team up with former Warner Bros. animation director Bob Clampett on the KTLA show "Time for Beany."
Working with Daws Butler, who supplied the voices of Beany and Captain Huffenpuff, Freberg spent the next five years as Cecil the Seasick Sea Serpent (and the villainous Dishonest John) on the Emmy- and Peabody Award-winning puppet show.
In 1950, he launched his comedy recording career with his classic soap-opera satire "John and Marsha," in which two lovers (both voiced by Freberg) repeat each other's names again and again in varying degrees of grief, anxiety, joy and lust.
He also ruffled the status quo of the Eisenhower era with parodies of rampant consumerism ("Green Chri$tmas$"), the Army-McCarthy hearings ("Point of Order") and payola ("The Old Payola Blues").
In 1957, after scoring a hit with his spoof of Harry Belafonte's "Banana Boat Song (Day-O)" record, Freberg landed his own comedy show on the CBS Radio Network, replacing the departing Jack Benny. Critics loved it, but he had run-ins with CBS executives over his refusal to be sponsored by tobacco companies and other "undesirables." CBS canceled "The Stan Freberg Show" after about 15 weeks.
Freberg later said the cancellation led him to concentrate on advertising work. He formed his own company, Freberg Ltd. (but not very), whose motto was Ars gratia pecuniae (Art for money's sake.)
One of his most memorable early spots was a 1956 radio commercial for Contadina Foods, a small San Jose-based tomato-paste maker that was taking on the giant Hunt's company.
Freberg came up with a jingle — "Who puts eight great tomatoes in that little bitty can?" — and sales of Contadina tomato paste increased dramatically within weeks.
Later dubbed "the father of the funny commercial" by Advertising Age, he won more than 20 Clio Awards for his television and radio spots.
Freberg later promoted such varied products as Sunsweet pitted prunes ("Today the pits, tomorrow the wrinkles; Sunsweet marches on!") and Heinz's Great American Soups, for which he created a lavish Busby Berkeley-style production number with a tap-dancing Ann Miller atop a giant can of chicken gumbo soup.
He summed up his advertising philosophy simply: "Hey, folks, this is pizza we're selling, not the Holy Grail."
His wife, Donna, whom he married in 1959 and who served as his editor and producer, died in 2000. He is survived by his wife Hunter Freberg, whom he married in 2001; a son, Donavan; a daughter, Donna; and a granddaughter.
McLellan is a former staff writer.
Must-read stories from the L.A. Times
Get the day's top news with our Today's Headlines newsletter, sent every weekday morning.
You may occasionally receive promotional content from the Los Angeles Times.