Stuart Scott dies at 49; ESPN sportscaster with catchphrases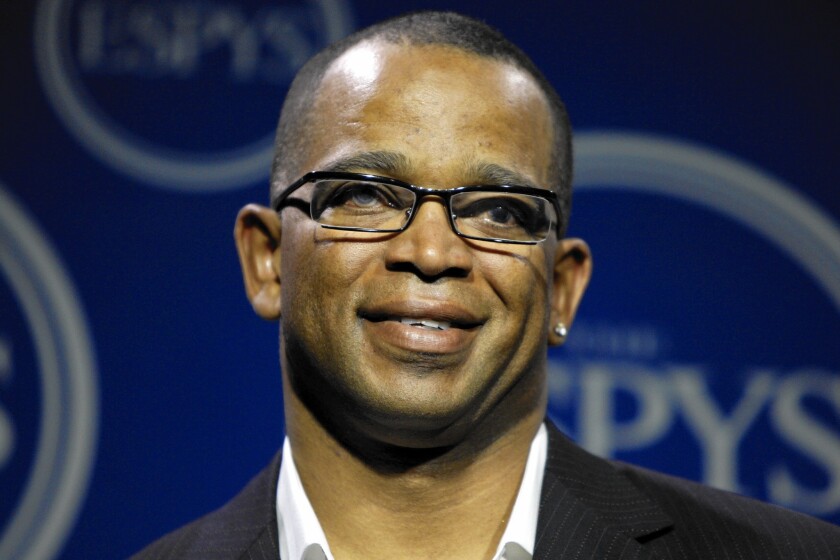 He was widely copied, bitingly parodied and occasionally derided, but ESPN sportscaster Stuart Scott could belt out an exuberant "Boo-yah!" as no one else.
And his vivid descriptions, while over the top to his critics, struck a chord for millions of sports fans. When a sorely needed home run lifted the Washington Nationals into a lead over the Milwaukee Brewers, Scott went biblical: "And the Lord said you've got to rise up!" When a player in any sport was demolishing the competition, Scott dug into his homespun bag of memorable tributes: "Just call him butter cause he's on a roll!" "Call him carwash cause he's automatic!"
The ESPN sportscaster, whose enthusiastic catch-phrases and cool urban persona earned him an early reputation as "the hip-hop Howard Cosell," died Sunday of cancer, the network said. He was 49.
Scott lived in Avon, Conn., and reportedly died in a Hartford-area hospital.
President Obama, who played a few minutes of one-on-one basketball with Scott during his 2008 campaign, was among those who expressed condolences. "Stu helped usher in a new way to talk about our favorite teams and the day's best plays," the president said.
Scott also emerged as an example of a well-known personality dealing courageously with a grim medical condition. Diagnosed with cancer during a 2007 appendectomy, Scott appeared to have beaten it after two surgeries, radiation treatments and chemotherapy.
When it recurred in 2011, he underwent the same kind of rigorous treatment — but also endured the jabs, kicks and punches of mixed martial arts training. After his third operation, in 2013, he had to wait five months before his abdomen could take further pummeling. On some days, he did 300 push-ups.
Last July, Scott was recognized at ESPN's annual Espy awards.
In a moving speech, he recounted his battle and braced for the outcome.
"When you die, that does not mean you lose to cancer," he said. "You beat cancer by how you live, and the manner in which you live. So live. Live! Fight like hell!"
Born in Chicago on July 19, 1965, Scott grew up in Winston-Salem, N.C. He played high school football, but eye surgeries cut his athletic career short.
In 1987, Scott graduated from the University of North Carolina with a bachelor's degree in speech communications. In 2001, he was picked to speak at the school's commencement — a choice criticized by some as un-academic.
"I felt alone because I felt like, "Here we go again—I gotta prove something, prove that I'm a journalist and not just an entertainer," he told the graduates. "Like I gotta stand up on a top of a mountain and shout, 'Hey, your view of reality, your world is not "the" world. Diversity means understanding.'"
He also said he agreed with the Raleigh radio host who said he'd rather see Scott than some politician, but that he'd rather see Jennifer Lopez than either.
"Dog, I'm witcha," Scott said.
Scott worked at TV stations in Florence, S.C.; Raleigh; and Orlando, Fla. before joining the new ESPN2 in 1993. His distinctive style appealed to younger viewers but also sparked some resistance from network executives.
"He didn't just push the envelope," said former ESPN anchor Dan Patrick. "He bulldozed the envelope."
Still, Scott ultimately became an anchor of ESPN's flagship program, "SportsCenter".
In interviews, he said his street-inflected style emerged naturally. "My style is black," he said. "It's hip-hop. It's who I am."
Scott, who praised unflappable athletes for being "as cool as the other side of the pillow," said he never strained for clever descriptions.
"When I'm sitting around watching a game with some friends and we're all excited and Jordan is driving in, we might say, 'Come on Mike, break me off a little somethin'-somethin'," he told the St. Petersburg Times in 1997.
"I decided to take that and translate it into what I do on 'SportsCenter.' Just add statistics."
Scott's survivors include his daughters Taelor and Sydni; parents O. Ray and Jacqueline Scott; brother Stephen Scott; sisters Synthia, Kearney and Susan Scott, and girlfriend Kristin Spodobalski His marriage to Kimberly Scott ended in divorce.
Twitter: @schawkins
---
Must-read stories from the L.A. Times
Get all the day's most vital news with our Today's Headlines newsletter, sent every weekday morning.
You may occasionally receive promotional content from the Los Angeles Times.