Susan Ahn Cuddy dies at 100; pioneering Korean American in U.S. military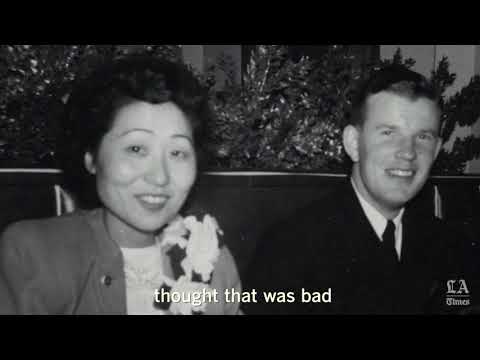 <p>Susan Ahn Cuddy is believed to be the first Asian American female U.S. Navy officer and its first female gunnery officer during World War II.&nbsp; She died on June 24 at age 100.</p>
In her final weeks, Susan Ahn Cuddy kept her calendar full, as always — she attended fundraisers, participated in U.S. military events and even led a "survivor's lap" at an American Cancer Society Relay for Life, pushed around the running track in her wheelchair.
The day after speaking at a leadership summer camp in Wrightwood for Korean American youth, where she encouraged attendees to aim high and be the best they could be, she died in her sleep at her home in Northridge. She was 100. There was no cause immediately given for her June 24 death.
"She was completely active until the day she died," said her daughter Christine Cuddy, 65, an entertainment attorney. "She was a force of nature."
It is a descriptor that characterizes the life of the petite Korean American, who succeeded in breaking down barriers at a time when America was rife with discrimination and racial inequities.
She is believed to be the first Asian American female U.S. Navy officer and became the Navy's first female gunnery officer during World War II, according to her official 2002 biography, "Willow Tree Shade: The Susan Ahn Cuddy Story," written by John Cha. Rising to the rank of lieutenant, she later went on to work for U.S. Navy Intelligence, the Library of Congress and the National Security Agency.
She was one of the nation's oldest living Korean Americans born in the U.S. and her parents were among the first Koreans to immigrate to the United States, arriving in 1902.
"She was a trailblazer, a go-getter, a challenger of anything and everything," said her son Philip, 59, who works in the medical research field.
Born Jan. 16, 1915, in Los Angeles, Cuddy was the elder daughter of Helen Lee and Dosan Ahn Chang Ho. Her father was a revered Korean independence leader. The couple had five children.
"I think my personal life [was] guided by my father," Cuddy said in an April 2015 interview with The Times. "He was always in Shanghai or China working for the independence of Korea."
But when he came home "he gave us time," she said.
Her father was also exceptionally "liberal" by Korean standards, allowing his daughters to be "rough … not ladylike."
"We grew up under a sense of freedom," she said.
Baseball became her passion and she excelled at the sport at Los Angeles' Belmont High School and later at Los Angeles City College, where she was in charge of women's baseball. She graduated from San Diego State College in 1940 with a degree in sociology.
In 1942 she enlisted in the U.S. Navy, ignoring criticism that serving in the military wasn't suitable for a Korean woman. She said her father, who died before she enlisted, taught his children to "be good Americans but don't forget your native land."
Cuddy enrolled at the U.S. Naval Reserve Midshipmen's School at Smith College in Northampton, Mass., the training grounds for junior officers of the Women's Reserve of the U.S. Naval Reserve, or WAVES. Her first application to the San Diego Navy Board to join the officers' program a year earlier was rejected because, as she later learned and told her biographer, she "was an Oriental."
She instructed pilots in air combat tactics before becoming a gunnery officer, and subsequently a lieutenant. Eventually she became the naval liaison from Naval Intelligence to the Library of Congress.
In 1947, Cuddy married Chief Petty Officer Francis X. Cuddy, an American of Irish descent. Their families frowned on the union and Cuddy said her mother didn't speak to her for five years.
"Many people in the Korean community thought that was bad," she told The Times. "They didn't accept him. I had to go on one side or the other, and I took his side."
Cuddy went on to work for the National Security Agency in Washington, D.C., and during the Cold War ran a think tank of more than 300 agents working in the Russia section and worked on top-secret projects for the Department of Defense, according to her biography.
In 1959, Cuddy moved home to Los Angeles, where she helped her family manage the popular Phil Ahn's Moongate restaurant, a Cantonese eatery in Panorama City that closed in 1990.
She also became involved in supporting L.A.'s growing Korean American community while preserving the story of pioneer Korean immigrants, such as her parents.
Do Kim, president of the KW Lee Center for Leadership, an L.A.-based nonprofit dedicated to training youth to become future leaders, said Cuddy helped instruct young people on how to organize in their community, taught them Korean history and encouraged them to be whoever they wanted to be.
"I think the students really loved hearing her story…. They loved hearing about the path she took as a pioneer," Kim said.
Cuddy also helped to promote civic engagement among Korean Americans and build bridges between communities, work that impressed L.A. County Supervisor Mark Ridley-Thomas, who became friends with Cuddy.
"Susan never forgot her father's struggle and sacrifice for independence, and so it was in her nature to be open and sympathetic to all who struggled to gain their rights and acceptance," Ridley-Thomas said.
In 2003, the State Assembly of California's District 28 named Cuddy Woman of the Year, and three years later she received the American Courage Award from the Asian American Justice Center in Washington, D.C, according to her website.
Cuddy, whose husband died in 1994, is survived by her children Christine and Philip, siblings Soorah Buffum and Ralph Ahn, and grandchildren Michael and Julia Gittes.
Sign up for Essential California for the L.A. Times biggest news, features and recommendations in your inbox six days a week.
You may occasionally receive promotional content from the Los Angeles Times.