Sylvia Levin dies at 91; she registered more than 47,000 to vote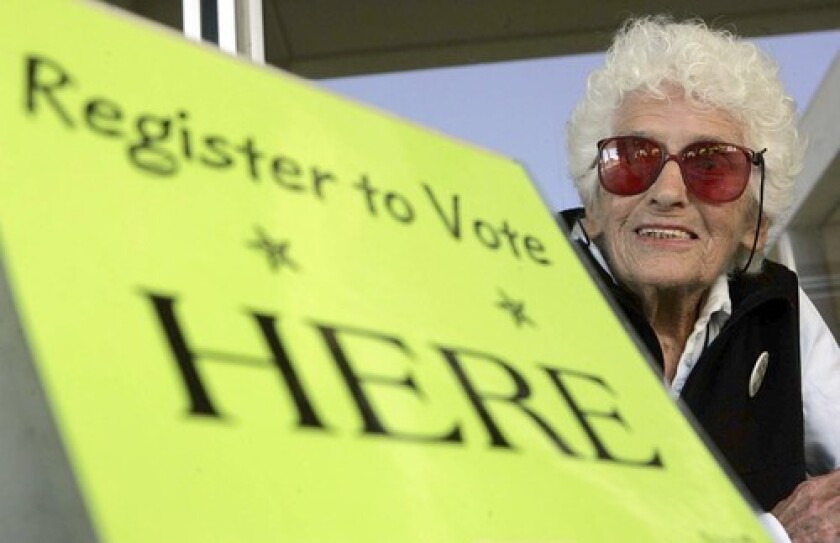 Sylvia Levin, who set a record for civic-mindedness by personally registering more than 47,000 Californians to vote, died Thursday at Cedars-Sinai Medical Center in Los Angeles of complications from a stroke. She was 91.
The Santa Monica resident was a familiar sight in Westside communities where, for 36 years, she spent six days a week signing up new voters.
Sundays were spent at the farmers' market in Westwood Village. Mondays, Tuesdays and Thursdays she was outside the Westwood post office at the Federal Building. Fridays were reserved for Malibu, where she set up her battered card table outside a bank or the post office. Saturdays were in Venice.
Before one of her Malibu visits in 2007, Levin detoured to Los Angeles City Hall, where the City Council presented a resolution commemorating what officials said was an all-time record for voter registration in California.
"She's an example of a person who has done more to make democracy work than anybody I know," said Councilman Bill Rosendahl, who introduced the resolution.
Levin often recounted how her son got her interested in the get-out-the-vote effort. Chuck Levin, a political consultant and writer, helped lead a California campaign to register young people to vote when the voting age was lowered in 1971 to 18.
Chuck Levin, who created the First Vote campaign, said Friday that his mother "lived a long and full life of adventure and grace, of simplicity and openness, of love and hope -- no regrets or fear."
Sylvia Levin rode the bus as she made her weekly registration rounds. She persuaded postal workers and business owners to store her fold-up tables and chairs for her.
At her card table, she had a commanding presence when she called out to people in a loud voice with a trace of a New Jersey accent. "Are you registered to vote?" she would shout. "Are you on parole?"
She recalled that she signed up 60 new voters in one day in 1996, although she was averaging about four a day toward the end. She would never reveal whether she was signing up more Democrats or Republicans. "Everyone is important," she would explain.
"People who are registering for the first time in their lives leave this table just flying," she said. "They know they've taken a big step."
As a deputy county registrar, Levin worked without pay.
"She was a sparky and tenacious person," Dean Logan, Los Angeles County's registrar-recorder/county clerk, said Friday. "She was an ambassador of the democratic process."
Although no state-by-state statistics are kept, governmental experts reckon that Levin's 47,000-voter total is a national record. They point out that California is the fastest-growing state and one that makes it easy for newcomers to vote.
Los Angeles County Supervisor Zev Yaroslavsky and other board members singled her out for her work in 1996 and again in 2008, and she was honored with a state Senate resolution by the late Sen. Herschel Rosenthal in 1999 for her registration efforts. In 2001 she was nominated by then-Assemblyman (now newly elected Los Angeles Councilman) Paul Koretz and inducted into the state's Voter Participation Hall of Fame.
A family friend, Robert Weiner, a former chief of staff of the U.S. House Aging Commission, said Levin continued her voter sign-up work until she entered the hospital May 18.
Weiner described her as "a model of aging with mission intact, and the mission itself is a wonderful message to do what we can, always, and to be involved in our politics and government."
Levin was born Sept. 14, 1917, in Brooklyn, N.Y., and grew up there and in New Jersey. She moved to California in the 1940s, a single mother of two who worked in an aircraft plant, a garment factory, a stall at the original Farmers Market in Los Angeles and as a beach parking lot attendant in Santa Monica.
In addition to her son, a Santa Monica resident, she is survived by daughter Susan Levin of Culver City and sisters Dottie Sadowsky of Manhattan and Daisy Neustadt of Willingboro, N.J.
Private funeral services are planned, and a memorial service is being organized for September, Weiner said. Donations in her memory may be made to the First Vote, P.O. Box 241870, Los Angeles, CA 90024.
---
Must-read stories from the L.A. Times
Get all the day's most vital news with our Today's Headlines newsletter, sent every weekday morning.
You may occasionally receive promotional content from the Los Angeles Times.