Actor Tab Hunter dies at 86; '50s heartthrob's career ranged from 'Battle Cry' to 'Polyester'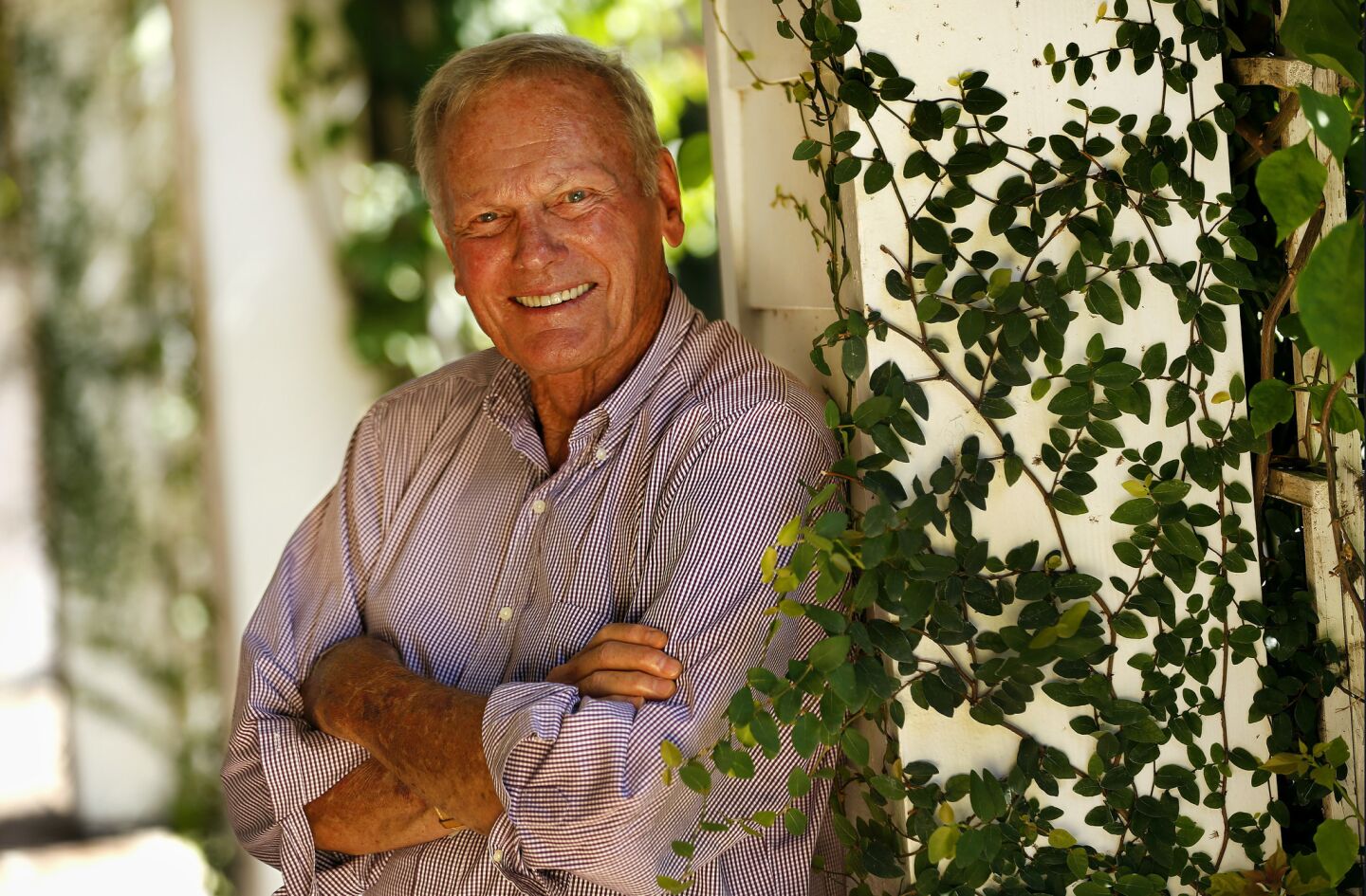 Veteran actor Tab Hunter, who came to fame in the 1950s and was an instant heartthrob though he had to keep the fact he was gay a secret, at the Los Angeles Equestrian Center in Burbank on September 2015.
(Mel Melcon / Los Angeles Times)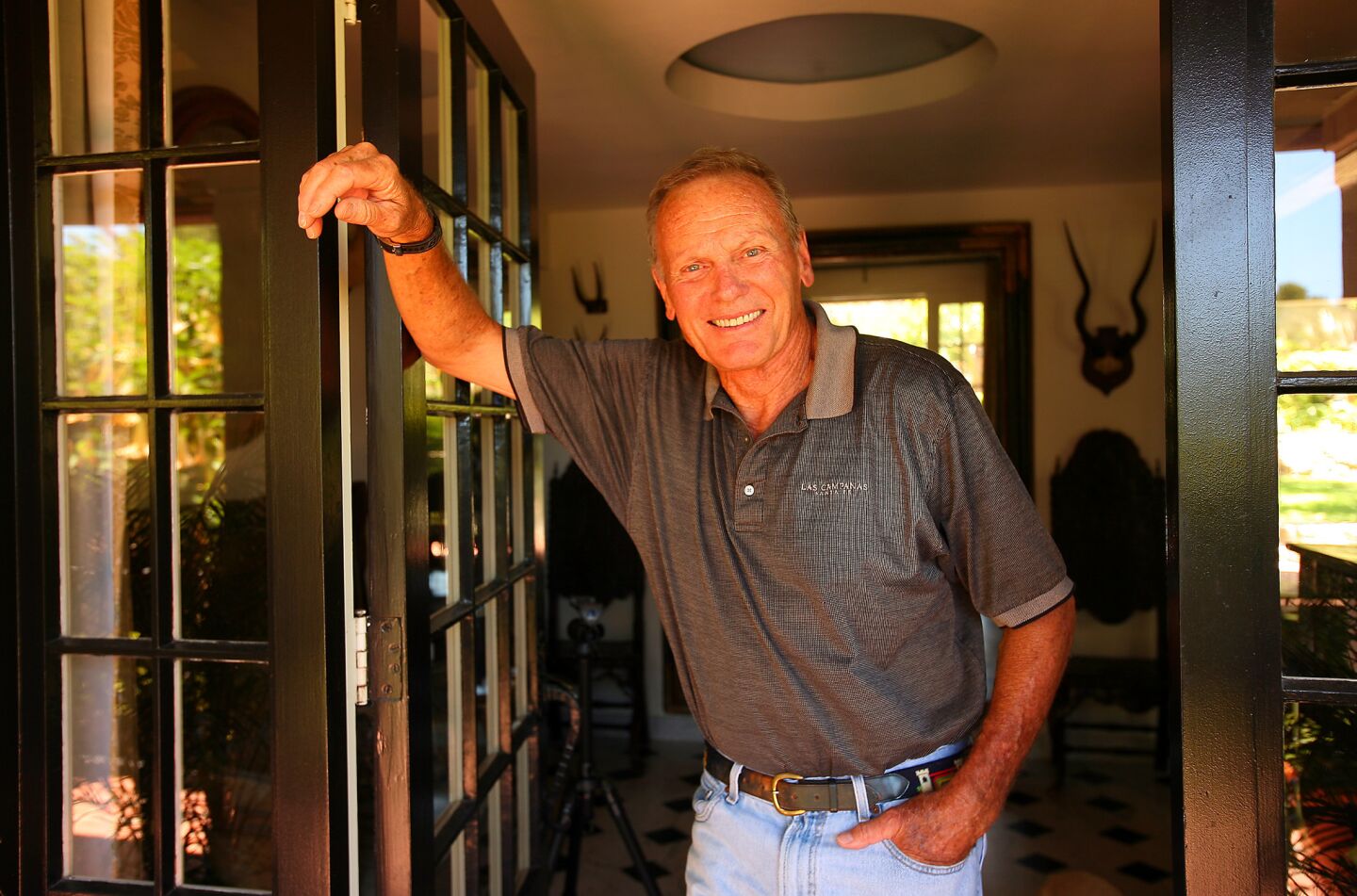 Actor Tab Hunter at the front door of his house in Montecito.
(Al Seib / Los Angeles Times)
Actor and singer Tab Hunter, whose blond all-American good looks made him a matinee idol and poster boy for Eisenhower-era optimism, has died. He was 86.
Just three days shy of his 87th birthday, the 1950s heartthrob was stricken Sunday at his home in Santa Barbara and went into cardiac arrest after a blood clot in his leg traveled to his lung, said Allan Glaser, Hunter's husband of 35 years, on Monday.
"He collapsed in my arms in the front lawn and I called 911 and we raced him to the hospital," Glaser told The Times. "It was sudden and unexpected."
Glaser said Hunter died at Santa Barbara Cottage Hospital.
"I want people to know what a good man he was," he said. "It was more important that Tab was known for being a good human being. That was most important to him than being an actor and a recording artist. He didn't place importance on his movie career or his celebrity."
Yet Hunter's wholesome good looks and aw-shucks demeanor embodied an American ideal in the 1950s and helped launch his career.
Discovered as a stable boy, he rocketed to fame as a teen heartthrob in movies such as "Island of Desire" and "Battle Cry," and as a chart-topping crooner with the hit "Young Love." Hunter was the aspirational dream boat for swarms of Baby Boomers and the perfect arm candy for Natalie Wood and Debbie Reynolds, all while hiding his homosexuality.
When he dared challenge his well-crafted persona, the industry cast him aside. Hunter clawed his way back 30 years later by lampooning his former self in campy comedies. Then he gave up on acting altogether to live quietly riding horses in Santa Barbara.
"When you've been a product of Hollywood and been subjected to as much crap as I have, it's not conducive to your own development," he told The Times in 1976. "It's see-through plastic of the worst kind."
Born Arthur Gelien on July 11, 1931, in New York City, Hunter was raised, along with his older brother, by a German immigrant mother. After she divorced their abusive father, they moved to California.
Hunter was a shy introvert who nevertheless sang in the church choir and was a competitive figure skater. Shamed by a priest at 15 when he confessed his homosexuality, he lied about his age to join the U.S. Coast Guard. And when his age got him discharged, Hunter moved to Los Angeles, where he was discovered while working as a stable hand.
An agent came up with a new name and Tab Hunter made his film debut in the 1950 western "The Lawless." In 1952, he earned his first starring role as the romantic lead opposite bombshell Linda Darnell in the shipwreck romance "Island of Desire."
Hunter's career took off almost immediately, earning him roles as servicemen who mesmerize the women around him. But he was serious and driven, honing his acting chops in summer stock theater to earn supporting roles in more substantial films, opposite Robert Mitchum in "Track of the Cat" and John Wayne in "The Sea Chase."
Hunter auditioned 10 times for the role that made him a marquee star, the 1955 military drama "Battle Cry," beating James Dean and Paul Newman for the part. It was a box office success that earned him a seven-year contract with Warner Bros. Pictures.
On loan from Warner Bros., Hunter went on to earn critical notice starring opposite Wood in "The Girl He Left Behind" and "The Burning Hills," both in 1956.
Around the same time, his recording of "Young Love" knocked Elvis Presley from the No. 1 spot on the charts. But Jack Warner himself was so incensed that Hunter had a hit song outside his studio contract that he launched Warner Bros. Records in 1958 just to keep the profits in-house.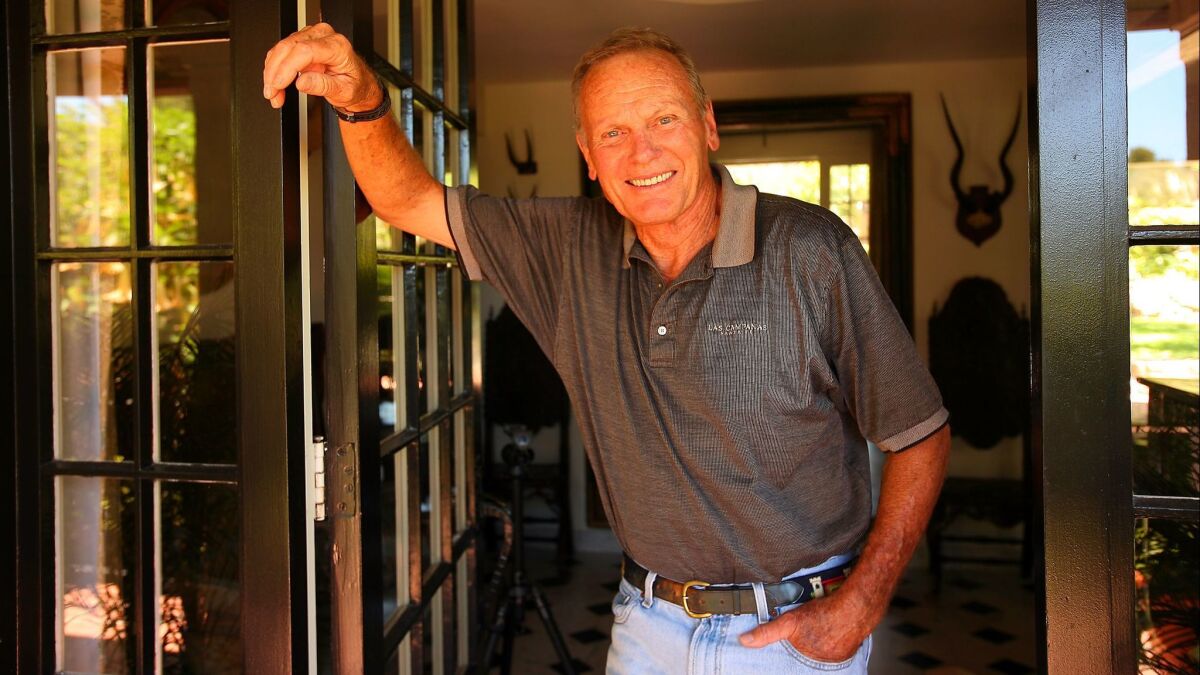 Meanwhile, Hunter hid his relationships with championship skater Ronnie Robertson and actor Tony Perkins. He was arrested when police raided a gay house party, but the studio scuttled the story. Publicly, he was romantically linked to Wood and French actress Etchika Choreau.
By the late 1950s, Hunter enjoyed critical success with starring roles in "The Kind of Woman" opposite Sophia Loren, as a psychopathic cowboy in "Gunman's Walk" and as the lead in the film adaptation of the Broadway musical "Damn Yankees." Convinced he could pursue a more satisfying career outside Warner's control, he bought out his contract.
But Hunter's career never recovered from that bold move. He spent the 1960s in a short-lived TV sitcom and typecast in B-movies such as "Operation Bikini" and "Ride the Wild Surf" just to pay the bills.
Though Hunter landed a costarring role opposite Newman in "The Life and Times of Judge Roy Bean" in 1972, he spent much of that decade touring nonstop with a dinner theater troupe. The rigors of that life wore him out and he stopped after a heart attack.
In 1981, camp director John Waters called Hunter with an offer: to play drag star Divine's love interest in an outrageous comedy called "Polyester." The quirky film was a hit and revived Hunter's career.
A year later, he appeared as a substitute biology teacher in "Grease 2," singing the raunchy musical number "Reproduction." And in 1985, he and Divine costarred in Paul Bartel's 1985 western "Lust in the Dust."
"I think from all the leading ladies I had, from Geraldine Page to Natalie Wood to Sophia Loren to Rita Hayworth, Divine goes right in there," Hunter told the Times in 2015.
After that, Hunter withdrew from public life with his partner, former studio executive Glaser. He finally told his story in his 2005 autobiography "Tab Hunter Confidential," which was adapted into a documentary 10 years later.
Glaser said that Hunter was a religious man who worked with paralyzed veterans and animals.
"He was a tremendous human being. If he could do anything to better someone else's life, he would," Glaser said.
In his later years, Hunter was often quoted as saying, "I am happy to be forgotten."
Hunter is survived by his husband and several nieces and nephews. Plans for a funeral service have not yet been made.
---
Must-read stories from the L.A. Times
Get the day's top news with our Today's Headlines newsletter, sent every weekday morning.
You may occasionally receive promotional content from the Los Angeles Times.