Tommy LiPuma, producer who sold millions of records with Natalie Cole, Barbra Streisand and Paul McCartney, dies at 80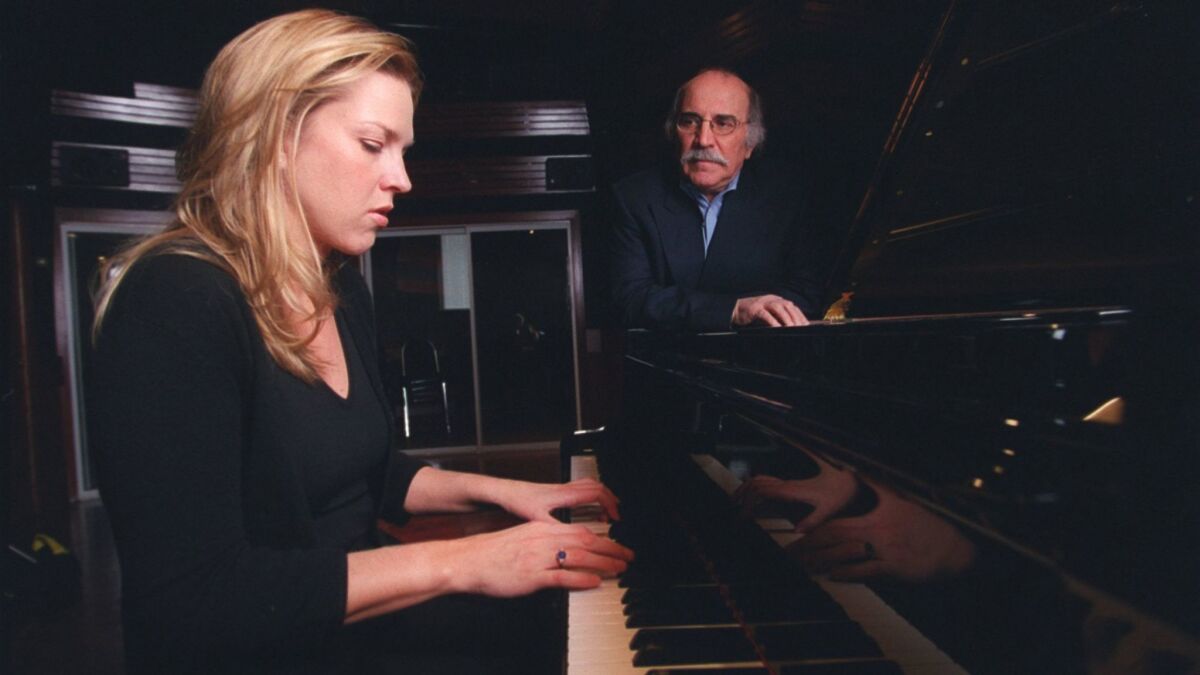 Tommy LiPuma, a high school dropout who became a Grammy-winning record producer with stars like Natalie Cole and George Benson and eventually ran the largest jazz label in the world, has died after a brief illness. He was 80.
LiPuma was among a handful of music executives who helped shape and energize pop music in the '60s with record labels like Blue Thumb, A&M and Elektra, a decidedly uncorporate crew that relied more on their basic instinct of what sounded good rather than what might sell well.
Still, by helping Barbra Streisand, Paul McCartney, Miles Davis, Al Jarreau, Queen Latifah and others make records, he enjoyed enormous success with recordings that sold more 75 million copies.
"Tommy was a music man. He taught us all how to listen, how to live and breathe music and art. He was an inspiration, a dear friend and, above all else, a kind soul," said Danny Bennett, president and CEO of Verve Label Group.
Unable to suppress the fan in him, LiPuma would sometimes sit in on recording sessions, and when he was put in charge of Verve Music Group — which merged a catalog of smooth, contemporary jazz artists like Benson with the architects of modern jazz like Charlie Parker — he said he felt the legacy of what he was inheriting.
"There are times when I get overwhelmed by the amount of responsibility and work," he conceded in a 1999 interview with the Cleveland Plain Dealer. "But I wouldn't have it any other way."
LiPuma won five Grammys for his productions, among more than 30 for which he was nominated in a career that spanned more than five decades.
Among the recordings LiPuma produced were Cole's "Unforgettable...With Love" in 1991, which won the Grammy for album of the year, Benson's 1976 album "Breezin,' " which yielded the record of the year Grammy-winning single "This Masquerade," and 11 albums with singer-pianist Diana Krall.
Born July 5, 1936, LiPuma was one of five siblings raised by Italian immigrants in inner-city Cleveland, moving frequently and usually settling in tough, beaten-down neighborhoods. His father was a barber and it was expected that LiPuma would be too. When he dropped out of high school in 10th grade, his father pointed him toward barber college and then loaned him enough money to set up his own shop.
He hated being a barber, though, and when one of his customers — a local DJ — told him about a job packing albums and sweeping floors at a local record distributor, he took it. At $50 a week, the pay wasn't much, but being even this close to the recording industry was somehow life-affirming.
"Sometimes, I think about this road I've taken and been on and it amazes me as to how I got from there to here,'' LiPuma said in an interview last year. "I'd have to say it was a lot of hard work and a love and compassion for what it is that I do. That's the most important thing for a younger generation of people getting into the music business.''
His two most recent Grammys came for his work with McCartney on his "Kisses On the Bottom" collection of pop standards in 2012, which won for pop vocal album that year, and the follow-up "Live Kisses" album, honored as best surround-sound album for 2013.
As a youth, LiPuma had been bedridden with a bone infection and a local R&B station was his constant companion. When he was older, he bought a saxophone, developed a fondness for bebop and earned spare change playing in nightclubs.
In 1962, he headed West and landed in L.A., where he took a promotions job with Liberty Records, the home label of Bobby Vee and Del Shannon. Finally offered a chance to produce a record at Liberty, he brought in the O'Jays, an R&B group from his native Ohio.
In 1968, with traditional pop music wilting in the presence of the Beatles, Stones and psychedelic sounds from San Francisco, LiPuma teamed up with Bob Krasnow and formed Blue Thumb Records. The label became a port for some of the day's more left-of-center artists — Captain Beefheart, T. Rex, and Dan Hicks and His Hot Licks.
In assessing the label's stable of musicians, Billboard magazine suggested that Blue Thumb "was home to a collection of artists that, to any sensible record exec with the bottom-line in mind, appeared to be composed of anti-matter."
When Blue Thumb was sold, LiPuma moved to Warner Bros. and worked with Streisand on the soundtrack for her 1973 movie "The Way We Were." He also held executive posts at Horizon, GRP/Impulse and Verve, where he held the title of chairman emeritus from 2004 to 2011, and most recently serving as creative consultant for the Universal Music Publishing Group.
LiPuma, who was living in New York at the time of his death Monday, was also an avid modern art collector and saw parallels between that and the music he helped shepherd.
"I came to the conclusion that when you collect pictures, you're really a caretaker," he told the Los Angeles Times in 1998 when he first began overseeing the jazz catalogs. "The same is true here, and, yes, I view it with a powerful sense of responsibility."
LiPuma is survived by his wife, Gill; daughters Jen Monti and Danielle Wiener; and grandchildren Matty, Julia, Chloe and Ava.
randy.lewis@latimes.com
---
UPDATES:
12:40 p.m.: This article was updated with reaction to LiPuma's death.
This article was originally published at 10:25 a.m.
Must-read stories from the L.A. Times
Get the day's top news with our Today's Headlines newsletter, sent every weekday morning.
You may occasionally receive promotional content from the Los Angeles Times.