Vic Mizzy dies at 93; film and TV composer wrote 'Addams Family' theme song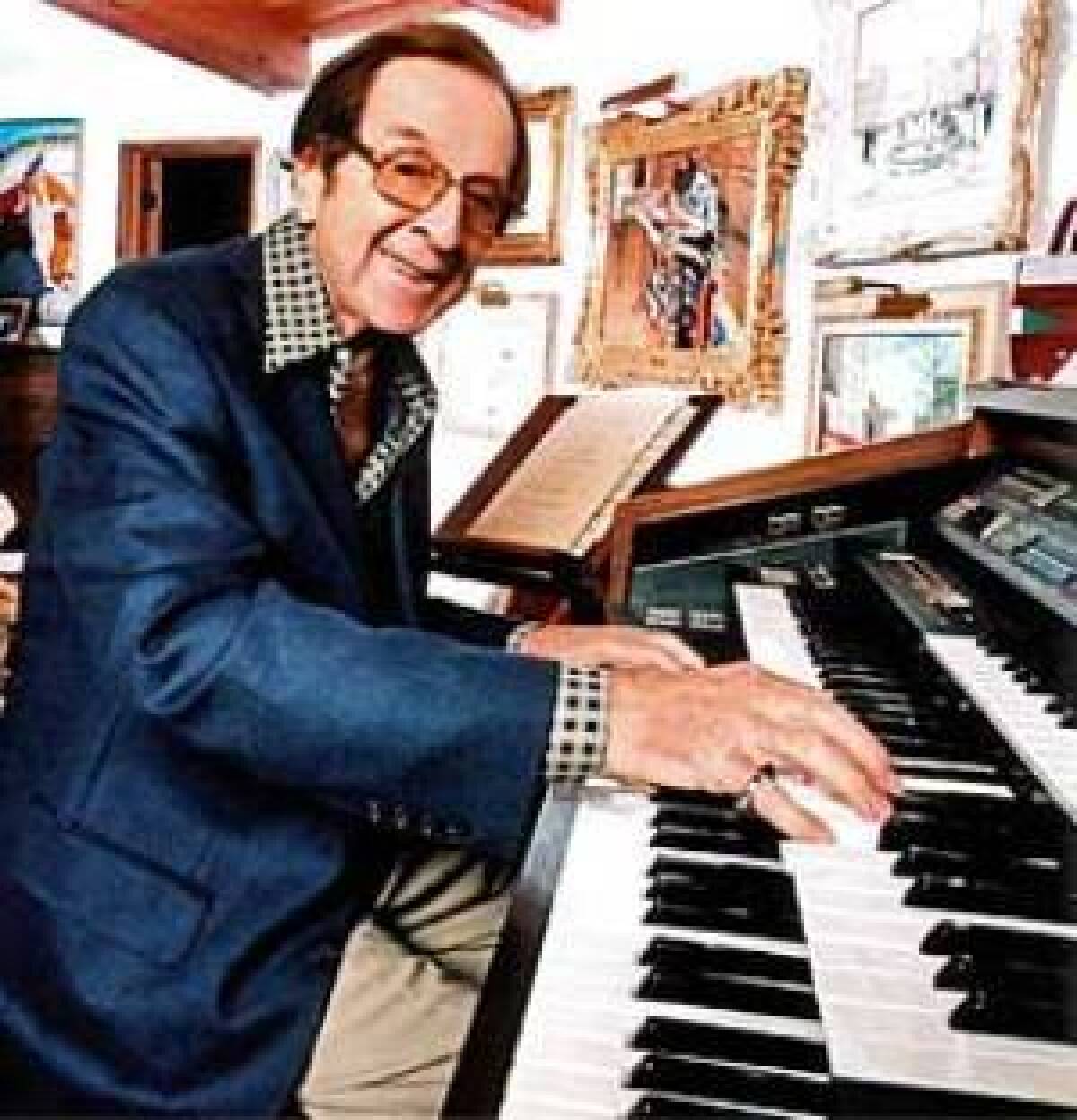 Vic Mizzy, a film and television composer best known for writing the memorable theme songs for the 1960s sit-coms "Green Acres" and "The Addams Family," has died. He was 93.
Mizzy died of heart failureSaturday at his home in Bel-Air, said Scott Harper, a friend and fellow composer.
A veteran writer of popular songs such as "There's a Faraway Look in Your Eye" and "Pretty Kitty Blue Eyes," Mizzy launched his TV career in 1960 when he was asked to compose music for the dramatic anthology series "Moment of Fear."
He quickly moved on to score episodes of "Shirley Temple's Storybook" and "The Richard Boone Show" and to write the themes for "Klondike" and the Dennis Weaver series "Kentucky Jones."
Then came an offbeat assignment: "The Addams Family," the 1964-66 TV series based on Charles Addams' macabre magazine cartoons and starring John Astin as Gomez Addams and Carolyn Jones as his wife, Morticia.
For his theme song, Mizzy played a harpsichord, which gives the theme its unique flavor. And because the production company, Filmways, refused to pay for singers, Mizzy sang it himself and overdubbed it three times. The song, memorably punctuated by finger-snapping, begins with: "They're creepy and they're kooky, mysterious and spooky, they're altogether ooky: the Addams family."
In the 1996 book "TV's Biggest Hits: The Story of Television Themes From 'Dragnet' to 'Friends,' " author Jon Burlingame writes that Mizzy's "musical conception was so specific that he became deeply involved with the filming of the main-title sequence, which involved all seven actors snapping their fingers in carefully timed rhythm to Mizzy's music."
For Mizzy, who owned the publishing rights to "The Addams Family" theme, it was an easy payday.
"I sat down; I went 'buh-buh-buh-bump [snap-snap], buh-buh-buh-bump," he recalled in a 2008 interview on CBS' "Sunday Morning" show. "That's why I'm living in Bel-Air: Two finger snaps and you live in Bel-Air."
The season after "The Addams Family" made its debut, Mizzy composed the title song for "Green Acres," the 1965-71 rural comedy starring Eddie Albert and Eva Gabor.
For "Green Acres," Burlingame observed in his book, Mizzy "again conceived the title song as intertwined with the visuals" of the show's title sequence and telling the story of wealthy Oliver and Lisa Douglas moving from New York to a farm in the country.
Burlingame on Monday described the themes for "The Addams Family" and "Green Acres" as "two of the best-remembered sitcom themes of all time."
"Vic was an old-school songwriter who believed in melody and hummability," Burlingame said. "He thought that people ought to be able to easily remember a theme.
"Vic was one of the wittiest composers I ever met, and he had an uncanny ability to incorporate his own personal sense of humor into his music."
Mizzy's use of bass harmonica and fuzz guitar in the music of "Green Acres," for example, "was somehow perfect for that show's setting, and it only added to the humor of the situations," Burlingame said.
In the case of "The Addams Family," he said, "you've got the harpsichord, which lends this antique, sort of macabre quality to the theme. But then you add the lyrics, which make it funny. So you have the perfect combination of macabre and amusing. It was just right for that show's sensibility."
Mizzy's many TV credits include writing the themes for Phyllis Diller's 1966-67 sitcom "The Pruitts of Southampton" and "The Don Rickles Show" (1968-69), for which Mizzy also conducted the orchestra.
Among his movie credits as a composer are the Don Knotts comedies "The Ghost and Mr. Chicken," "The Reluctant Astronaut," "The Shakiest Gun in the West," "The Love God?" and "How to Frame a Figg."
Born in Brooklyn on Jan. 9, 1916, Mizzy learned to play the piano as a child. While he was a student at New York University, he and his friend Irving Taylor began writing songs and sketches for variety shows.
They appeared on radio's "Major Bowes' Original Amateur Hour" and won an amateur contest on the Fred Allen show. The team's first published song was "Your Heart Rhymes with Mine."
Mizzy, who served four years in the Navy during World War II, had a number of hits with Taylor, including "Three Little Sisters" and "Take It Easy." Under a later partnership with Mann Curtis, Mizzy had hits such as "My Dreams Are Getting Better All the Time," "The Whole World Is Singing My Song" and "The Jones Boy."
Mizzy is survived by his daughter Lynn Mizzy Jonas; his brother Sol; and two grandchildren.
A funeral service will be held at 11 a.m. today at Eden Memorial Park, 11500 Sepulveda Blvd., Mission Hills.
---
Must-read stories from the L.A. Times
Get the day's top news with our Today's Headlines newsletter, sent every weekday morning.
You may occasionally receive promotional content from the Los Angeles Times.