Wu Tianming dies at 74; Chinese director shook up state-run studio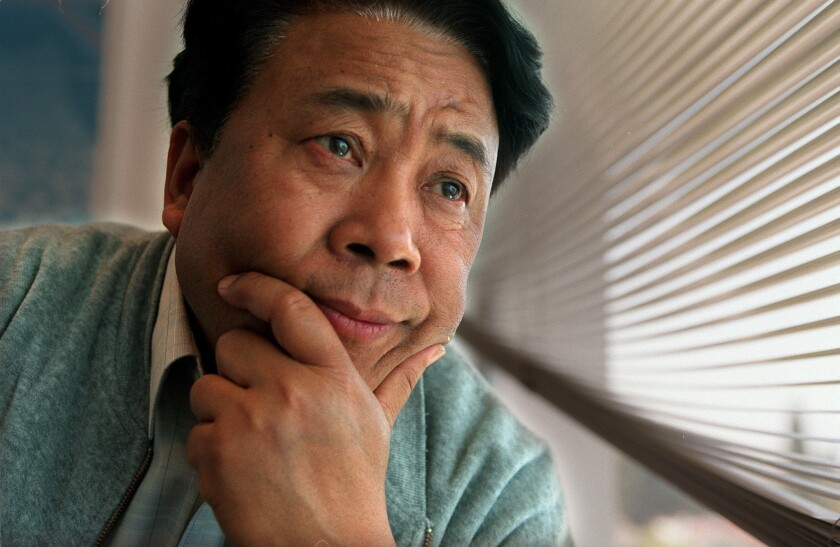 BEIJING — In the mid-1980s, Wu Tianming's star was on the rise. With China opening up to the world after the Cultural Revolution and Mao Tse-tung's death, he had found success as director of movies including "Life" and "The Old Well" and as the head of the Xi'an Film Studio.
Under his guidance, daring and innovative filmmakers like Zhang Yimou and Chen Kaige were bursting onto the international scene with pictures like "Red Sorghum" and "King of Children." Wu was making a name for himself for his willingness to shake up an ossified state-run studio — and was raising eyebrows for calling out Communist Party bureaucrats who meddled in the arts.
But as befitting a man of the movies, Wu's life would take a rather sudden and dramatic turn. Wu was visiting California when Tiananmen Square erupted in protest, and he decided to remain stateside. Before long, he found himself running a video shop on Garvey Avenue in Monterey Park to make ends meet.
Wu, who died Tuesday at 74 in Beijing of what his family said was a heart attack, would spend nearly five years in the U.S. before returning to China and resuming his movie career. In his latter years, he won widespread recognition, both for his own pictures and as the "godfather" of the so-called Fifth Generation of now-legendary filmmakers including Zhang and Chen who remain active in Chinese cinema today.
"Wu Tianming was the most important person to discover a lot of the 'Fifth Generation' filmmakers," said Zou Jianwen, who got to know Wu well during her years as editor in chief of movie publications including China Film News. "He was a really brave as head of Xi'an studios — it was not easy to promote reforms in the old system, but he did it."
Wu was born in 1939 in the northwestern province of Shaanxi, China's Appalachia. As a youth, he became so enthralled with cinema that he traded his socks for tickets to his favorite movie and paid his brother to copy his classmates' homework for him so he could have more time to watch films, he told a reporter from People's Daily in 2009.
As a young man, he became an actor at Xi'an studios but in 1974 was admitted to the Beijing Film Academy's directors program. After graduating, he was hired by Xi'an studios as an apprentice to a revered director, Cui Wei.
Wu found popular success with his solo directorial debut, 1983's "River Without Buoys," which centered on three men traveling down the Pushui River and was one of the earliest films to expose the evils of the Cultural Revolution. His 1984 movie "Life," about a schoolteacher torn between his urban, intellectual dreams and his love for a peasant woman, examined rural-urban differences and inequalities.
But it was 1987's "Old Well" that put Wu on the map internationally. The movie took home the grand prize at the Tokyo International Film Festival and marked the first acting role for Zhang Yimou — who had initially been hired as the cinematographer.
Zhang dreamed of directing, Zou recalled, and when he told Wu he wanted to adapt Mo Yan's novel "Red Sorghum" for the big screen, Wu encouraged him. Zhang traveled to Shandong province to scout locations and discovered a major problem: There were no sorghum fields being planted there anymore.
Wu put up some money of his own and solicited contributions from friends, collecting 40,000 renminbi to help Zhang plant the crop. "Wu supported Zhang unconditionally," Zou said.
The film went on to win the Golden Bear at the 1988 Berlin International Film Festival, the first Chinese film to win the top prize. "There wouldn't be 'Red Sorghum' without Wu's unreserved trust and support," Zhang told the People's Daily.
In a 1987 interview with the New York Times, Wu described some of the challenges he had faced in remaking Xi'an studios and making a new kind of movie, separate from the old Socialist realist ways.
"Only 8% of the workers had college degrees and only 11% were secondary-school graduates. Half the people here didn't know how to read or write," he said. "If you don't have people with any culture, how can you expect to make films?"
Some workers were sent back to school. Wu organized field trips and encouraged creativity in a place accustomed to churning out didactic tales of victorious red revolutionaries.
In the fall of 1987, Wu made headlines when he denounced the head of the provincial propaganda department in the interview with the New York Times. "He doesn't understand films but he wants to control film making. He's a bureaucrat," Wu said. "He is a conservative and ossified thinker." At the time, directly criticizing a Communist Party official in the foreign media was highly unusual.
Wu was in California in the spring of 1989 as a visiting scholar when students occupied Tiananmen Square. He spoke out against the government's crackdown, and supporters helped arrange a series of fellowships, including at USC, to help him stay in the U.S.
"He told me more than once that it was not the society he joined the Communist Party for and he decided to leave the party after the 1989 incident," said Woody Mu, a former Warner Bros. executive who first met Wu in the 1970s and befriended him during his time in Los Angeles.
Stanley Rosen, an expert in Chinese cinema at USC, said he invited Wu to spend a year at the university as a scholar. "He obviously couldn't go back under the situation," Rosen recalled. "He had been openly and harshly critical of the government crackdown and the provincial cultural authorities in Shaanxi province were in turn openly critical of him."
While in Southern California, Wu opened the video shop in Monterey Park, which in the era before the Internet or even DVDs proved to be "a great source for finding Chinese films, and organizing various events related to film," Rosen said.
In an interview with Glass magazine last October, Wu said he watched more than 900 movies during his time in America. Still the director's life during that period "was not easy," Mu recalled. Wu tried to raise money for a few film projects, but in the end could scrape together only $50,000 for a TV drama called "Love in New York."
Finally, around the beginning of 1994, China's State Council invited Wu to return to China, and the director accepted.
He would go on to make several well-received TV programs and movies, including 1996's "King of Masks" which became Wu's best-known film internationally. The movie, about an aging street performer who adopts a young male heir only to discover he's a she, examines Confucian morality and gender bias for boys. It won several prizes at the Tokyo festival.
"I can do what I want to do" in China, Wu told the Los Angeles Times in a 1999 interview about his return to the mainland. "I'm a fish from that pond. It is perhaps saltier, but I had to go back to my own pond."
Friends and acquaintances said Wu in his latter years was discouraged by what he saw as increasing superficiality and corruption in the Chinese film industry and a lack of artistry and commitment to the craft that had animated an earlier generation.
"In Chinese films, and even in society, we are facing a lot of problems nowadays," Wu told Glass. "People are superficial, lacking emotion and trust in each other. Many Chinese films we see today are based on true stories, but they seldom touch our heart and soul."
Still, he continued acting and directing until his death, appearing in the 2012 elderly tale "Full Circle," and writing and directing "Song of the Phoenix," which was completed last year.
"He was a straightforward, honest and good person," Chen Kaige wrote to Southern Metropolis Daily, a Chinese newspaper. "I can never forget his support and help."
"To me, he was one of few Chinese directors nowadays who would not trade his heart and soul for personal and political gain," Mu said. "He was a man who lives up his value and never gave up."
According to a family spokeswoman, Wu is survived by his wife, a daughter and a grandson.
Nicole Liu in The Times' Beijing bureau contributed to this report.
---
Must-read stories from the L.A. Times
Get all the day's most vital news with our Today's Headlines newsletter, sent every weekday morning.
You may occasionally receive promotional content from the Los Angeles Times.