ESL teacher may have played a 'significant role' in helping 3 O.C. inmates escape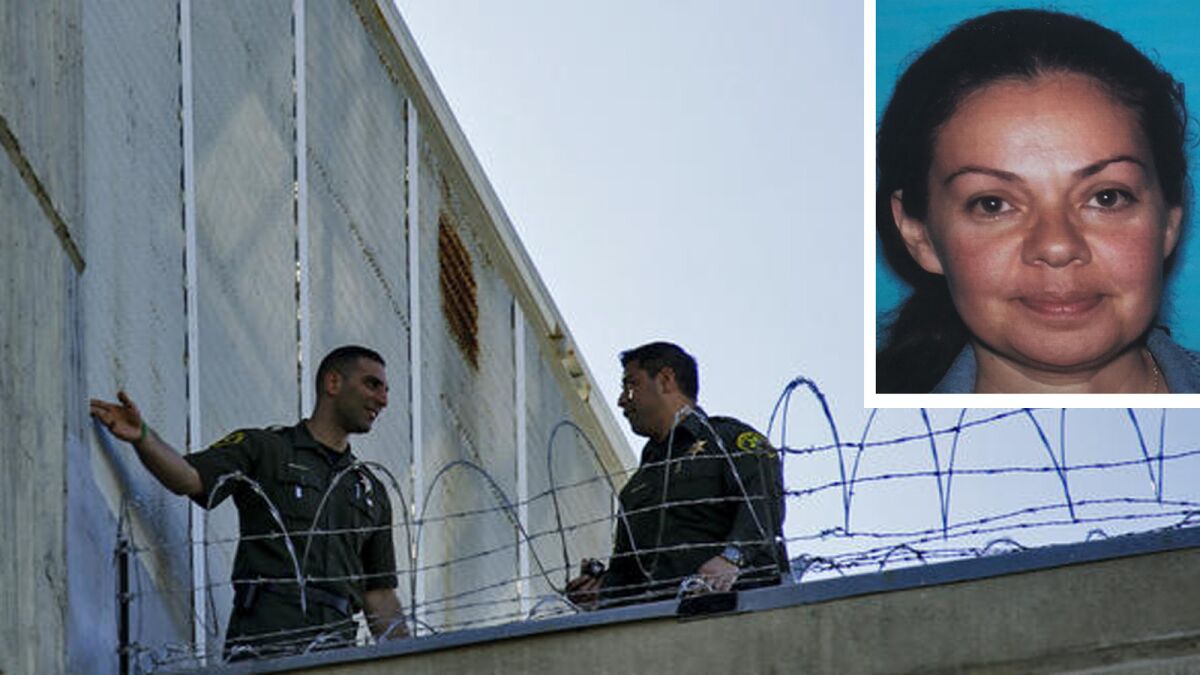 Hossein Nayeri graduated from high school near Fresno and served in the U.S. Marine Corps.
Despite this American upbringing, though, the inmate managed to enroll in an English-as-a-second-language class at Men's Central Jail in Orange County.
There, he befriended his teacher, Nooshafarin Ravaghi. She was 44 and the author of several children's books. He was 37 and awaiting trial in a torture and kidnapping case. Both had family roots in Iran.
The two began a written correspondence that a Sheriff's Department spokesman said was "far closer than appropriate."
Now, Ravaghi is suspected of helping her student and two other inmates escape. She has admitted to giving Nayeri a Google Maps printout showing the roof of the jail, but has denied providing him with the cutting tools the trio used to break out of the high-security lockup, authorities said.
Officials said Friday that they are still trying to determine whether the two had a romantic relationship — and to explain how Nayeri got into the ESL class in the first place.
"That is our concern, that Mr. Nayeri speaks English," Orange County sheriff's Lt. Jeff Hallock said. "Why, then, was he attending that class? ... It leads us to believe she played a significant role in the planning."
Ravaghi was arrested Thursday, but has not been charged with a crime.
Those who know Ravaghi say they are stunned that the longtime teacher and author who spoke four languages is accused of playing a part in a jail break. She must have been tricked, several of them said.
The elaborate escape took place Jan. 22 when the three inmates slipped through a hole in a wall and into the jail's plumbing system. They cut through layers of metal to emerge on the roof, then rappelled down four stories using a rope made of bedsheets.
Nayeri and Jonathan Tieu, 20, who is scheduled to go on trial next month for a 2011 homicide, remain at large. Officials said they might be in the San Jose or Fresno area. Bac Duong, 43, who was jailed on an attempted murder charge, surrendered to authorities Friday.
Jail officials believe that Nayeri was the mastermind of the escape. He has a history of running from the law, fleeing to Iran to avoid the kidnapping and torture charges before being apprehended in the Czech Republic. In 2005, he fled the state after posting bond in a vehicular homicide that killed his passenger.
Maybe he was nice to her, complimented her, showed her attention that she wasn't getting elsewhere.
— Chuck Jackson, a former L.A. County Sheriff's Dept. chief
Nayeri and two co-defendants are accused of kidnapping a pot dispensary owner and driving him to the desert, where they believed he had a stash of cash. The attackers Tasered the man, burned him with a butane torch and cut off his penis, prosecutors say.
Handwritten letters between Ravaghi and Nayeri were "personal in nature" and went beyond a student-teacher relationship, Hallock said. Some of her notes to him were mailed to the jail.
Ravaghi was born in Tehran and lived with her father in France, Tunisia and other countries before returning to Iran for high school, according to her personal website.
She obtained a master's degree in French literature from the University of Tehran and studied in Paris before obtaining another master's, in teaching English as a second language, from Cal State Fullerton, the website said. She is fluent in English, French, Farsi and Arabic.
Her children's books feature a girl with large brown eyes and pigtails called Noosha — Ravaghi's own nickname — who learns about her Persian heritage as she travels the world.
Amerali Shakerifar, a student in Ravaghi's ESL class at Saddleback College, said Ravaghi was so morally upright that she refused to make copies of the lesson materials, saying it was illegal and students should buy the book.
She told her students that she loved teaching because she wanted them to have their best shot at succeeding.
"She works hard," Shakerifar said. "She's kind. She's sensitive."
Ravaghi had worked as a part-time tutor with Professional Tutors of America since 2007.
"It was very surprising to me," said Robert Gordon, the company's chief executive. "She had a good record with us as far as student performance, and the students she worked with gave her positive reviews."
Sepideh Safavi, a schoolmate from Tehran, recalled Ravaghi as a quiet girl who didn't have many friends.
The two recently reconnected on Facebook, where Ravaghi never posted anything about her family. Instead, she shared photos of her students bringing her flowers or wishing her happy birthday, said Safavi, who lives in Massachusetts.
Some corrections experts said they see a familiar pattern in the allegations against Ravaghi.
See more of our top stories on Facebook >>
A female prison employee also played a key role in a New York state prison break last year, providing hacksaw blades and other tools to inmates Richard Matt and David Sweat. The employee, Joyce Mitchell, who had tutored one of the men, was sentenced in September to up to seven years behind bars.
Inmates often attempt to manipulate civilians rather than corrections officers, said Bruce Stout, the former head of the Juvenile Justice Commission in New Jersey and a criminology professor at the College of New Jersey.
"A corrections officer has more power over the inmate, has more control over the inmate" and is probably better-trained to spot manipulation, Stout said. Ravaghi, on the other hand, was "completely naive with respect to what would go on there," he said.
Inmates often sign up for classes not to learn but to get access to people from the outside world, Stout added.
Chuck Jackson, a former Los Angeles County Sheriff's Department chief who led the county's Correctional Services Department, said Nayeri may have played up his Iranian heritage to develop a relationship with Ravaghi.
"Maybe he was nice to her, complimented her, showed her attention that she wasn't getting elsewhere," Jackson said.
Before Ravaghi began teaching in Orange County jails 18 months ago, she took a required class on how to deal with inmates that included instruction on how to avoid being manipulated, said Hallock of the Orange County Sheriff's Department.
Now, Ravaghi is being held in the same jail system where she once taught.
"Her, of all people?" Safavi said. "If any of my other friends got caught up in this, I would believe it. But her? I can't believe it."
Twitter: @sarahparvini
Twitter: @Lacrimes
Twitter: @cindychangLA
Times staff writer James Queally contributed to this report.
MORE ON THE O.C. JAIL ESCAPE
O.C. jail escapee was ordered deported in 1998 but remained in U.S.
More details emerging about English teacher arrested in O.C. jail break plot
Orange County jail escapees may have fled to San Jose or Fresno, one suspect surrendered
---
Get the Latinx Files newsletter
Stories that capture the multitudes within the American Latinx community.
You may occasionally receive promotional content from the Los Angeles Times.