The desire to cuddle and snuggle a goat may just be too hard to resist.
But keep walking, because it won't take long to walk right into some other incredibly adorable creature.
The OC Fair & Event Center will host the April 26 through 28 return of the annual America's Family Pet Expo, a pet-centric entertainment and educational event designed for anyone wishing to learn more about animals and their care.
"Goat yoga is a fun and relaxing way to unwind, with the added benefit of stretching," said Alex Mullenax, who was raised in Huntington Beach and is now owner of Mullenax Ranch, which is home to California Goat Yoga, a mobile statewide goat yoga experience. "You can't help but have fun when there's a bunch of baby goats running around or snuggling up next to you."
Though not offering goat yoga specifically at the Costa Mesa expo, Mullenax will have plenty of Nigerian dwarf goats available for head scratches.
Though the event is decidedly family-oriented, this year's show aims to expand the demographic by including the idea of The Lab, an experiential show floor catering to millennials and empty nesters, who have been identified as fast-growing segments when it comes to animal care, says Courtney Harold, vice president of sales, marketing and business development for the World Pet Assn. (WPA).
So in addition to cooking demos and behavior consults for pets, guests can also expect a bar, DJ, photo booth, food samples and more to keep the after-party vibe going. Part of the show's new educational elements include the Kids' Pet Care Course, which offers two separate courses where kids can learn how to care for larger pets like dogs and cats, and smaller pets like rodents and reptiles.
And for fans of the show who year after year continue to hope for the return of the day when they can finally bring their own dogs, their time has arrived.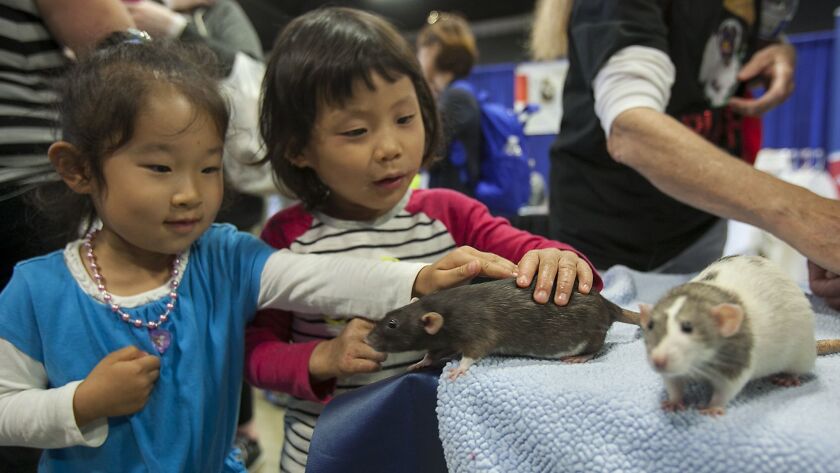 Prior to entering the expo gates, owners will be required to purchase a $10 ticket.
"To ensure a positive environment for everyone and existing animals at the expo, the WPA will employ additional staff to ensure dogs remain leashed at all times, are in good temperament, use the designated elimination areas and maintain cleanliness throughout the property," said Harold.
Sarah Jones, JustFoodForDogs Orange County Pantry area manager, said her company has been participating in the Pet Expo for seven years. As part of The Lab, JFFD will offer live cooking demonstrations with actual chefs from its local kitchens. The booth will offer consultation stations where pet parents can speak with certified nutritional consultants about their pet's needs.
"Over the years, the amount of existing consumers that stop by our booth to tell us what a difference we have made in their lives and the lives of their pets is overwhelming in the best way possible," said Jones. "As a company, we focus more on the ingredients and the science behind what we do versus marketing. Having consumers tell their stories through testimonials and [who] recommended us really has laid the foundation of our growth and success."
Shana Martin, founder and chief cat officer of Club Cat in Irvine, is participating in the Pet Expo for the first time this year.
"For the last 15 years I have wished there was an alternative to conventional boarding, but unfortunately there weren't any options in Orange County," said Martin. "So I decided to build one where I would feel comfortable entrusting my cats."
Gail Allyn Landau, owner of Catmosphere Laguna, will be working to spread word of her cat cafe this year.
She said they are a nonprofit shelter and rescue promoting feline adoptions in a unique setting, as well as a corporation dedicated to funding its nonprofit through the cafe.
"It's all about the kitties," she said. "To date, we have had more than one adoption per week since we opened and many of our lucky kitties have their own social media accounts."
America's Family Pet Expo runs April 26 through 28 at the OC Fair & Event Center, 88 Fair Drive, Costa Mesa. For more information, visit PetExpoOC.org.
Jessica Peralta is a contributor to TimesOC. For more news and features about Orange County, visit TimesOC.com or follow us on Twitter @timesocofficial.
---