Ladera Ranch resident Sandy Kelton-Rogers loves the quality time she spends at sea with her three adolescent boys.
Beyond the togetherness, one of her sons, Alexander, 11, has developed a passion for cooking. Before boarding, he's already printed out a menu of what he's going to make for dinner with the catch.
"He's always loved cooking, but he got very comfortable on the stove with fish," Kelton-Rogers said.
The benefits of fishing for kids extend beyond a hearty meal. Shane Mansur, captain of the Sum Fun at Dana Wharf Sportfishing & Whale Watching in Dana Point, and leader of the Kids Free Fishing Clinic, said that education is a big part of the experience.
The clinics, which are free for kids, offer a way for them to learn about the process before embarking on a full boat trip.
"We pride ourselves on taking care of the fish," said Mansur.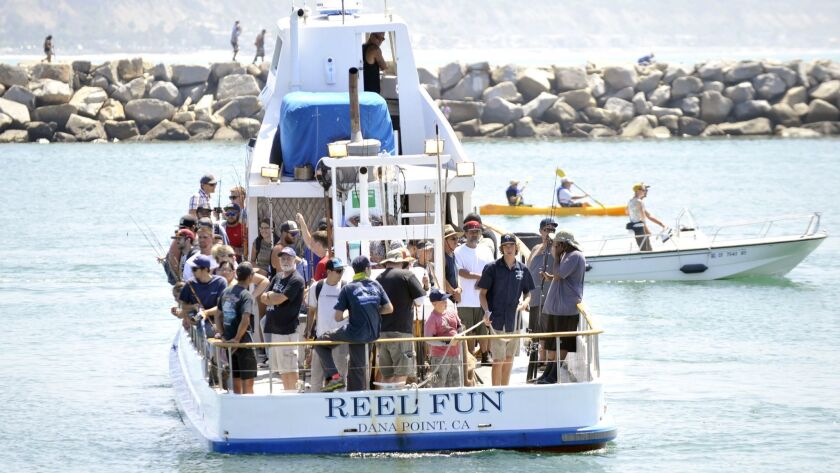 At an upcoming clinic, kids will learn about handling live bait like anchovies, as well as catching — and releasing — fish like white sea bass. They'll talk about how to set up tackle and tie a knot on a hook.
Mansur called teaching high school students about fishing boats and rods gratifying.
"These are like the freshmen, the sophomores," said Mansur. "It's been incredible to watch how popular it's gotten."
Some of the kids start working with him on the boats at ages 17 and 18 and then continue on with local fishing clubs.
"They absolutely live and breathe fishing," said Mansur. "They get you stoked on it."
Donna Kalez, general manager of Dana Wharf Sportfishing & Whale Watching, said the Kids Free Fishing Clinic is a great way for parents to gauge how their child might do on a longer fishing trip.
"We have a ton of repeat kids that come back; they want to bring their families," Kalez said. "The fishing is something that is super-exciting … maybe it relieves stress, I really don't know what it is. There's a lot of people fishing, and it's really fun to see."
Tim Baker, community outreach representative of Captain Rollo's Kids at Sea in San Diego, is helping spread the word to children. Captain Rollo's has helped introduce fishing to more than 130,000 disadvantaged, physically challenged and at-risk youth since 1999.
"Fishing is a great sport and social activity, and we believe anytime you can introduce a young person to fishing, and the outdoors, you have an opportunity to make a positive impact with them," Baker said. "For a variety of circumstances, many youngsters are not afforded the opportunity to experience the wonders of being on the ocean and learning about our ecosystems.
"Enjoying a day on the water, feeling the breeze, viewing marine life in its natural habitat and experiencing the joy of fishing can truly broaden a child's horizons and perhaps [become] a life-changing experience."
Captain Rollo's Kids at Sea program will have a booth on the water at the 2019 Newport Boat Show, April 25 through 28 at Lido Marina Village.
Jessica Peralta is a contributor to Times Community News. For more news and features about Orange County, visit TimesOC.com or follow us on Twitter @timesocofficial.
---