Sonia Marsh takes baby boomers on trips to Africa with a bent on education on conservation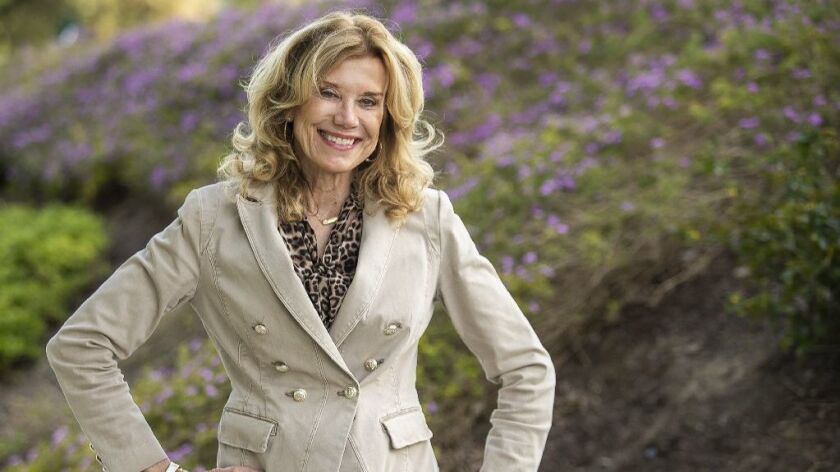 If you want to go outside your comfort zone — really go outside your comfort zone — there is a woman who will help you.
Her name is Sonia Marsh.
Marsh, 61, is helping baby boomers get off their butts and out into the world. She just launched a website called We Travel with a Purpose, creating trips for 10 to 12 people, mainly to Africa.
The first trip she led was in October when Marsh took 11 women to Kenya.
Melanie Scherzer was one of them. Her son Jeff, who had battled mental health issues, had taken his life a little over a year earlier at the age of 27.
"It was kind of a statement trip for me," says Scherzer, who is 66.
Floating in a hot air balloon over a migration of wildebeests and zebras on the Maasai Mara, she was overcome with the beauty.
"I never imagined I would see anything like it," she says. "It was so hopeful and so good, with these beautiful creatures. And yet my son was still gone. You can't go find him somewhere in Africa. He really is gone. It was absolutely healing."
The women also visited two schools in Nairobi filled with orphans.
"The way they looked at life, it was just so warm," Scherzer said. "If I was younger I swear I would go live in Nairobi. It was such a wonderful, vibrant place."
It was Holden Safaris out of Newport Beach that asked Marsh to start leading trips. Jim Holden happened upon gutsyliving.com, a blog Marsh created in 2005 after she and her husband and three sons sold everything they owned, including their house in Lake Forest, to escape the suburban slump and live the carefree, expat life in a palm-frond hut on the shores of Belize.
"It was so hopeful and so good, with these beautiful creatures. And yet my son was still gone. You can't go find him somewhere in Africa. He really is gone."
Melanie Scherzer
Let's just say it wasn't all rum-punch sunsets and dolphin bonding, and the family returned to Orange County 14 months later.
Marsh continued to blog about her her "gutsy" adventures. In 2015, she joined the Peace Corps at the age of 58 to cope with her divorce. They sent her to the mountain kingdom of Lesotho in Africa to teach orphans for 15 months.
Holden liked Marsh's pluck. Her blog said she was back in Orange County. He called her up and asked if she wanted a job.
Marsh has a relationship with Africa beyond her Peace Corps stint, by the way. She was raised in Nigeria until age 6 when her family moved to Paris.
"I have Africa in my blood," she says.
She also understands that many women her age are nervous about traveling to places like Africa.
"My readers [on her blog] made me realize how many people want to travel, but they're scared," she says.
Marsh's trips are geared to the baby boomer set, and some of them are women-only.
"A lot of us are divorced," she says "I want to make these women see there are so many beautiful places in this world, and it's not scary."
Judy Pavlik admits to being nervous when she signed up for Marsh's Kenya trip last fall.
She had lost her husband less than a year earlier.
"It was so much more luxurious than I expected," says the 67-year-old retired Newport Beach library clerk. "It's luxury and adventure all mixed into one."
Highlights for her were dancing with the Maasai Mara village women, visiting orphaned baby elephants whose parents were killed by poachers and seeing the "Big Five" game animals — lion, leopard, rhinoceros, elephant, and Cape buffalo — on safari.
"It's so wide open," she says. "The light there is different. I just felt like I could exhale. I'm still grieving, but it made me realize I'm gonna be OK. It's just going to take time — and another trip to Africa."
She's already saving up.
The trips are not cheap, roughly $6,000 plus airfare. But that's part of the "purpose," Marsh says.
All of the trips have a focus on education and conservation.
"So part of what we're paying goes to hiring local people. They get jobs. And that provides funding for the village and teachers. And the lodges we stay at, they do so much for conservation."
Marsh still has a few spaces for her next trip, Aug. 31 to Sept. 8. The group will stay at a lodge run by the widow of Lawrence Anthony, the famous conservationist who wrote the "Elephant Whisperer" about his relationship with an elephant herd at the Thula Thula game reserve in Zululand.
Thula Thula is now run by Francoise Malby Anthony, whose book "An Elephant in my Kitchen" was published last summer.
If you want to meet Marsh you can join her We Travel with a Purpose club at Laguna Woods, where she lives. The room where she holds her club meetings holds 60; last month 70 showed up. The next meeting is June 20.
"Just do it, don't wait," said Scherzer. "Be brave."
For more information, visit wetravelwithapurpose.com.
Support our coverage by becoming a digital subscriber.
Lori Basheda is a contributor to TimesOC. Follow him/her on Instagram at @loris_world_ and follow @timesocofficial for more news and features about Orange County.
For more news and features about Orange County, visit TimesOC.com or follow us on Twitter @timesocofficial.
---
The stories shaping California
Get up to speed with our Essential California newsletter, sent six days a week.
You may occasionally receive promotional content from the Los Angeles Times.