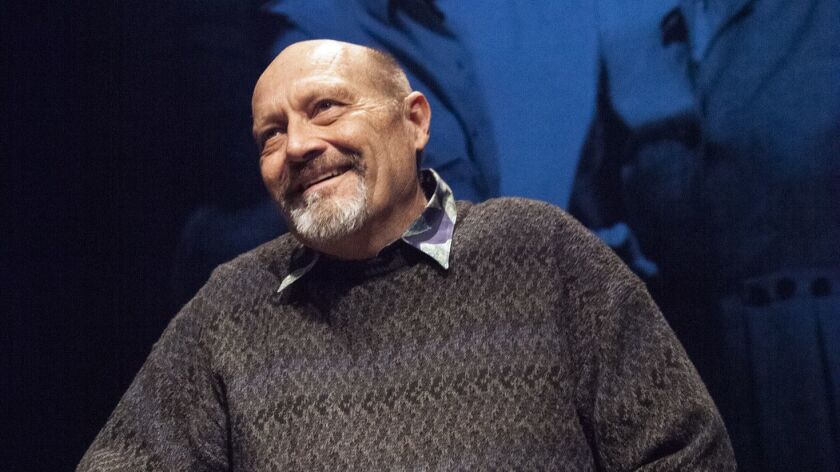 During the last two decades of his life, Tennessee Williams found that the level of attention to him and to his works had waned considerably. The 1960s and '70s brought on more professional misfires and personal tumult — all the more disappointing up against the heady success he enjoyed in the 1940s and '50s.
Williams turned increasingly to consuming alcohol and drugs while slipping into and out of depression, all the while continuing to write — at least 18 new plays following "Night of the Iguana," his last major success.
He also made personal appearances, telling audiences about his life's work as a playwright and relating anecdotes about the many celebrities he'd met through his career.
In "The Crocodile Sings," local actor, director and playwright Joe Parrish re-creates those sessions, crafting his script from the countless formal interviews Williams granted throughout his life. In doing so, he gives us an idea of what it would have been like to sit at the feet of the gifted writer and hear him reminisce during his gradual down-slide.
The show, subtitled "An Evening with Tennessee Williams," played at STAGESTheatre in downtown Fullerton in 2009. Now, the show is back in town for a three-weekend run, this time at the Maverick Theater.
Parrish said his interest in Williams "goes back to my high school days when I saw a TV production of 'The Glass Menagerie' with Shirley Booth as Amanda. I was so moved by it that I became interested in Williams and began reading his plays."
Reading the playwright's 1975 memoirs further sparked his interest in Williams' "fascinating life."
"I started reading everything I could find out about him," he said.
He has also directed a handful of Williams' sizable theatrical canon, including a seminal production of "Cat on a Hot Tin Roof" at Stages, productions of "A Streetcar Named Desire" in Whittier and Los Angeles, "The Glass Menagerie" at Stages and Buena Park High School, "Night of the Iguana" in Whittier, and "27 Wagons Full of Cotton" while a student at Cal State Fullerton.
He has only trod the boards on occasion, having portrayed the aging writer Nightingale in "Vieux Carré" in his CSUF student days and Big Daddy in Stages' "Cat."
Parrish uses his one-man show, based primarily on written interviews with Williams, plus Dick Cavett's 1974 televised interview, to relate the fascinating dichotomies in Williams' emotional and psychological personality: "He was a very troubled, lonely man who came from an extremely dysfunctional family. Writing was his escape. But he was also a man who enjoyed life, who loved to laugh, who loved to travel. But most of all, his life was his writing. And, to me, he is the greatest playwright our country has ever produced."
As the tall, lanky, bald Parrish bears no resemblance to shorter, dark-haired, mustachioed Williams, the actor said "my performance is not an impersonation, and I make no attempt to imitate him. I have seen videos of him but I have tried to capture his heart and his spirit."
"The only thing that I have somewhat tried to imitate is his famous laugh, which was very loud and, apparently, quite irritating to actors when he was in the audience!"
Parrish is no stranger to Maverick audiences, having delivered a potent Richard Nixon in "Frost/Nixon" and the embittered Antonio Salieri in "Amadeus." He taught theater at Buena Park High School for 35 years while working at various small theater companies throughout Orange County — everything from directing "Our Town" at Irvine Community Theater to portraying Shylock in Stages' production of "The Merchant of Venice."
Parrish said he has carried "love and passion for doing theater" for "as long as I can remember." He has retired and relocated to Kansas and is already involved in the Wichita-area theater scene, but every now and then he returns to Orange County whenever a production at Maverick, Stages or Stage Door Repertory beckons.
Eric Marchese is a contributor to Times Community News. For more news and features about Orange County, visit TimesOC.com or follow us on Twitter @timesocofficial.
IF YOU GO
What: "The Crocodile Sings: An Evening with Tennessee Williams"
Where: Maverick Theater, 110 E. Walnut Ave., Fullerton
When: Through April 28. Fridays and Saturdays at 8 p.m., Sundays at 6 p.m.
Cost: $20 ($10 for students with current I.D.)
Information: (714) 526-7070, mavericktheater.com
---