Tom Titus is still reviewing O.C. theater 54 years after he started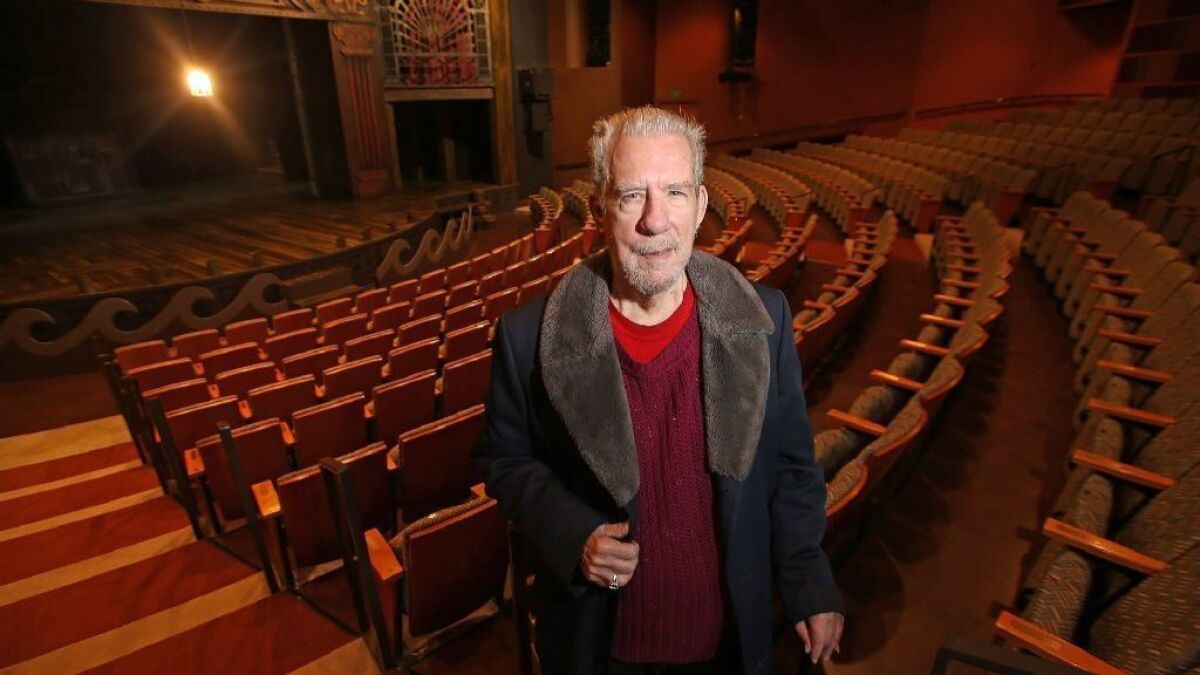 Critic Tom Titus' favorite play of all time is "That Championship Season," by Jason Miller, which he reviewed for his weekly "On Theater" column when South Coast Repertory staged it in 1974. (He would later direct it at Golden West College and act in it at the Irvine Community Theater.)
He thinks "When You Comin' Back, Red Ryder?" by Mark Medoff is underrated.
He hates Jane Austen. "Two and a half hours of Jane Austen is two and a half hours you never get back," he jokes, admitting he's probably seen "Sense and Sensibility," "Emma" and "Pride and Prejudice" too many times.
But he still enjoys South Coast Rep's annual "A Christmas Carol," which he has not only seen but reviewed 39 times. (On the odd years, he takes his son and daughter-in-law. On the even years, he takes his daughter, son-in-law and his two granddaughters.)
Titus, 80, has been writing his theater column for 54 years. For the majority of that time, he wrote for the Daily Pilot, which circulates in Newport Beach, Costa Mesa, Laguna Beach and surrounding cities. A few years ago, his column moved to the Pilot's sister publication, TimesOC, expanding his audience countywide.
In 1965, the year he started his column, South Coast Repertory was new — it was a touring company at the time — and the Costa Mesa Playhouse had also just started.
Out of South Coast Rep's 524 productions, Titus has reviewed every single show except for one in 2006 when he was in the hospital with pneumonia. He sent his son to cover the show in his place.
"We kind grew up together," Titus says of the now-pioneers of the Orange County theater scene.
For 46 years of his column, Titus has written an end-of-year roundup highlighting one man and one woman who have made an impact on local theater. David Emmes, a founding artistic director of South Coast Repertory, was the first "Man of the Year" in 1974.
"It's pretty extraordinary," says Emmes. "I don't believe there's anybody who's been writing about theater that can match that record. He can be inducted into the Guinness Book of World Records, as far as I'm concerned."
According to Christopher Rawson, senior critic of the Pittsburgh Post-Gazette (who calls himself "a relative youngster who's been reviewing for only 39 years"), the American Theatre Critics Association doesn't keep official statistics on this. But the longest serving theater critic he can think of is "Michael Billington, who has been reviewing for The Guardian in England for 48 years and reviewed for smaller papers for 10 years before that — so 58 years and still going strong."
On Theater: After 50 years, the stage still thrills »
Titus, who was born and raised in Corry, Penn., didn't grow up watching theater.
He entered journalism as a sports editor for the local paper, before he served in the Army in South Korea. There, he became managing editor of the 7th Infantry Division newspaper, the Bayonet. After working for the paper in South Korea and Japan, he was transferred to Fort Monmouth, N.J.
"I'd go to New York on a Friday night, see three or four shows on the weekend, and take the bus back to the post," says Titus. "That's where I really got hooked on live theater."
Eventually, he moved to California and took a job at the Daily Pilot covering Costa Mesa. He was there for the ground-breaking of South Coast Plaza.
Soon after he started writing about theater, he realized he wanted to participate in the action.
"I found that doing community theater is about the most fun you can have with your clothes on," he says.
He made his acting debut playing Mr. Akins, the cemetery lot salesman, in Costa Mesa Playhouse's inaugural production of "Send Me No Flowers."
In 1968, he directed a play he wrote called "Summer of Lightning," about a man living in San Francisco who goes back to his hometown for a family reunion.
And he was the artistic director of Irvine Community Theater for 31 years.
One time he was directing a show, and the actor who was supposed to play the grandfather left two weeks before the opening, so he had to jump into the role.
"I was 34 at the time," says Titus. "It took two people an hour and a half to get me into makeup to play a guy that looks like I do now."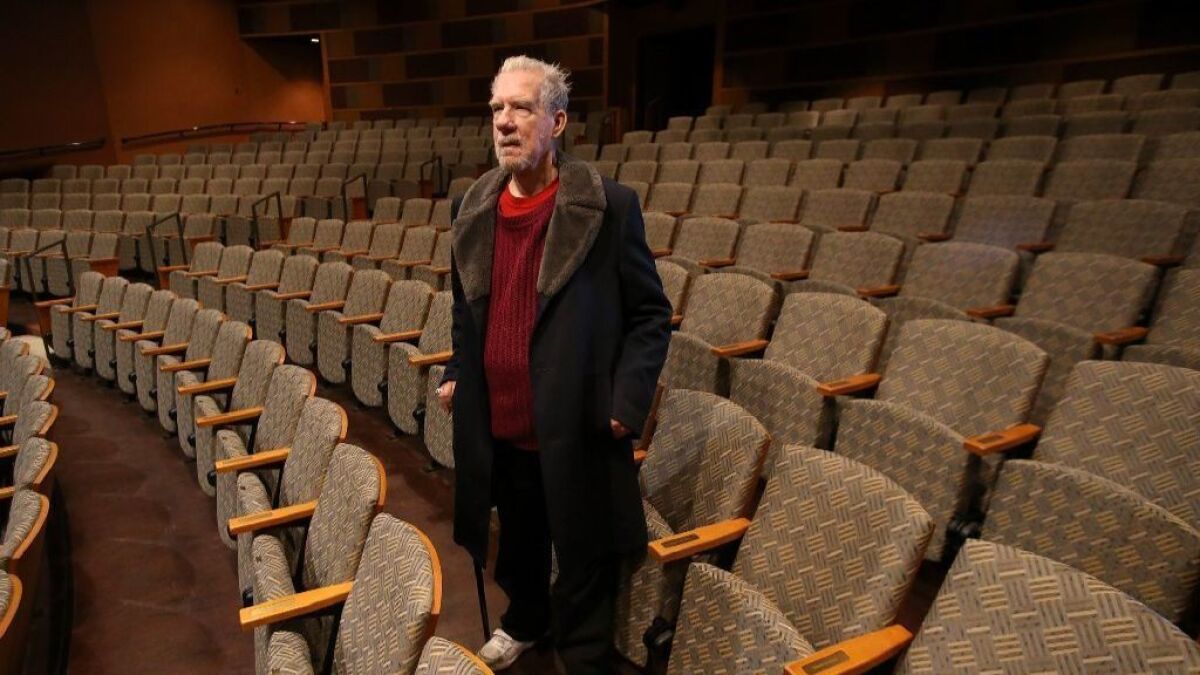 Theater was also where his professional life interlaced with his personal life.
Tennessee Williams' "A Streetcar Named Desire" still brings back fond memories of how he met his ex-wife, the mother of his children. He played Mitch; she, Blanche. They started dating during the show and announced their engagement at the cast party.
He directed his daughter in a production of "The Bad Seed" when she was 11. When his son was 11, he played Turkey Boy in South Coast Rep's "A Christmas Carol."
His first date with his current girlfriend was a double feature. First, they went to see "The Velvet Hour" at South Coast Rep and later the same night, he took her to see a show he was directing, "The Foreigner," at the Huntington Beach Playhouse.
Seventeen years later, she still accompanies him to many of the shows he reviews.
On Theater: Fetes, Ingersoll, Wright share year-end honors »
Emmes says he has always appreciated Titus' work because it's clear he has an extraordinary love of theater.
"Even when he is talking about things that are wanting, there's always a sense that he's looking at it like a glass half full and [writing about things] that would have made the production stronger," says Emmes. "It's within the context of recognition and taking a positive view of the artists that mounted the production."
Titus is impressed with how much the O.C. theater scene has improved, especially in the last 10 years, and he enjoys seeing the artists and companies taking more chances.
"I like to see shows I've never seen before," he says. "You don't get a whole lot of those when you've seen as much as I have."
Many of his past colleagues from local theater community are gone.
"They all smoked," says Titus, remembering the New Year's Eve parties he'd throw with his ex-wife, where his guests would smoke in the house and leave cigarette butts in the food. "I've never had a cigarette in my life."
He says his body may be aging, but his mind still feels sharp.
When Titus reached a previous milestone, 50 years as the Daily Pilot's theater critic, Executive Editor John Canalis offered to take him to lunch anywhere he wanted.
"Tom chose the Carrows in Santa Ana," Canalis said. "The cliche about the elitist theater critic with his nose in the air just doesn't apply to Tom. He is down to earth. He is humble. And because he's worked in theater as an actor, writer and director, I get the sense that he goes into each play wanting it to succeed, not that he minds telling readers when it doesn't."
Titus' goal is to continue his column for six more years. That would make it a solid 60 years covering Orange County theater.
So does he have any other advice for longevity, other than to stay away from smoking?
"Just do what you like to do as long as you can do it," says Titus. "I've been lucky enough to do that."
Follow @timesocofficial for more news and features about Orange County.
---
Get the Latinx Files newsletter
Stories that capture the multitudes within the American Latinx community.
You may occasionally receive promotional content from the Los Angeles Times.