Gubernatorial debate draws distinctions -- during and after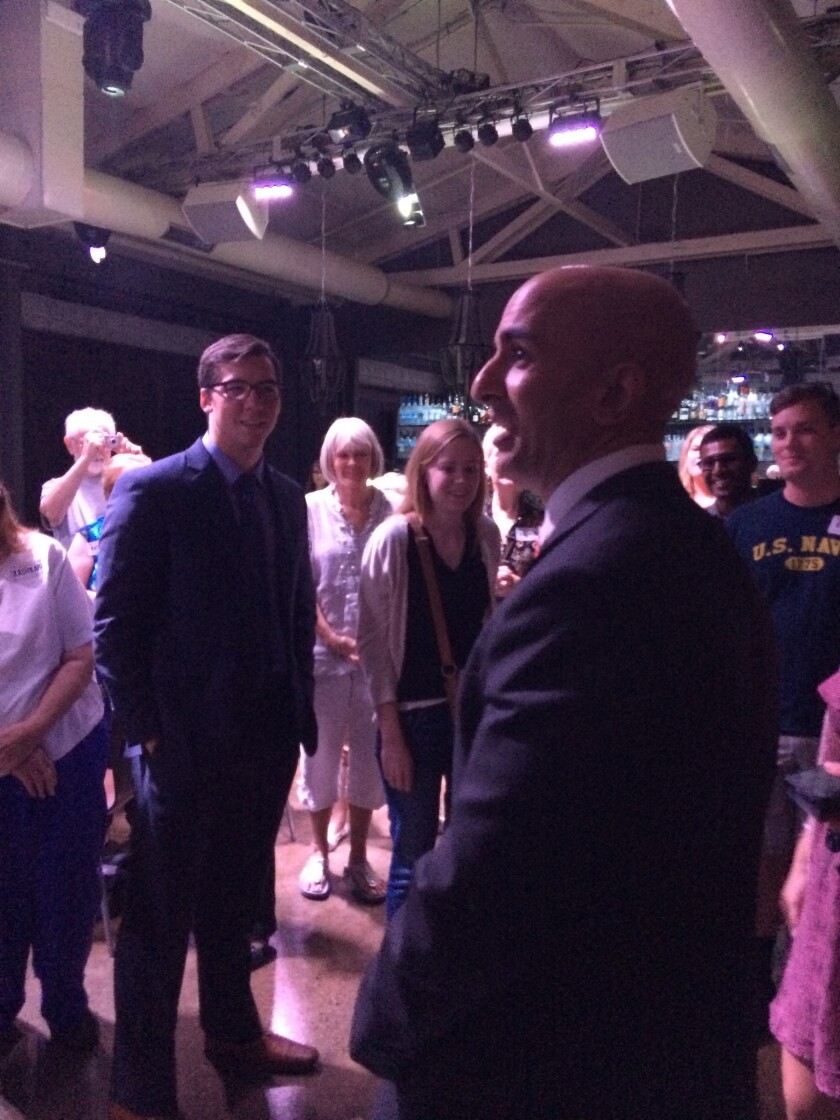 Reporting from Sacramento —
Thursday night's face-off between Gov. Jerry Brown and Neel Kashkari drew all the sharp distinctions to be expected in a debate between two candidates of opposing political parties, generations and upbringings.
Their after-debate performances, even more so.
Brown, the 76-year-old, three-term incumbent and son of a previous governor, ended what may have been California's only chance to measure the two men side-by-side by leaning over and shaking Kashkari's hand. Then he turned away from a bank of reporters who were hoping for a few words, and, according to his campaign spokesman, went home.
Kashkari, 41, the wealthy banker son of Indian immigrants, also skipped the press gaggle but headed to a bar three blocks away to revel with a small crowd of supporters and, he said, to "have a beer."
"I was asked if I would debate him again and I said, 'Look, when you knock out the heavyweight champ, the heavyweight champ usually gets a rematch," he declared with a bright grin. "So I'm game for a rematch."
What followed was lots of back-slapping and a post-game dissection over who most appealed to middle-class voters of all political stripes, or came across best on camera. Brown had directed his answers to the reporters quizzing him in the debate. Kashkari, hands frequently gesturing in the air, often spoke directly to the camera.
"You talked to California. He looked like an angry old man," one young supporter told Kashkari.
Elsewhere, Brown's partisans didn't see things that way at all.
"Hands down. Clearly Gov. Brown won," said state Sen. Kevin de León (D-Los Angeles), the incoming Senate leader. "The contrast couldn't be more clear for Californians."
De Leon said Kashkari focused too much on talking points and had a "hyper" delivery.
---
The stories shaping California
Get up to speed with our Essential California newsletter, sent six days a week.
You may occasionally receive promotional content from the Los Angeles Times.