Prison-crowding order renews talk of sentencing changes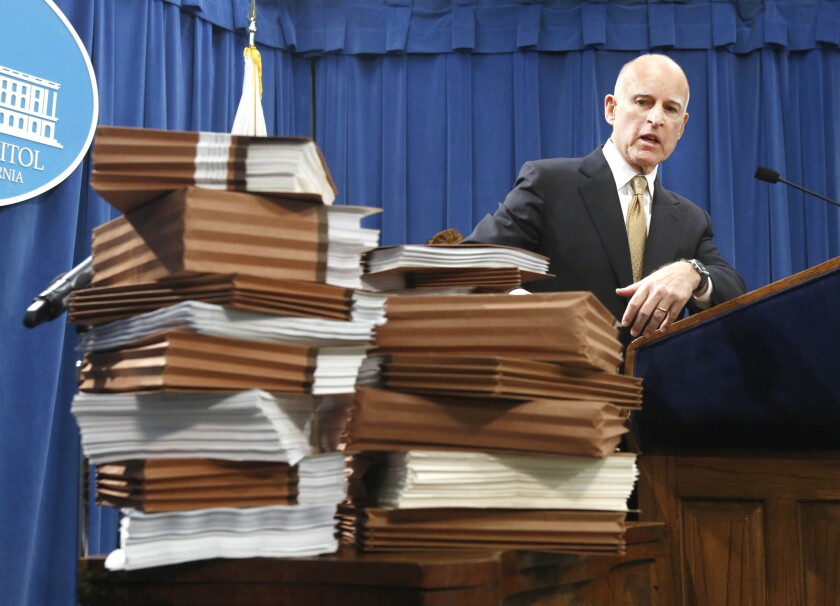 SACRAMENTO -- Talk of a sentencing commission to review whom California sends to prison and for how long helped Gov. Jerry Brown win a two-year grace period from federal judges who want crowding reduced to a safe level.
But there is no official move by the governor's office or Legislature to create one.
Brown's office was quick to point out Monday's federal court order giving the state until early 2016 to reduce crowding notes that the state only "will consider the establishment of a commission to recommend reforms of state penal and sentencing laws." Spokesman Jim Evans noted that was not a "promise" to create such a commission.
The proposal for a sentencing reform came from Senate leader Darrell Steinberg (D-Sacramento), who included it in a September 2013 letter to the federal judges supporting Brown's request for more time to deal with crowding.
The governor's office released its own statement from Brown calling the order "encouraging."
"The state now has the time and resources necessary to help inmates become productive members of society and make our communities safer," it said, but was silent on how that would be accomplished.
Advocates of an overhaul of state sentencing laws are wary.
"A sentencing commission will only be useful if it isn't dominated by law enforcement," said Emily Harris, statewide coordinator for Californians United For a Responsible Budget, a coalition of groups that represent inmates and their families and opposes prison and jail expansion projects. "The Legislature could take on parole and sentencing reform immediately without a commission."
In legal filings to the court, Brown already takes credit for "major sentencing reform" by diverting low-level felons to jail instead of prison. In 2012, California voters softened the state's three-strikes law by making felons whose third crime was minor or not violent eligible to seek a new, reduced sentence.
Federal judges who have been ordering California to reduce prison crowding since 2009 repeatedly have called on the state to consider "sentencing reform." The governor's position on that is murky.
In court filings, he opposed reducing the prison population by making petty theft, vehicle theft and forgery punishable by jail instead of prison. But in 2013 he vetoed a bill that would have allowed prosecutors to charge some users of cocaine and heroin with a misdemeanor, saying it was premature because California is about to conduct a comprehensive review of sentencing for all crimes.
twitter: @paigestjohn
---
Get breaking news, investigations, analysis and more signature journalism from the Los Angeles Times in your inbox.
You may occasionally receive promotional content from the Los Angeles Times.