Gov. Brown says drought concerns helped build support for water bond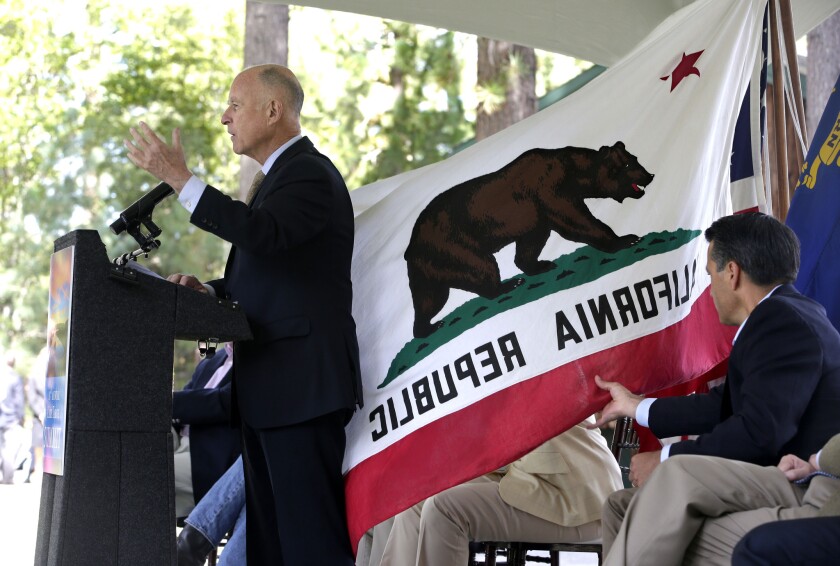 Reporting from South Lake Tahoe —
An annual environmental summit at Lake Tahoe on Tuesday gave Gov. Jerry Brown an opportunity for a victory lap on the new plan for a California water bond, which was approved by the Legislature last week.
"It's pretty extraordinary," he said while discussing the negotiations that led to near-unanimous, bipartisan approval of the $7.5-billion proposal, which will be placed on the November ballot. "You have to have people of different points of view see the common ground."
Brown said the state's ongoing drought helped prod lawmakers into action as well.
"A drought gets people's attention," he said.
The governor is seeking reelection this year, and he's often portrayed himself as a successful broker when it comes to negotiating with Democrats and Republicans in the Legislature. While he was unable to gain any Republican support for tax increases earlier in his term, he has locked down their support for the water bond and a rainy-day fund proposal.
U.S. Sen. Dianne Feinstein, who introduced Brown at the summit, called him California's "present and future governor."
"Many people thought he could never bring the Legislature together," she said. "But he did."
Brown and Feinstein were among the political leaders from California and Nevada at the annual event, which focuses on challenges facing the Lake Tahoe region, including drought and wildfire. Nevada Gov. Brian Sandoval and Senate Majority Leader Harry Reid also were among those attending.
Brown is far ahead of his Republican opponent, former U.S. Treasury official Neel Kashkari, in polls and fundraising. Nonetheless, he said "I don't take it for granted all" when Feinstein raised the subject of his reelection.
The governor has agreed to debate Kashkari on Sept. 4 in an event sponsored by KQED, the Los Angeles Times, Telemundo and Cal Channel. After Tuesday's events, he declined to answer reporters' questions about the debate.
While standing among Tahoe's trees, he said, "My mind is drawn more to poetry than politics."
---
The stories shaping California
Get up to speed with our Essential California newsletter, sent six days a week.
You may occasionally receive promotional content from the Los Angeles Times.