Lawmaker wants state to study if mileage fee could replace gas tax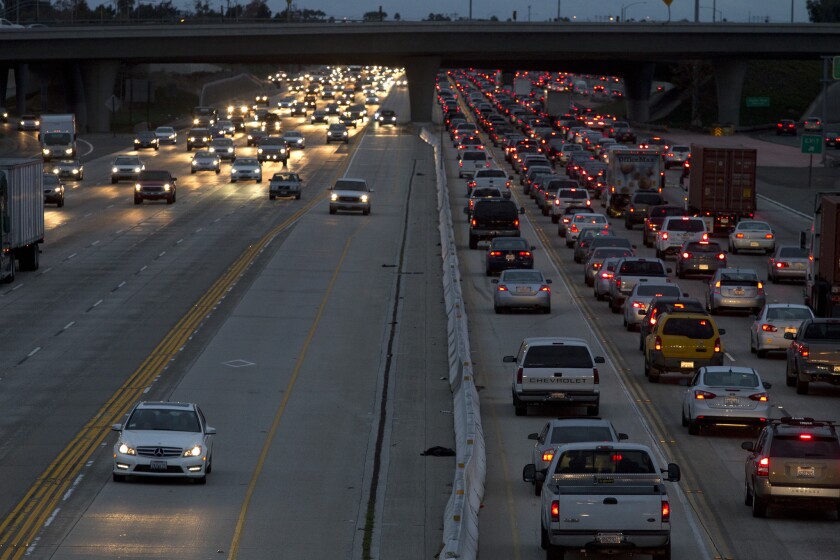 Reporting from Sacramento
With California's gas tax unable to keep up with road maintenance needs, one state lawmaker has proposed a study to determine the feasibility of instead taxing motorists based on the number of miles they drive.
A combination of inflation, cars getting better mileage and more hybrids and electric vehicles on the road mean the 18-cent-per-gallon gas tax approved by voters in 1990 is falling short of covering the costs of maintaining the state's transportation system.
Inflation has meant purchasing power of the state's gas tax has steadily diminished over time, according to Sen. Mark DeSaulnier (D-Concord).
"The gas tax is ultimately an unsustainable way to fund adequate maintenance of our roads," DeSaulnier said. "We will need to examine several alternatives to the gas tax."
He has introduced SB 1077, which would allow the California Transportation Agency to conduct a voluntary pilot program to study the feasibility of a mileage-based fee to replace existing gas taxes.
The bill, which has been approved by a Senate committee, does not allow any tax. It would have the state study how to measure mileage driven by volunteer motorists and report to the Legislature by June 30, 2017.
DeSaulnier is following the lead of Oregon, which is planning next year to levy a 1.5 cents per mile tax on volunteers in lieu of the current 30-cents-per-gallon tax.
Motorists can provide mileage to the state by hooking meters up to their car's computer or use a GPS system that would keep tabs on non-taxable miles out of state or on private roads.
---
The perils of parenting through a pandemic
What's going on with school? What do kids need? Get 8 to 3, a newsletter dedicated to the questions that keep California families up at night.
You may occasionally receive promotional content from the Los Angeles Times.