California violates Motor Voter Act, activists say; lawsuit threatened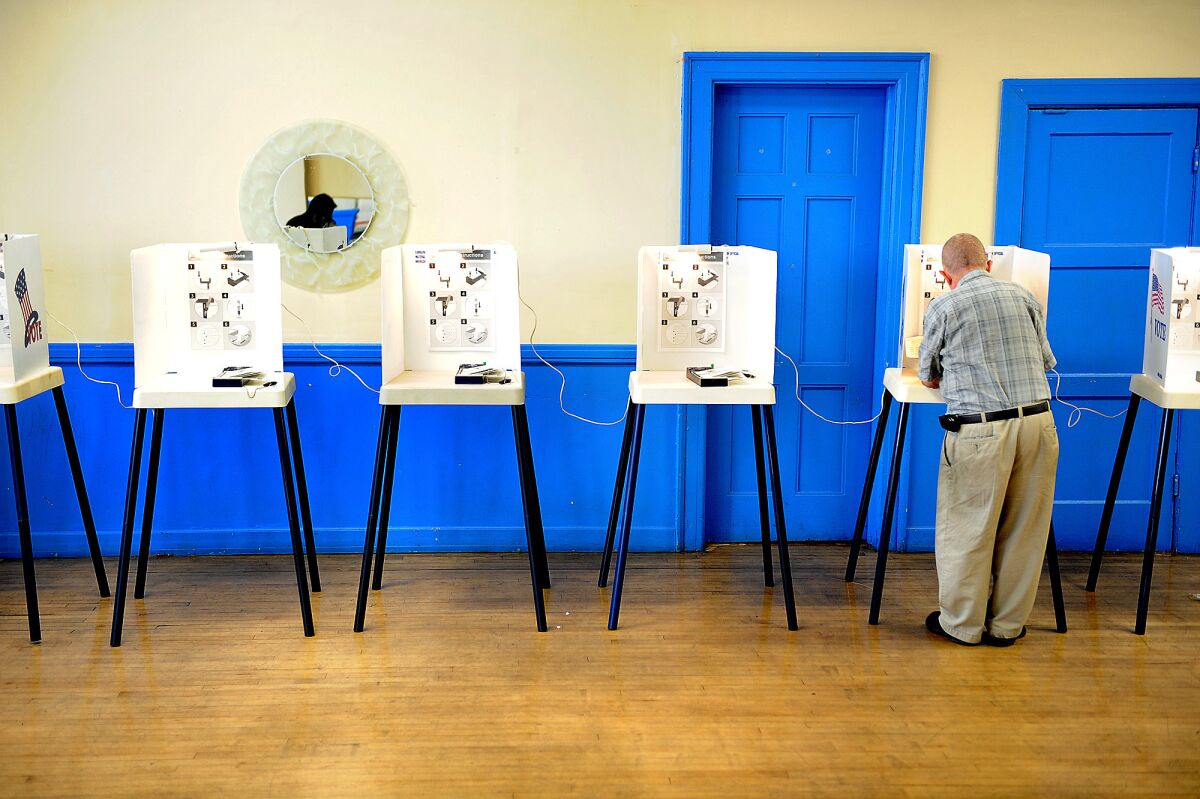 Reporting from Sacramento —
Voting-rights advocates warned Thursday that they may sue California based on claims that the state is not complying with the so-called Motor Voter Act, a federal law mandating that states offer people an easy way to register to vote when they obtain their driver's licenses.
The law firm of Morrison & Foerster sent a "pre-litigation" letter to California Secretary of State Alex Padilla on behalf of the League of Women Voters of California, the ACCE Institute, California Common Cause, the National Council of La Raza and several individuals.
"It's time for the Department of Motor Vehicles to stop dragging its feet and make voter registration easy and accessible for the millions of Californians who apply for or renew their driver's licenses or ID cards every year," said Helen Hutchison, president of the League of Women Voters of California.
A report released Thursday by Demos, a public policy group, found that the Motor Voter Act's requirement that a driver's license application be treated as a voter registration application are widely ignored throughout the country. California has one of the lowest levels of DMV voter registration in the country, the report found.
The state requires applicants to complete an entirely separate voter registration application and provide the same information required on the driver's license and ID card forms. The groups said information provided for a driver's license application should automatically be put on a voter registration application if the person requests to register.
In addition, the groups said people changing their address for their driver's license when moving to a different county do not have those changes automatically applied to their voter registration.
"Around the country, but on an especially large scale in California, massive numbers of citizens must jump through hoops that Motor Voter was intended to eliminate," said Stuart Naifeh, author of the Demos report.
DMV Spokeswoman Jessica Gonzalez said her agency will review the report findings with the Secretary of State's office. "Under federal law, DMV provides eligible applicants with an opportunity to register to vote when obtaining or renewing a driver license or identification card," Gonzalez said.
Secretary of State Padilla, who took office last month, said he is commited to making sure it is easier to register to vote through the DMV and other state agencies.
"Clearly there is a need for improvement," Padilla said.
---
The stories shaping California
Get up to speed with our Essential California newsletter, sent six days a week.
You may occasionally receive promotional content from the Los Angeles Times.