Lawmaker wants to restrict e-cigarettes in California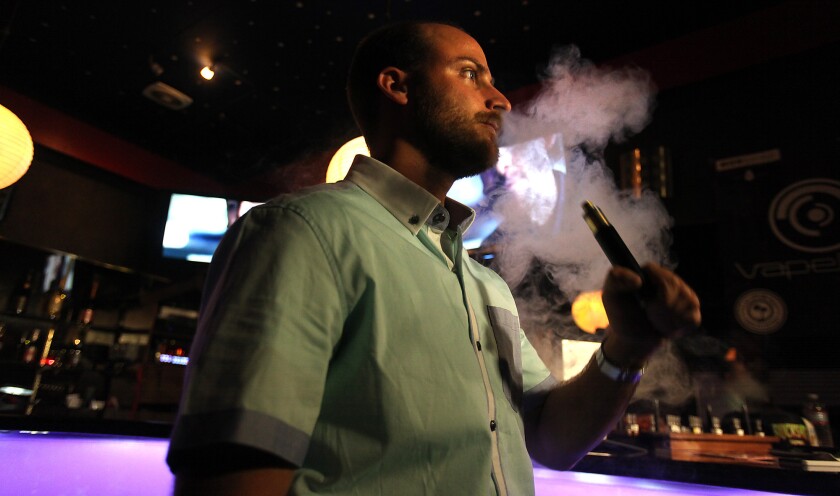 Reporting from Sacramento —
A state lawmaker wants to ban e-cigarettes from restaurants, bars and other workplaces in California where smoking is currently prohibited, but the proposal is expected to face stiff opposition from the tobacco industry.
Bills last year that would have regulated "vaping" failed to win approval.
Sen. Mark Leno (D-San Francisco) has said his SB 140 addresses health concerns involving e-cigarettes by making sure they are treated the same as regular cigarettes.
"No tobacco product should be exempt from California's smoke-free laws simply because it's sold in a modern or trendy disguise," Leno said in a statement. "Addiction is what's really being sold. Like traditional cigarettes, e-cigarettes deliver nicotine in a cloud of other toxic chemicals, and their use should be restricted equally under state law in order to protect public health."
Leno said a loophole in existing law means the ban on workplace smoking does not extend to e-cigarettes.

[Updated 1:50 p.m.: The legislation drew opposition later Monday from the American Vaping Assn., a group advocating the benefits of electronic cigarettes.
"There is no scientific evidence that justifies the California government treating smoke-free, tobacco-free, and often nicotine-free products the same as deadly combustible cigarettes," said Gregory Conley, president of the American Vaping Association.
"We are hopeful that California legislators will snuff out this unnecessary and potentially harmful bill," he added.]
---
The stories shaping California
Get up to speed with our Essential California newsletter, sent six days a week.
You may occasionally receive promotional content from the Los Angeles Times.