California's toxics enforcer is given sharper teeth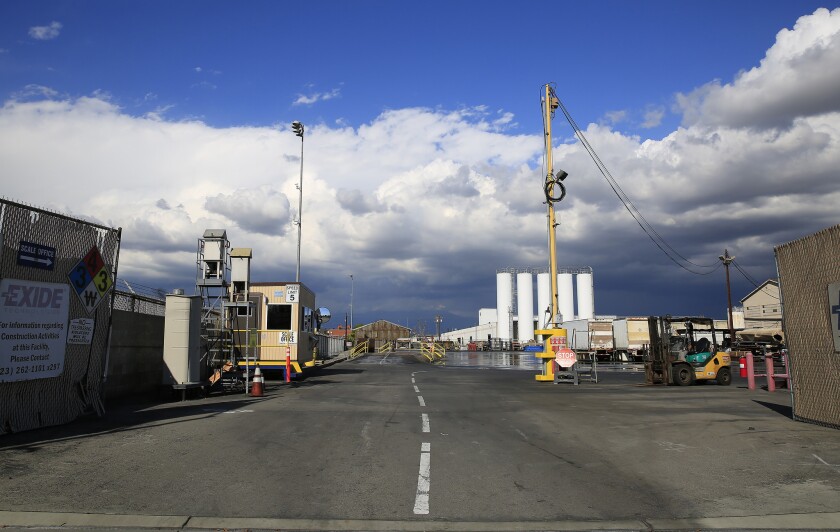 Reporting from Sacramento —
In the wake of controversy over the delayed cleanup of the Exide battery recycling plant in Vernon, Gov. Jerry Brown signed a batch of bills Friday aimed at boosting the power of the state's toxic-substances watchdog.
The measures signed by Brown will "strengthen penalties for repeat violations of hazardous waste laws and … assist the California Department of Toxic Substances Control (DTSC) with the recovery of cleanup costs," the governor's office said in a statement.
Neighbors of the closed Exide Technologies plant have complained that the state has been slow to test and clean up lead-contaminated parcels surrounding the plant.
State officials said in August that they have obtained limited funds to conduct new tests at homes in Boyle Heights, Maywood, Huntington Park, Commerce and other nearby communities.
The bills Brown signed include a measure that would require the toxic-substances agency to seek recovery of oversight and cleanup costs within three years after completion of corrective action by a site operator. Currently, the law can be interpreted to say action is needed within three years of the start of the cleanup, rather than its completion.
A state audit last year found that the department had millions of dollars in unbilled and uncollected cleanup costs from 76 sites dating to 1987.
A separate bill signed Friday gives the department power to require hazardous-waste managers to document that they can pay for or perform a cleanup if one is necessary.
"This authority could expedite the cost recovery process" by averting costly litigation and increasing the department's ability to recover expenses, said a staff report by a legislative committee.
Other measures increase the interest rate charged by the department on unpaid penalties, make cost recovery a priority and require officials to suspend or revoke the permit of a federal hazardous-waste facility with repeated violations.
One longtime critic of the department, Liza Tucker of the group Consumer Watchdog, called the bills "incremental, positive steps." But she expressed disappointment that action was delayed until next year on an additional bill that would have forced firms to start renewing their permits two years before expiration.
The enhanced powers were welcomed by department Director Barbara A. Lee.
They improve the government's ability "to make polluters pay for the cost of cleaning up contaminated properties," Lee said in a statement.
In all, Brown signed 34 bills Friday, including one supported by Los Angeles Mayor Eric Garcetti that would help his city rejuvenate its waterfront.
The bill will extend from 50 to 66 years the maximum term of the city's leases on its properties along the waterfront, making them more attractive to businesses.
Expansion of port operations over the years has resulted in the isolation of waterfront areas oriented to visitors and businesses, said the bill's author, state Sen. Isadore Hall (D-Compton). The city wants to revitalize the area, and longer leases will help, he said.
"This bill will support bold actions taken by the city of Los Angeles to improve and better connect the Los Angeles waterfront area to tourists and the community" and improve the local economy, Hall said.
Other bills that Brown signed will:
Create the Second Chance Program, intended to reduce the number of former inmates who commit new crimes and become reincarcerated. The program will provide former offenders with housing programs, mental health services and substance abuse treatment.
Require many new large buildings to have an automated external defibrillator on the premises to help save lives. The bill applies to structures built after 2016 that can hold 200 or more people. Such buildings could be used as factories or other businesses, schools or apartment buildings.
Add recording piracy and insurance fraud to the crimes for which an offender's assets can be seized by law enforcement officials.
patrick.mcgreevy@latimes.com
chris.megerian@latimes.com
Twitter: @chrismegerian
Twitter: @mcgreevy99
---
Life is stressful. Our weekly mental wellness newsletter can help.
You may occasionally receive promotional content from the Los Angeles Times.