California's 'dignified' execution protocol took too long, death penalty supporter says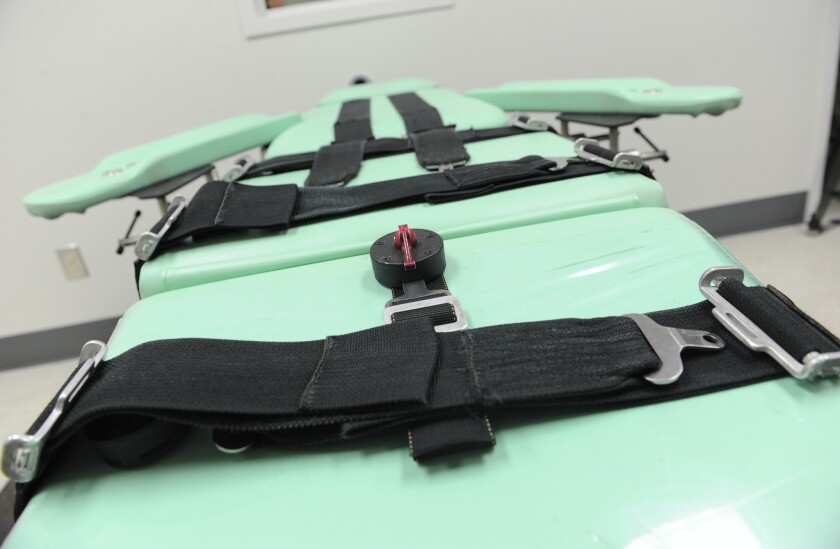 Sacramento —
Death penalty supporters on Friday hailed California's proposal of a new execution method Friday, though not without chagrin over the time it took.
Kent Scheidegger, legal director of the Criminal Justice Legal Foundation, said the new proposal was a "major milestone, but nine years overdue."
The foundation sued the state on behalf of murder victims' families who wanted the death penalty to be enforced. It secured a settlement in which the state promised to initiate approval of a new execution policy.
See the most-read stories this hour >>
California executions were halted by a court in 2006 over concern that the state's three-drug method carried the risk of causing a painful death. New procedures were adopted in 2010 but also stymied by the courts and ultimately invalidated in 2013.
The legal foundation filed suit in 2014 seeking to force the state to resume executions. The state agreed in June to settle the case.
The resulting regulatory filing shows that the state accessed many of its supporting materials on lethal drugs in late 2012 and early 2013, before the lawsuit was filed in 2014.
That timetable "tends to confirm what we thought, that they simply sat on [a potential new regulation] until our lawsuit," Scheidegger said.
The corrections department released the new execution protocol Friday without comment, and noted that the agency would seek public input for the next two months.
In proposing the new injection method, corrections officials said they sought "a humane and dignified execution."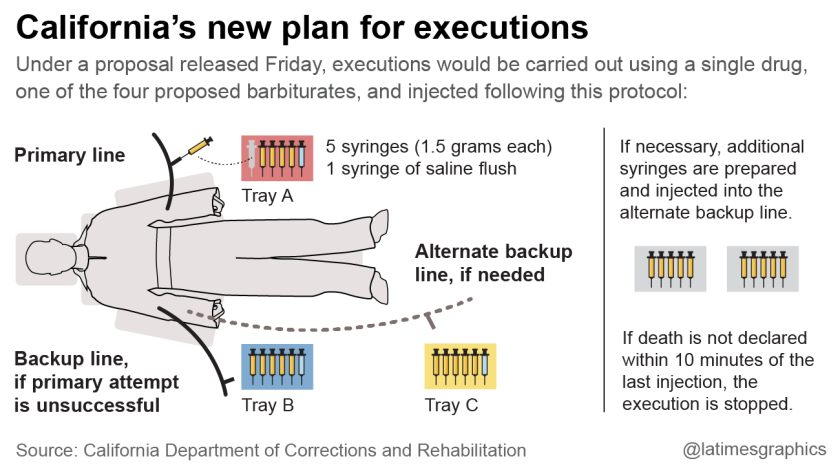 In their supporting materials, corrections officials said the single-drug method "reduces the risk of pain and possible complications, and addresses constitutional concerns."
Other documents accompanying the proposal show the state sought guidance from materials on assisted suicide, including the Oregon Death with Dignity Act.
Opponents of the death penalty said Friday that even if the state's proposed new single-injection execution regimen withstands public review and the inevitable court challenges, the killing of prisoners "is doomed to fail in California."
"There are so many flaws in the system, the cost, the risk of executing an innocent person" that make the state's capital punishment system unworkable, said Ana Zamora, criminal justice policy director for the ACLU of Northern California.
For more California corrections news, follow me at @paigestjohn on Twitter
For the latest on political coverage, go to www.latimes.com/politics.
ALSO:
Here's what California can expect from Congress' highway bill
California GOP sitting out Senate race in conservative-leaning swing district
Nancy Pelosi's vineyard makes her fourth-richest Californian in Congress
---
The stories shaping California
Get up to speed with our Essential California newsletter, sent six days a week.
You may occasionally receive promotional content from the Los Angeles Times.