Settlement nears in litigation over California's use of solitary confinement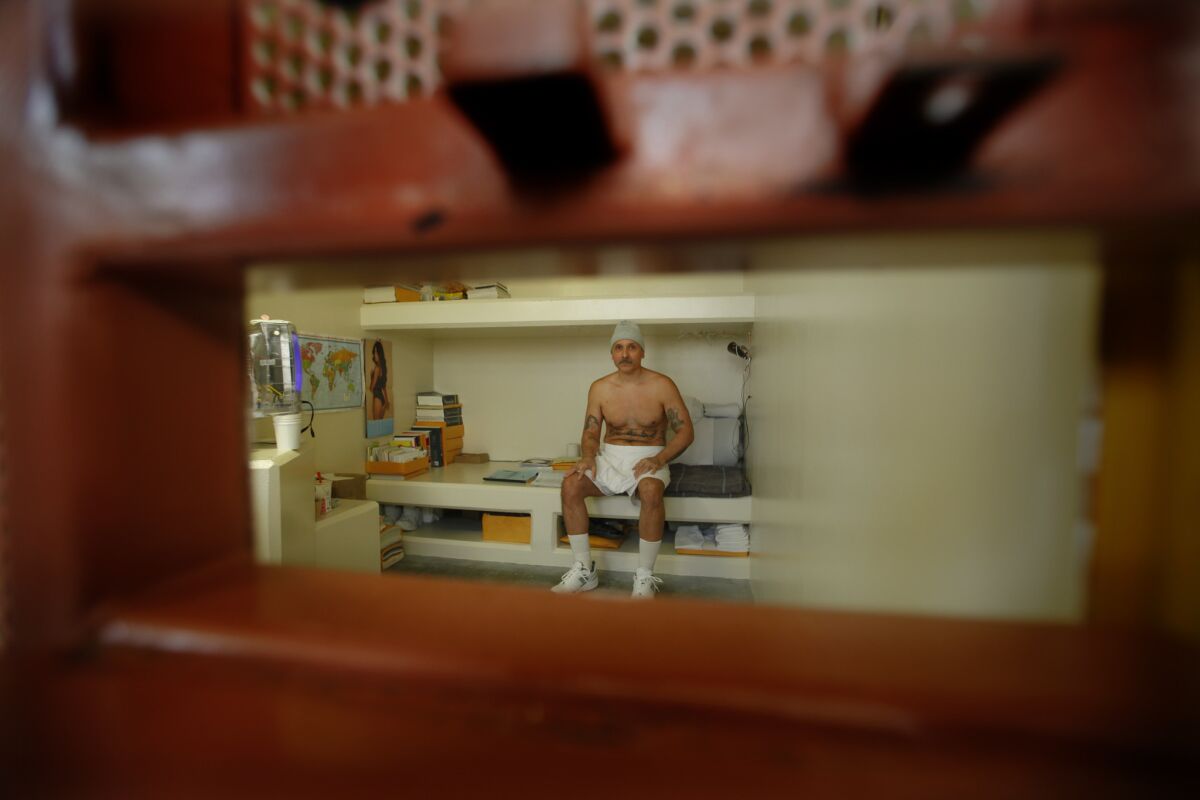 Reporting from Sacramento —
California, which once led the nation in putting prisoners in solitary confinement, is poised to end the practice of decades-long isolation.
Settlement talks took place Monday morning between lawyers for the state and those representing inmates in a federal class-action lawsuit over the broad use of solitary confinement.
Court records show that no agreement from that discussion has yet been filed, but several individuals on both sides of the litigation said one is imminent.
"It's been on the verge to be finalized for quite awhile," said Jeffrey Callison, a spokesman for the California Department of Corrections and Rehabilitation.
Interested in the stories shaping California? Sign up for the free Essential California newsletter >>
He said he had seen no agreement. Court records show state corrections Secretary Jeffrey Beard has participated in the negotiations before U.S. Magistrate Judge Nandor Vadas.
In anticipation of a filing, the Center for Constitutional Rights, which represents several thousand prisoners in the class action, has notified reporters of a conference call early Tuesday to announce "a major development in the case."
At issue has been California's use of indefinite solitary confinement for thousands of inmates who associated with prison gangs – sometimes for decades. As recently as 2013, they could only reenter the general prison population by defecting, providing information to investigators that opponents said put inmate lives in danger.
Even without details, the pending agreement drew concern from the union that represents officers who work in prisons.
"In our view, California will return to the prison environment of the '70s and the early '80s, when inmate-on-inmate homicides were at the highest levels and staff were killed," said Nichol Gomez, a spokeswoman for the California Correctional Peace Officers Assn.
The union had been blocked by a federal judge from intervening in the litigation and subsequent settlement.
Former inmates, family members and activists for prisoner rights planned a rally Tuesday in Oakland.
"People know broadly what is going on but have not been made aware of the details," said Mohamed Shehk, communications director for Critical Resistance, one of the rally organizers.
California has segregation units at several prisons, but the largest and most notorious is at Pelican Bay, near the Oregon border. There, inmates spend nearly 23 hours a day in windowless cells that face a concrete wall.
Movement and contact with others is highly restricted, as is access to the law library, mail and goods from the prison commissary.
California corrections officials have said isolation was critical to control violence in prisons and to limit gang influence on the streets, where proceeds from drug sales are funneled back into inmate accounts.
Forensic psychiatrists testified on behalf of the inmates that such conditions cause psychological damage. In a 2013 report, a United Nations official responsible for tracking human rights abuses described it as "cruel punishment, even torture."
Twitter:@paigestjohn
ALSO:
244 immigrants arrested in Southern California sweep
LAPD is on patrol with body cameras starting today
Judge's questions hint at skepticism on California's death penalty ban
---
The stories shaping California
Get up to speed with our Essential California newsletter, sent six days a week.
You may occasionally receive promotional content from the Los Angeles Times.