Lou Correa seeks recount over 'irregularities' in O.C. supervisor race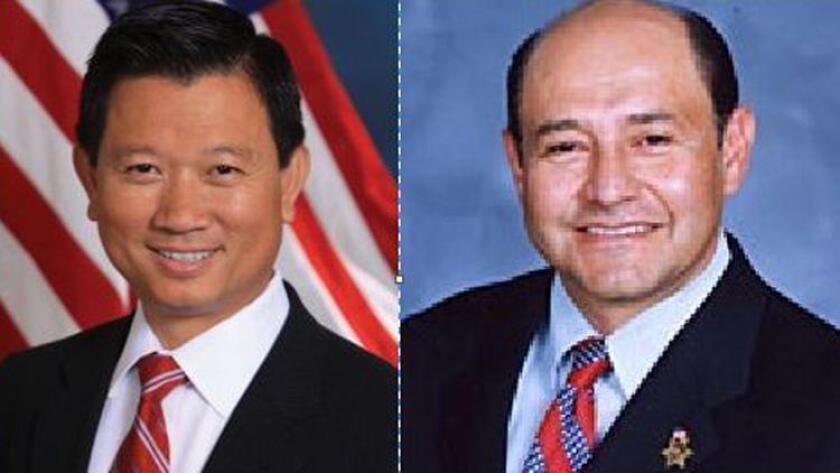 A former state senator who lost a special election for a seat on the Orange County Board of Supervisors said he is concerned about "voting irregularities" and has asked for a recount.
Lou Correa lost last week's special election by a mere 43 votes to Andrew Do, an attorney with little experience in public office.
Do's victory was seen by some political observers as another example of the powerful voting bloc in the county's sprawling Vietnamese American community, where ethnic media relentlessly cover local politics.
Do, who worked as chief of staff for former county Supervisor Janet Nguyen and served briefly on the Garden Grove City Council, was sworn in Tuesday — a largely ceremonial exercise that would be set aside should Correa prevail in a recount.
In an interview Tuesday, Correa said he received reports of "voting irregularities" on election day, such as "campaigns" collecting and even paying for ballots and returning them to the registrar's office or at the polls.
Correa said he was notified of two election-day incidents at polling places in churches in Little Saigon where Vietnamese American volunteers urged voters to cast ballots for Do. One of them, Correa said, told people, "Remember, vote Vietnamese" and then pointed to Do's name. Others, he said, stood outside urging people to vote for Do.
He said he reported both incidents to the county registrar of voters.
Correa said his campaign staff also received reports that people outside the 1st Supervisorial District, which includes much of central Orange County, had registered to vote and cast ballots.
The recount is expected to begin Monday, and Correa said even if the final results don't change, he believes the exercise — which will cost the veteran politician an estimated $2,400 a day — will bring "transparency" to the razor-thin election.
"We're doing a recount because we want to make sure every vote counted is a valid vote," he said. Most of those who urged him to go forward with a recount are from Little Saigon, he said.
Do questioned Correa's motives for the recount and said he was offended by the suggestions that Correa's competitors' campaigns had paid for votes. Three of the five candidates were Vietnamese Americans.
"I respect Mr. Correa's decision," Do said, "but I find it very interesting that here is a politician who has been in office so many years and most people would say he has more advantage with the Vietnamese community than I do. Yet, now that he lost, he turned around making accusations.
"All of this is part of the effort to suppress the Vietnamese vote."
If the recount does not change the outcome, Do's win will give the five-member board its first ever Asian American majority.
Michelle Steel, a Korean immigrant, and Lisa Bartlett, a Japanese American, were elected to the county governing body in November.
Twitter: @newsterrier
---
The stories shaping California
Get up to speed with our Essential California newsletter, sent six days a week.
You may occasionally receive promotional content from the Los Angeles Times.