Kevin McCarthy, would-be majority leader, at home in D.C., Bakersfield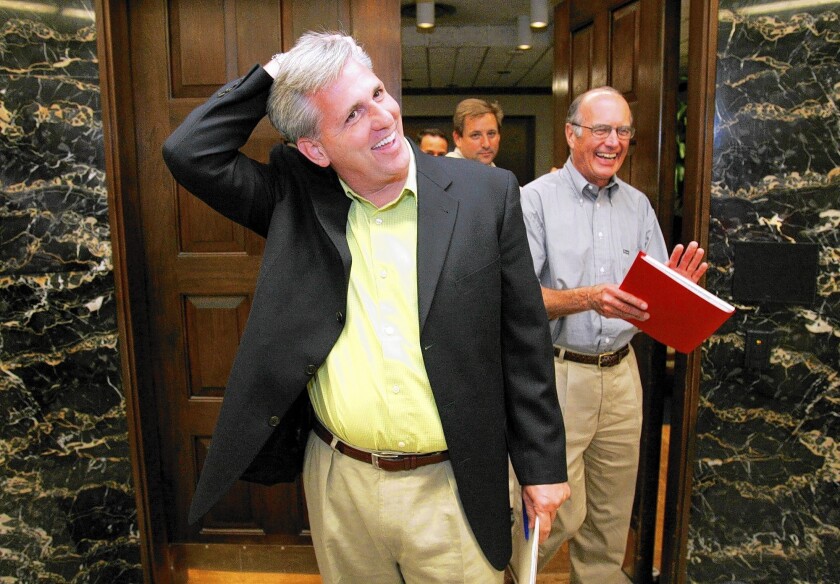 REPORTING FROM BAKERSFIELD —
The doorbell rang at a spacious tract home on a quiet cul-de-sac near Cal State Bakersfield. Rep. Kevin McCarthy's wife, Judy, hushed the barking Australian shepherd inside and opened the door with a smile.
The post-mortems on House Majority Leader Eric Cantor's stunning defeat in Virginia have suggested he was out of touch with his district, not far from the District of Columbia.
But in his hometown of Bakersfield, McCarthy — expected to succeed Cantor after Texas Rep. Pete Sessions dropped out of the running late Thursday — seems to have no such troubles.
Despite the demands of his job as the third-ranking Republican in Congress, McCarthy, 49, maintains a regular presence in Bakersfield, a conservative city in the San Joaquin Valley whose economy relies heavily on agriculture and oil.
When he's in Washington, McCarthy sleeps on a sofa in his office. He flies home weekly to see his wife and two kids and appear at local events — a fundraiser for a fellow party member, a symposium on valley fever, the season opening baseball game of a sports league for kids with disabilities. On Fridays, constituents can often find him clad in jeans and a T-shirt at Luigi's, an Italian restaurant in downtown Bakersfield.
"He's here every week," Judy said. "We both grew up here — this is our home."
Judy was McCarthy's high school sweetheart and worked alongside him in his first business venture, a sandwich shop he opened at age 20 after investing a few thousand dollars he'd won in the lottery. He sold the business a couple of years later and used the proceeds to help put himself through college and graduate school at Cal State Bakersfield.
He was first elected to the House in 2006, but hardly arrived in Washington as a political neophyte. He previously worked for more than a decade for former Rep. Bill Thomas, a political mentor whose seat he took when Thomas retired.
His first political office was a seat on the board of Kern Community College District in 2000.
Two years later, he moved on to the state Legislature, where he was elected Republican leader of the California Assembly as a 38-year-old freshman in 2003.
McCarthy has risen fast in Washington, elected by his Republican colleagues to become majority whip after winning his third term in Congress in 2010.
On California issues, he has clashed with environmentalists over his efforts to bring more water to farmers, while winning praise from the likes of Larry Starrh, owner of a family-run farm in western Kern County, who called him a "stalwart on water issues." McCarthy and other Central Valley Republicans have pushed to block federal funding for the state's high-speed rail project.
Immigration has been a tough issue for McCarthy, who represents a 35% Latino district that relies on immigrants for picking crops. He has walked a fine line with the GOP rank and file, many of whom oppose granting legal status to immigrants who are in the country illegally.
McCarthy joined the majority of his GOP colleagues last year to vote to cut off funding for an Obama administration program that halted deportation of young immigrants who are in high school or college or have served in the military. His three Central Valley GOP colleagues — Reps. Jeff Denham, David Valadao and Devin Nunes — voted against the cutoff.
On the other hand, McCarthy is a cosponsor of Denham's bill to provide legal status and a path to citizenship for immigrants who serve in the military.
Immigration reform activists have criticized McCarthy's failure to support a comprehensive immigration package, staging protests and sit-ins at his office.
"There is no industry that would benefit more from immigration reform than the agricultural industry," said Arturo Rodriguez, president of the United Farm Workers, which is headquartered in Kern County. "If he's really going to represent our district, then he has to have this vote."
But McCarthy's immigration stance helps him keep the votes of people like Pete Cattani, owner of the Ammo Dump gun store in Bakersfield, who says McCarthy has done "pretty good" on immigration although "he's not conservative enough for a lot of us folks here in town."
In Washington, McCarthy has gained the favor of Republican colleagues by working hard to build personal relationships. He's traveled to places like Frog Jump, Tenn., Lake Oswego, Ore., and Sioux Falls, S.D., to help elect fellow Republicans.
And he is sitting on one of the largest campaign-fund surpluses of any House member — nearly $3 million — available to aid party members in tough elections.
Rep. Howard "Buck" McKeon (R-Santa Clarita) said Thursday that McCarthy was well-positioned to win the leader's job.
"When you're the whip, you know every member," McKeon said. "You've got so much of an advantage."
But one of McCarthy's duties — maintaining party discipline on important floor decisions — hasn't always gone smoothly. House GOP leaders have suffered a number of embarrassing setbacks due to divisions within their party. A farm bill went down last year. GOP leaders also had to rely on Democrats to pass a Superstorm Sandy relief measure.
Congressional leadership positions can be double-edged. They can benefit the leaders' home districts and states, but have also cost leaders their jobs. Sen. Tom Daschle (D-S.D.), then the Senate minority leader, lost a reelection bid in 2004 after he was attacked as being out of touch with his state.
Constituents have so far continued to support McCarthy.
He ran unopposed in this month's primary, as he did in 2008 and 2010; in 2012, he defeated a more liberal opponent who ran as an independent, receiving nearly 75% of the vote.
"Kevin's well-liked here in town," said Clay Rutledge, 55, who owns Bob's Bait Bucket, a Bakersfield fishing tackle store, with his father. Rutledge is a self-described independent but says he has voted for McCarthy in every election.
"If you need to get ahold of him, you can," Rutledge said, adding: "I think Kevin's pretty much in touch with the district."
Assemblywoman Shannon Grove, another Bakersfield native and one of the more conservative Republicans in the Legislature, dismissed the idea that McCarthy — like Cantor — might someday be vulnerable to a coup from the right.
"They call me a tea party darling, and I support Kevin 100%," she said.
Even those who find McCarthy's politics too liberal for their liking acknowledge he remains visible in the community.
Retired farmer Glenn Parker, 70, says he finds McCarthy's stance on immigration too lenient. But he praises McCarthy's stands on local issues like drought relief and high-speed rail.
"He's better than Cantor. Cantor didn't deal with his people," Parker said. "He was a political fundraiser for the GOP, but he didn't pay attention to his constituents."
---
For reporting and exclusive analysis from bureau chief John Myers, get our California Politics newsletter.
You may occasionally receive promotional content from the Los Angeles Times.