Candidates vying for Waxman's seat share 'American Dream' histories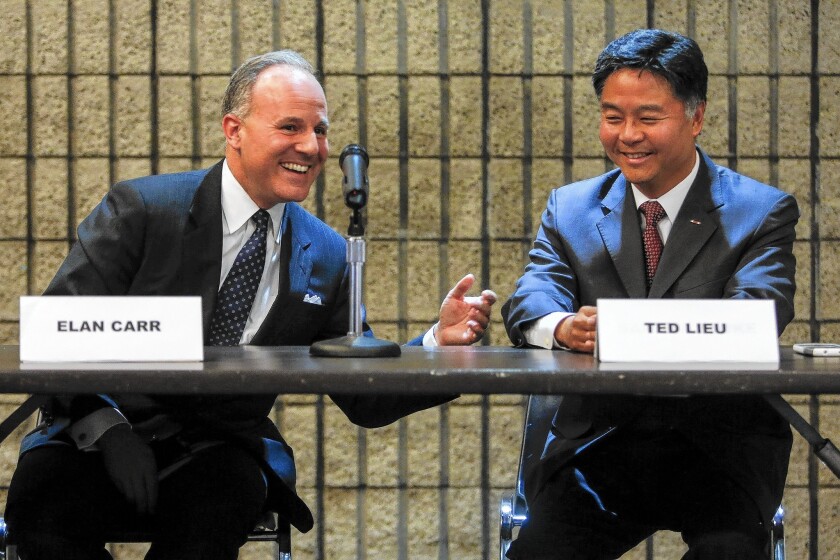 The race to succeed liberal lion Henry A. Waxman in Congress produced a crowded, costly primary studded with political stars and high-profile newcomers. Now, it has mellowed into a lopsided, gentlemanly contest between two men with "American Dream" backstories.
First-time candidate Elan S. Carr, a son of immigrants and a Republican gang prosecutor reaped the most votes among 18 candidates on the ballot in June. Today, he is chugging uphill against state Sen. Ted Lieu (D-Torrance), from an up-by-the-bootstraps family, in the largely Democratic Westside/South Bay district.
The Waxman seat, the longtime heart of Westside political power, last opened 40 years ago. It includes one of the nation's wealthiest liberal bastions, a fitting home base for the nationally prominent Beverly Hills Democrat known for groundbreaking legislation on such issues as healthcare and environmental protection.
The primary drew national attention, with such personalities as bestselling author and spiritual teacher Marianne Williamson, public radio talk show host Matt Miller, and former L.A. city official Wendy Greuel, fresh from a bruising campaign for mayor.
But now, without those names, and with little prospect for a close race, the attention has dwindled. Democrats hold a 43.4% to 26.8% registration edge over Republicans in the district, which sprawls across Los Angeles' Westside and the Santa Monica Mountains to Malibu, and down the coast through part of Torrance and across the Palos Verdes Peninsula.
Nevertheless, Carr was upbeat and animated as he waited to speak at a candidate forum in Rancho Palos Verdes last week. He said he was pleased with the reception he has received on the campaign trail and expects the race will be closer than analysts predict.
"We have broad support," said Carr, 46. "It's very gratifying, and it's hopeful."
John Adler, a Beverly Hills Republican who owns a small furniture-manufacturing firm, said he's voting for Carr even though he doesn't believe he can win.
"It's tough being a Republican in the 33rd District," Adler said, "but Carr is kind of an ideal Republican" because of his centrist views and strong support of Israel.
Carr's mother fled to Israel from Iraq before coming to the U.S., where Carr was born and became an attorney. He joined the U.S. Army a few months before the Sept. 11, 2001, terrorist attacks and served in Iraq, where he helped lead an anti-terrorism team of the U.S. Central Command.
After returning home, he joined the Los Angeles County district attorney's office, where he specializes in gang prosecutions and domestic violence and animal cruelty cases.
Lieu, 45, said he's not taking anything for granted and is working on the race from early morning to well into the night. "We're just sprinting every day," Lieu said.
The senator's standard stump speech starts with his parents bringing him to the U.S. from Taiwan when he was 3. The family settled in a friend's basement in Cleveland and sold gifts at flea markets. Eventually, they were able to open stores and send their two sons to college.
Lieu, an attorney who enlisted in the Air Force and is now an officer in the reserves, was elected to the Torrance City Council and the Assembly before winning his state Senate seat in a special election in 2011.
Each keeps mainly to a centrist path and both talk about the importance of breaking the partisan gridlock in Washington
Carr said he would bring "a new style of leadership." Democrats in his column include former Beverly Hills Mayor Jimmy Delshad.
Lieu talks about bipartisan legislation he helped pass and touts endorsements from locally prominent Republicans: former L.A. Mayor Richard Riordan and Los Angeles County Supervisor Don Knabe.
Republican leaders in Washington have endorsed Carr but are funneling money to more competitive races. Likewise, Democrats have embraced Lieu — President Obama dropped by his Venice campaign offices last week — but figure he doesn't need their financial help to win.
Bill Bloomfield, a retired businessman and philanthropist who came within eight percentage points of defeating Waxman two years ago with an expensive, largely self-financed campaign, backed Miller in the primary. But he said he is not publicly supporting either candidate now.
Bloomfield, of Manhattan Beach, switched from Republican to "no party preference" in 2011 and has spent considerable sums to support candidates he believes can work across political lines and put problem-solving above party loyalty.
He said he has met with Carr and Lieu and admires them both.
"They have deep roots in their communities, they are intelligent and they have both given their entire lives to public service," Bloomfield said. "I think the district is fortunate" to have such a choice.
Twitter: @jeanmerl
---
The perils of parenting through a pandemic
What's going on with school? What do kids need? Get 8 to 3, a newsletter dedicated to the questions that keep California families up at night.
You may occasionally receive promotional content from the Los Angeles Times.