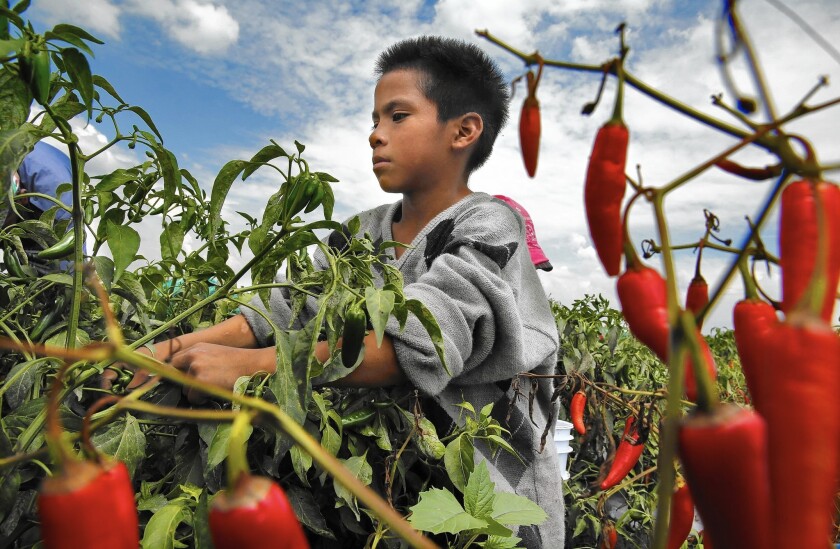 Dear Readers,
As we embark on a new year, I want to take a moment to thank you for reading and to look back at the highlights of 2014.
Last year, the Los Angeles Times continued its tradition of delivering agenda-setting coverage of local, state, regional, national and international news. Our reporters and editors held officials accountable and touched readers. Our recent "Product of Mexico" series demonstrated The Times' vital role in the American conversation.
Thanks to our digital efforts — which included a relaunch of our website that made us one of the first major news organizations to offer a fully responsive design — we were more widely read than at any time in our 133-year history.
Your support made this outstanding journalism possible:
— We relaunched the California section as a showcase for our beat reporting, our analytical skills and our deft writing.
— We gave the most complete accounting to date of Gov. Arnold Schwarzenegger's intervention in the case of the son of his good friend, former California Assembly Speaker Fabian Nuñez.
— We exposed how the LAPD understated crime statistics to make the city look safer, and prompted action to fix the problem.
— We exposed a culture of nepotism that helped relatives of L.A. County firefighters get coveted jobs on the force, prompting the fire chief to launch an overhaul of hiring procedures.
— We exposed a little-known scam: L.A. city employees who were abusing the city's generous injury leave policy – and costing taxpayers millions.
— We revealed how U.S. military veterans were exploiting the disability benefit system, including former soldiers older than 80 who were pulling down thousands a year because they were "unemployable."
— We delivered scoop after scoop on L.A. Unified's ill-fated, $1-billion iPad project, and by year's end the schools superintendent had been forced out and the FBI had launched a criminal investigation.
— In a series called "Grand Ambition," we chronicled the birth of a downtown skyscraper in richly reported and beautifully written pieces.
— We wrote gritty and poignant stories about the California drought, a public service that was not only journalistic but literary. One of my favorites is about two neighbors in the Central Valley, coming to terms with the drought and each other. And our maps showing the drying of the state since 2010 had more than 250,000 page views.
— We wrote lyrically and smartly about how immigration is changing the architectural face of our city.
— We brought the weight of our beat expertise to bear on the Los Angeles County supervisors and the L.A. Sheriff's Department. (Remember: It was earlier this year that our reporting helped drive Sheriff Baca from office.)
— We reconstructed a federal investigation into the Native American artifact trade in Utah, capturing in vivid detail the tragedy of a sting gone bad.
— At great personal risk, our colleagues reported from Ukraine, Syria and Iraq, delivering, day after day, news, analysis and powerful features.
— We went where few journalists dared – into the Central African Republic – to give readers a series of powerfully illustrated stories that were heartrending.
— In a two-part series, a lesson in the power of narrative, we reconstructed the last, fateful steps of the Granite Mountain Hotshots firefighting team in Arizona.
— Our Washington bureau delivered an illuminating series on the healthcare divide in America and revealing stories on the D.C.-California nexus.
— Image produced two 76-page lifestyle magazines, Travel enhanced its "Postcards From the West," and Jonathan Gold's 101 Best Restaurants guide, in digital and print, was a huge success, leading to two sold-out nights of our own event, Bite Nite.
— Our Calendar staff swarmed the downtown music festival Made in America. It also produced memorable coverage of Robin Williams' death, the Music Center anniversary and, of course, the Oscars.
— We did for our readers what the state couldn't do for its citizens – publish a searchable database of all 80,000 physicians participating in Covered California.
— We spotlighted how the nation's largest public pension fund voted to enable pension sweeteners, without calculating the burden on taxpayers, in a story about the 99 ways to boost pensions at public cost.
— We highlighted, with telling details (a small dinner party and "two bottles of good Pinot"), the cozy relationship between the PUC chief and the utilities he was supposed to regulate – leading to his announcement that he would step down.
— In a series of stories, and columns, we revealed how Tesla used government incentives to its advantage in California and Nevada.
— Our photographers roamed the globe, capturing images in Gaza while it was under attack, on "La Bestia" as it ferried Central American migrants northward, in an INS detention center in Texas, of anti-immigrant protesters in Murrieta, in Ferguson, Mo., and of drought-ravaged parts of California.
That's just a taste of what we published this year. I can tell you that we have a lot of great journalism in store for you in 2015.
Thank you for reading The Times and for being a subscriber. We appreciate you.
--Davan
---